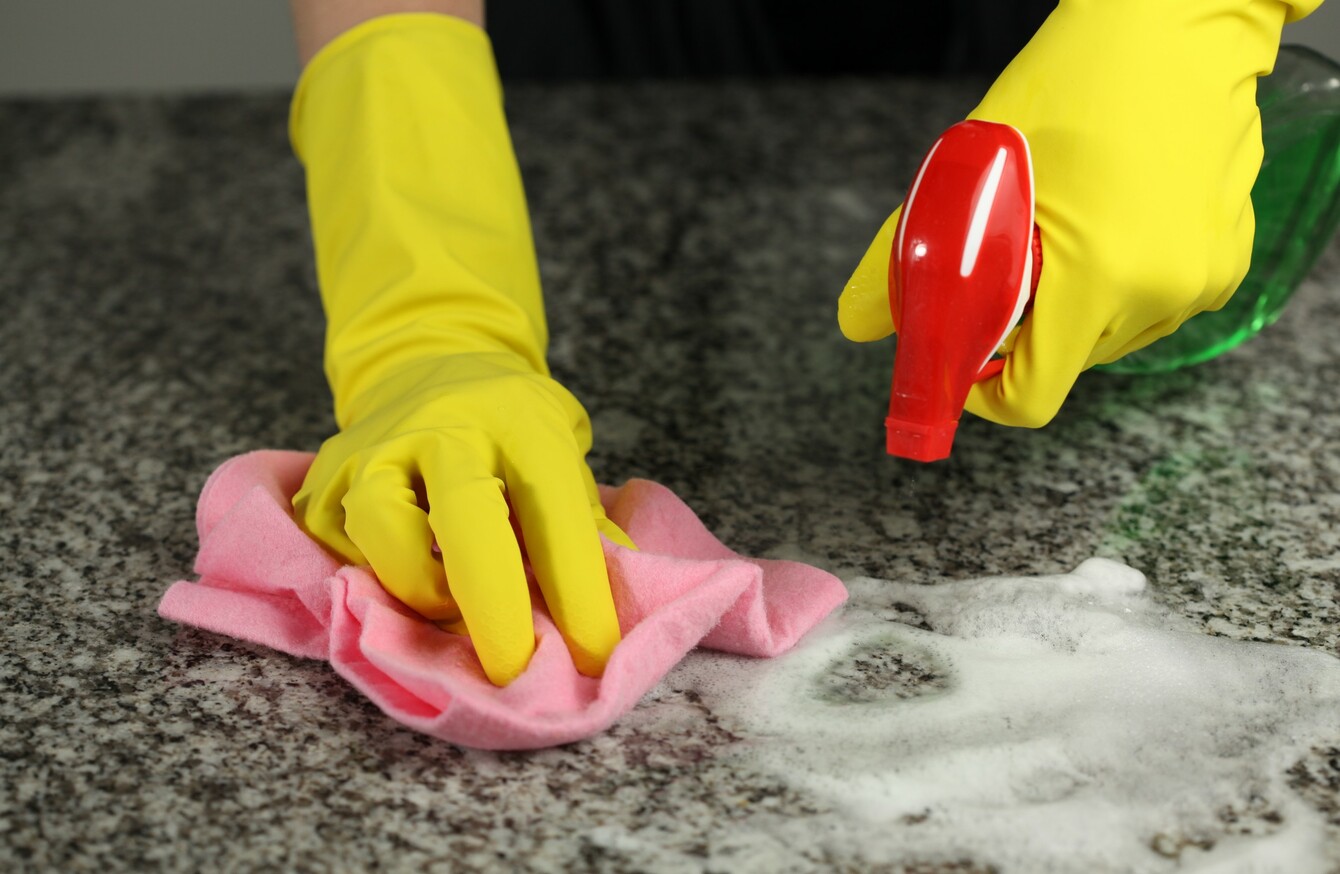 Image: Shutterstock/Photographee.eu
Image: Shutterstock/Photographee.eu
Each week in our Task Master feature, we ask tackle a different home-related question, from how to get your windows streak-free to where to store your towels. This week, we turn to everyday cleaning – and Caroline Foran of GAFF Interiors shares her speedy home-refresh routine.
WITH ALL THAT'S happening in the world right now, home hygiene has taken on a new level of importance. But you don't have to spend all day scrubbing to keep your home clean.
Assuming you're already staying on top of deep cleaning tasks like scrubbing the toilet or blitzing the oven as needed, an everyday germ-blitzing routine shouldn't take longer than 20 minutes.
All you need is the right set of tools and products and, with a bit of positivity á la Mrs Hinch, you might even find you enjoy the predictability of it all. Here's my daily step-by-step list:
1. Throw open your windows
Time needed: 1 minute
It's really important to let out stale air that often hangs in our living space without us being aware of it. This will be as good for your mental state as it will be for the freshness of your home, cleansing your home of pollutants that can negatively impact your health over time. Open your windows at the beginning of your blitz – you'll be too busy to feel the cold.
2. Dust from the top down
Time needed: 5 minutes
If you use a microfibre duster, you won't need to bother with a spray. This is a plus for me, because their ingredients wouldn't be the most environmentally or health friendly. With shelving, desktops, TVs, start dusting from the top down as the dust will fall below. A quick wipe with a microfibre cloth and the job is done.
3. Disinfect key areas
Time needed: 3 minutes
Microfibre cloths are fine for low-touch areas in the home, but when it comes to kitchen surfaces, dining tables and door knobs, you'll want to go a bit more heavy duty. Spritz antibacterial spray generously and then wipe with a clean cloth and hot water. Alternatively use disinfectant wipes to go over door handles. Do the same with remote controls, mobile phones and laptops. Don't spray products directly onto phones, TVs or other devices as you may cause damage.
4. Sweep or vacuum your main thoroughfares
Time needed: 5 minutes
If you're a cordless vacuum owner, you'll already no doubt find vacuuming a joy. Give the downstairs floors – where footfall is high – a quick once over to lift away dust, crumbs and other debris that naturally finds its way there each day. This doesn't have to be as deep a vacuuming as you might do on weekends, where you'd be going over skirting boards and under the beds. It's just a quick go of your home's main thoroughfares.
5. Mop floors
Time needed: 5 minutes
Mopping might seem like a 'deep clean' kind of task but right now I'm considering it more of a daily essential. Again, just focus on the main areas of footfall. A note: if you generally hate mopping, allow me to introduce you to one of my most beloved home cleaning items: this spray mop. You simply fill the handle with hot (not boiling) water, add a splash of floor cleaner (you never need as much as you think) and you're ready to rock.  
6. Visual tidy
Time needed: 1 minute
With all main germ concerns taken care of, all that's left to do is to visually tidy whatever is in front of you. This is more a case of pleasing your eye and bringing down any stress levels that a messy space could enhance. Fluff up your cushions, tidy away shoes and feel that post germ-blitz calm wash over you.
Follow Caroline Foran and GAFF Interiors on Instagram for even more lifestyle and design know-how.