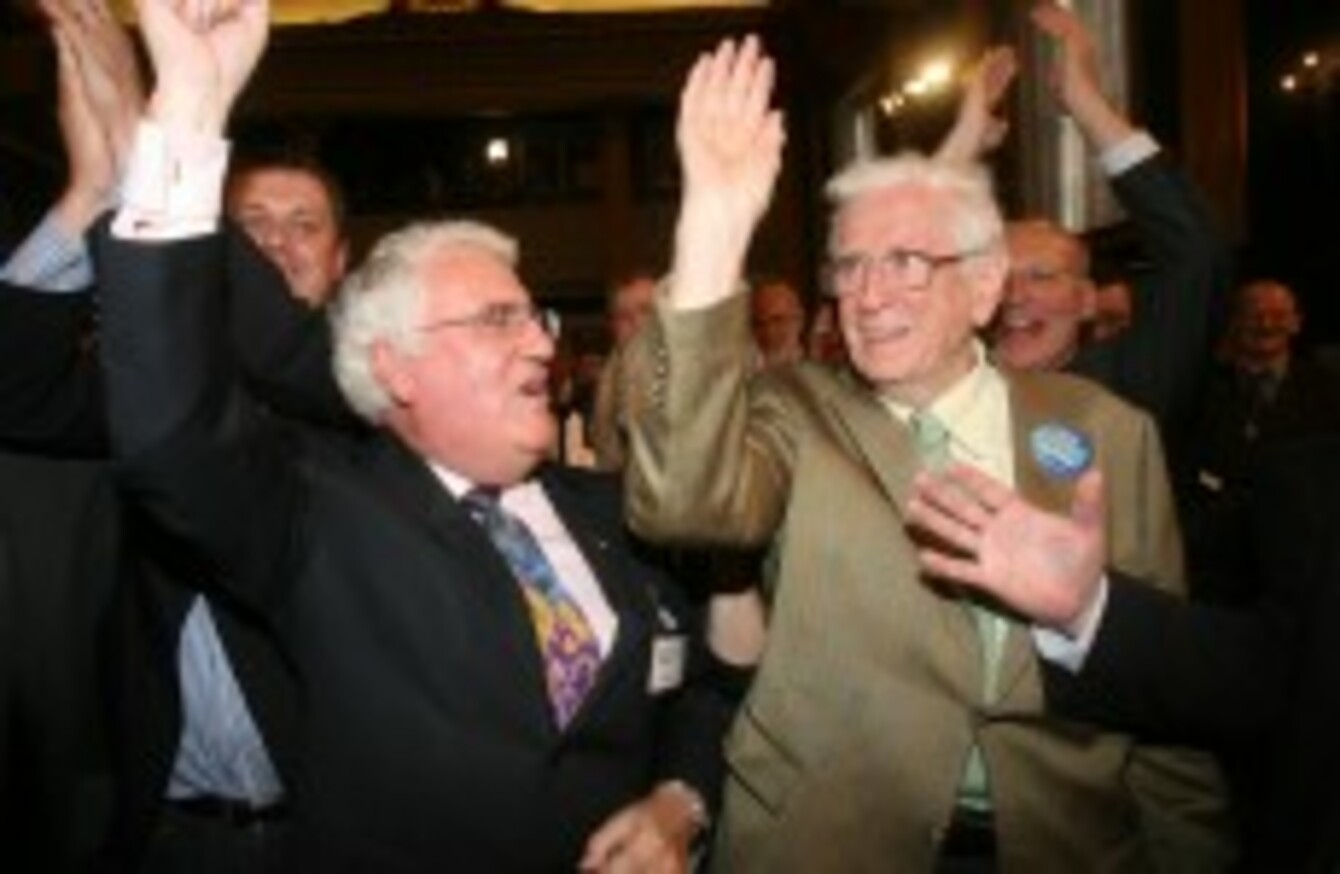 Image: Niall Carson/PA Archive
Image: Niall Carson/PA Archive
THE ELECTION COUNT in Wicklow has been stalled for the night, after outgoing minister Dick Roche was eliminated on the 13th count and sought a full recount.
Roche, after being eliminated on unlucky count number 13, was just three votes behind his running mate Pat Fitzgerald on elimination – and was granted a full recount, even though neither Fianna Fáil candidate looks like they can count on a seat.
The recount will begin tomorrow morning at 9am, and will see a long count go on for even longer. Despite over 24 hours of counting in Wicklow, it's now not likely that Wicklow will return its first TD until Tuesday morning.
Here's why the count is taking so long. (Most of the logic, by the way, can also be applied to the epic count in Laois-Offaly which has returned just one TD after over 24 hours of counting.)
It's a five-seater, so there are more people (both candidates and voters)
Five-seat constituencies tend to be the geographically larger, rural ones, such as Carlow-Kilkenny, Longford-Westmeath, and Mayo.
In those constituencies, the bigger parties tend to run more than one (and commonly three) candidates, with one from each of the constituency's main towns, or with at least one from each county where there's two counties in one constituency.
As a result, five-seat constituencies attract big numbers of candidates from the mainstream parties – and perhaps as a result, or because of their large geographical spread, they attract more candidates running on local issues.
This time, there were 24 candidates in Wicklow – the highest of any constituency in Ireland. It was for that reason, and the fact that the turnout in Wicklow was higher than it has been for decades, that Wicklow was the last one to announce its first count yesterday.
More candidates means fewer votes each
The formula for calculating a quota is fairly simple – you divide the total number of valid votes by one more than the number of seats available, and add one.
That means in a five-seat constituency, the quota is exactly one vote more than a sixth of the total poll.
And where there are more candidates (in this case Fine Gael ran three, Labour ran three, Fianna Fáil ran two – even the new Fís Nua party ran two candidates on a geographical basis), the chances of one candidate picking up a sixth of the entire vote and therefore making the quota is very slim.
It's only happened twice in the last twenty years – Dick Roche picked up 1.01 quotas in 2002, while before that the immensely popular Labour TD Liam Kavanagh would regularly pick up a quota (though in his case, there was only one Labour candidate, as opposed to three this time).
So when there's no chance of anyone making the quota, counting proceeds by eliminating the candidates from the bottom of the list, rather than getting rid of those from the top.
The electoral staircase
So. Nobody makes the quota, and therefore there are no surpluses to distribute. When that's the case, we remove the candidates who finish bottom of the field.
Although sometimes more than one candidate is eliminated at a time (in circumstances where 100 per cent of their transfers still couldn't push the next-lowest candidate further up the table), usually only one is knocked out at a time.
In Wicklow's case this time around, the number of votes picked up by the worst-faring candidates were almost all equal – so candidates had to be eliminated one-at-a-time, in case all of the second preferences from one candidate were transferable to another.
And with 24 candidates – and 11 of them polling under 1,000 votes – that means a lot of counts where a small number of votes are being distributed each time, and with none of them making any significant impact on the ultimate result.
Looking after number 1 – and their number 1s
Finally, there's one significant reason why the count isn't continuing tonight: party pride. Regardless of whether it's Dick Roche or Pat Fitzgerald that makes it through to the 14th count, the probability of that the surviving FF candidate has a fight on their hands.
The surviving candidate, who will be bottom of the nine remaining candidates, will likely find themselves ascending to sixth (if not fifth, in a five-seat constituency) once their colleague's transfers are processed.
Once that's done, the next eliminee will be Joe Behan: now an independent, but hitherto a Fianna Fáil TD. The chances are that the remaining FF candidate will be hoping for most of their colleague's 4,200-or-so transfers, possibly sending them into fourth spot.
From there, one Labour candidate will transfer to another – possibly pushing one into fourth spot, and potentially pushing the surviving FF candidate into fifth – and, they would hope, guarantee their success.
That's why for Dick Roche, it's vitally important that he – and not Pat Fitzgerald – is the Fianna Fáil survivor. And with just three votes between the two, and 8,435 votes processed thus far, there's every chance that he could overtake Fitzgerald in the pecking order.