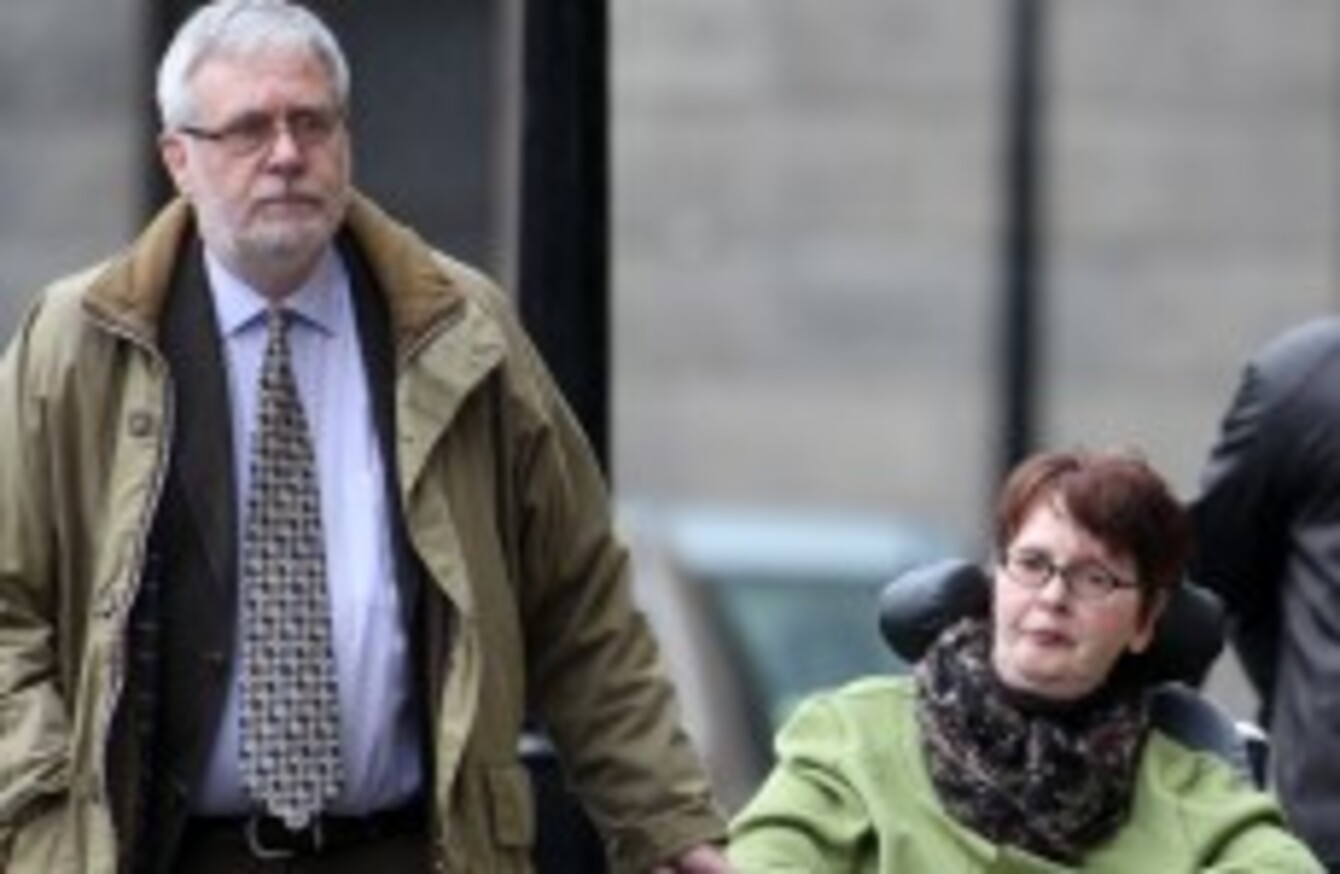 Image: Sam Boal/Photocall Ireland
Image: Sam Boal/Photocall Ireland
GAIL O'RORKE is the first person in Ireland to ever be charged with assisting suicide. Her trial was due to start today but has been adjourned to a later date.
This will be a trial that will be watched intently by many.
A battle has been raging on this issue between advocates of the 'right to die' in law and pro-life groups and O'Rorke's case will be the true test of Irish law on this topic.
So, what does Irish law actually say about assisted suicide?
Because no one has ever been charged with this offence before, there is little precedence for this kind of case. However, the law does make it clear that assisting another person to end their own life is a criminal offence. Both euthanasia and assisted suicide are included in this.
Under the Criminal Law (Suicide) Act 1993, it is an offence to aid, abet, counsel or procure the suicide or attempted suicide of another person. The maximum penalty is 14 years in prison.
It is not against the law to switch off life support or stop certain treatments (like chemotherapy) if a person or their next of kin requests it. However guidelines for doctors are clear: they "must not participate in the deliberate killing of a patient by active means".
How has the law been tested here?
The first time the court made a ruling on this was in 1995 when the Supreme Court decided that the right to die included the right to die a natural death. In this case, the woman involved had been in a near-persistent vegetative state for over two decades.
Though permission was given to remove the woman's feeding tube so she could die naturally, the court stressed that it would not condone any attempt to end a person's life through positive action, like the use of drugs.
Some ten years later, the case of Multiple Sclerosis sufferer Debbie Purdy in the UK set the agenda for Ireland. She argued she had the right to know whether her husband would face criminal charges if he accompanied her to a Swiss clinic where she could be legally assisted. Purdy won on appeal and guidelines were issues that stated a person assisting another in committing suicide should not be prosecuted so long as they were not actively helping the person to die.
The most significant case in Ireland was that of Marie Fleming, a former UCD lecturer. She wished to die at the time of her choosing but did not have the use of her limbs so she was incapable of taking direct action herself. However she did not want to risk the potential repercussions for her partner Tom Curran. At the end of her court battle, the Supreme Court ruled that the constitution does not contain either a right to suicide or to arrange for the end of one's life.
How do we compare to the rest of Europe?
As they stand now, Ireland's euthanasia laws are some of the strictest in Europe.
In the Netherlands, Belgium, and Luxembourg, active, direct euthanasia is legal. This even includes minors (under strict conditions) in the Netherlands and Belgium.
Switzerland is one of the rare countries that allows assisted suicide by patients administering a lethal does of medication themselves. It does not allow active, direct euthanasia by a third party, however.
In France, the law acknowledges a right to die and doctors can prescribe pain killers even if their use under certain conditions can result in death, once the patient is in an advanced stage of an incurable disease.
Passive euthanasia is permitted in Sweden, Austrian, Germany and Norway under certain conditions.
Britain allows medical personnel to stop life-preserving treatment and prosecution of those who helped a relative die after they clearly expressed the desire to end their lives has receded.
Ireland, Italy, Romania, Greece, Bosnia, Serbia, Croatia and Poland all forbid euthanasia and consider it homicide, though sentences in countries like Croatia are considerably lighter than the 14 years here.
The trial of Gail O'Rorke will now play a huge part in shaping and defining law on assisted dying in Ireland.
- With reporting from AFP.