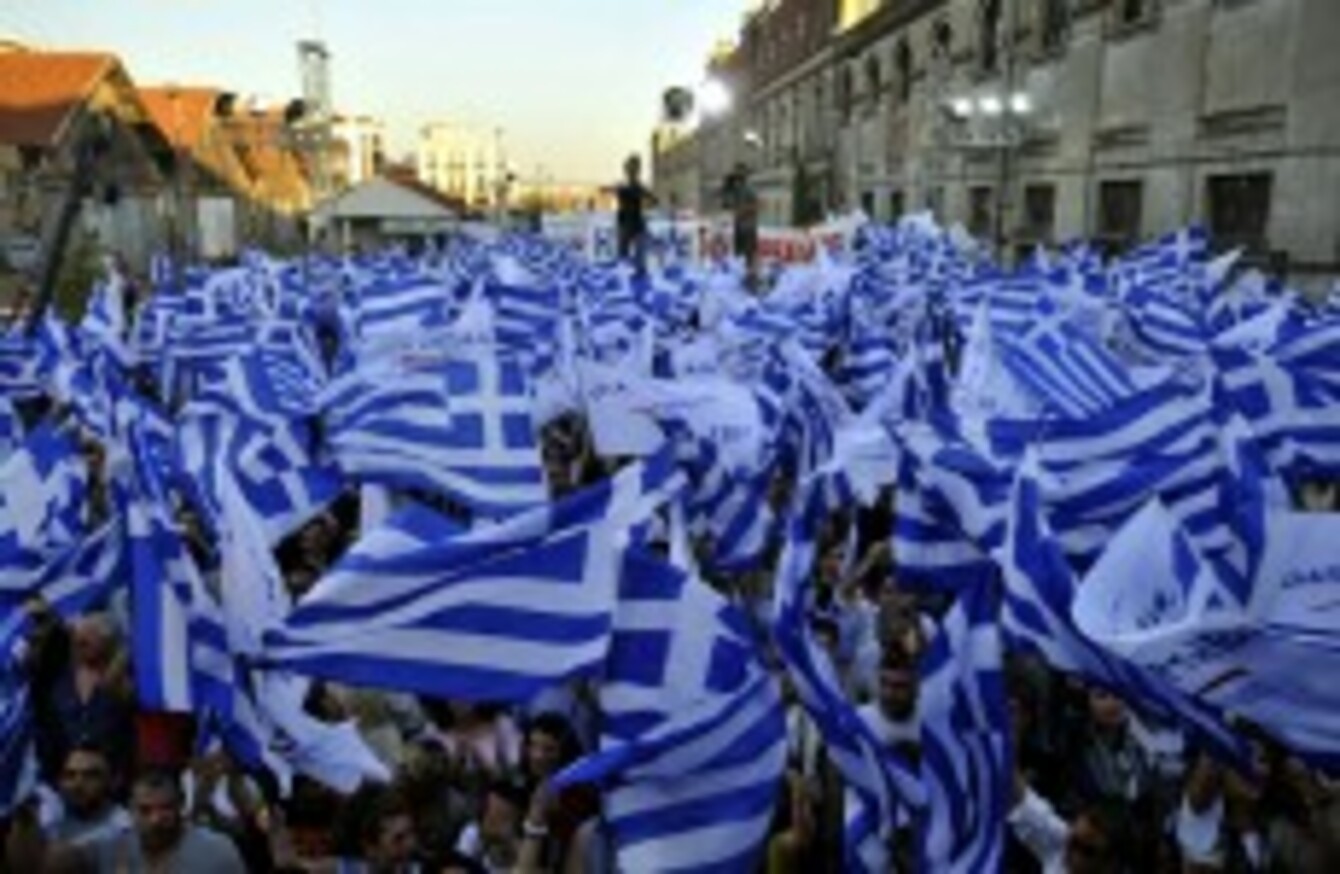 Image: Giorgos Nissiotis/AP/Press Association Images
Image: Giorgos Nissiotis/AP/Press Association Images
HERE WE ARE again. Greece in turmoil therefore markets in turmoil and the whole of the eurozone speculating and worrying that the Hellenic Republic (as it's officially known) is about the go under.
There's a very simple reason why we're all worrying about Greece again. Independent TD Shane Ross probably summed it up best in the Dáil this week when he noted that there had been an "inconvenient outbreak of democracy in Greece" that has effectively led to a hung parliament.
Negotiations to form a government have floundered over the past five days and now the country almost certainly faces fresh elections in June contributing to instability in the markets and uncertainty among eurozone countries.
But hold-up, how did we get here? What sort of crisis is Greece and the wider eurozone facing? What's going to happen? And will Greece still be around come tea-time (yes, probably), TheJournal.ie finds out…
So what's happened so far?
Greece held early elections for its 300-member legislature to replace an interim government cobbled together last November in the wake of the eurozone crisis and the fears then that the country was on the brink of defaulting on its EU/IMF bailout. The interim administration agreed austerity measures and the terms for a second international bailout while promising fresh elections for the disgruntled electorate.
These took place last weekend and as forecasted by many the results saw huge losses for incumbent parties who had negotiated austerity measures and huge gains for those on the far left and far-right. Almost 70 per cent of the votes were in effect for parties that opposed austerity but crucially no-one emerged with a majority as the below tables (handily arranged in the shape of a political spectrum) shows:
Professor Kevin Featherstone, Director of Contemporary Greek Studies at the London School of Economics, explains why: "Last Sunday the Greek voters wanted primarily to punish to two main parties that have governed Greece since the restoration of democracy in 1974.
"There were not many other options than voting for previously fringe parties. Some wanted to shock and how better to do that then to go to the fringe parties? On Sunday, they were not voting beyond that. It was primarily a punishment vote."
The left-wing Pasok, the party which has consistently been government in one form or another since 1981, went from 160 seats at the last election to just 41, a fall of 75 per cent. To put this in context Fianna Fáil had a similar drop in the 2011 general election, as our resident numbers man Gavan Reilly pointed out this week.
The big winner was Syriza, a coalition of left-wing parties, who are against the bailout. They won 52 seats while there was also notable gains for Golden Dawn who won 21 seats and hold extreme right-wing views on immigration and nationalism.
The main takeaway from the election was that the establishment parties who had formed the interim government, Pasok and the more conservative New Democracy, took a kicking because of the economic mess the country was in and the austerity measures imposed.
What happened then?
With the most seats and as one of the mainstays of Greek politics, New Democracy was given the mandate to try and negotiate a coalition government but its leader Antonis Samaras abandoned attempts at forming a government after just one day of his constitutionally allotted three days.
Any attempt at a coalition with Pasok would still have left that government two short of a majority on 149 seats and in any case would have been an unpopular repeat of the unity government forged last November.
That set up Alexis Tsipras, the leader of the radical left-wing Syriza coalition, who attempted to form a coalition of like-minded anti-bailout parties. But that too failed to take-off with neither New Democracy nor Pasok willing to engage in a process which would lead to the "destruction of Greece" as Samaras put it.
The baton passed to Pasok's Evangelos Venizelos, the country's former finance minister, whose party never really stood a chance at forging a government. Not only because of its low seat count but because of its deep unpopularity being associated with austerity measures that have crippled many Greek people.
As attempts to form any sort of government flounder President Karolos Papoulias, whose role is similar to our own president, will now ask the leaders of all parties to make one last attempt at forming a new government before, as appears likely, calling fresh elections.
More elections? When will they be held and who's going to come out on top?
The talk centres on mid-June, possibly 17 June and at present it's anybody's guess as to who might win them. The swings in the last election were so big and the uncertainty over the country's economic future so great that it's pretty hard to call.
BBC News noted a poll published for Alpha TV on Thursday which showed the left-wing, anti-bailout Syriza in first place with nearly 28 per cent of the vote – up from 16.8 per cent  - which would give them 128 seats. Then comes the pro-bailout New Democracy in second place with 20.3 per cent and 57 seats, and Pasok is still down in third with 12.6 per cent of the vote and 36 seats, 5 less than they've currently got.
BUT, that does not necessarily translate into success for Syriza at the ballot box next month, according to some analysts. Kevin Featherstone from the LSE believes that in the coming weeks it will become clear to Greek voters that voting for anti-bailout parties is akin to saying that Greece wants out of the euro but in fact Greek voters still overwhelmingly favour eurozone membership.
The fear of the consequences of voting for the radical parties will focus minds and see voters drift back to the pro-bailout parties, he believes.
"There are number of people assuming there is a momentum behind Syriza and therefore the anti-memorandum parties will do even better," he said. "But I don't think that's the case."
"It is a choice between rock and a hard place but I would see the alternative (voting for anti-bailout parties) as chaotic and uncontrollable. We would have a disorderly default, wholesale nationalisation of Greek banks, a new currency and so on. These are not two rosy scenarios but the alternative which could end up being far more chaotic and far more uncontrollable," he added.
Speaking to RTÉ Radio on Friday, Achilles Skordas of Bristol University was less certain about the outcome, saying: "Perhaps in June it will be a vote of moderation… it's still not something we can foresee at this point.
But he acknowledged the perceived consequences of voters opting for anti-bailout parties. "The programme of the radical left is either to radically change the terms of the bailout or to simply denounce it and that would be a catastrophic outcome which the pro-European parties simply do not expect," he added.
So all this uncertainty is a bit of a problem then?
You bet. Markets have been tanking all week although did rise on Friday when there were brief hopes that a deal to form a government could be struck. There's been a big sell-offs of shares in Greece's banks because of the political uncertainty with their stock market price tumbling as a result.
Effectively this comes down to the fact there is a possibility of a government in Greece which wholly rejects the terms of its bailout programme and seeks to either tear it up or renegotiate it. Both the EU and Germany have made it clear that Greece must honour its debts and its promises under the memorandum of understanding with the EU and IMF as it stands.
Germany in particular has sounded warnings with both its foreign and finance ministers warning that Greece must stay on the agreed path of reforms that or else faced being kicked out of the euro, but more on the likelihood of that in a moment.
What kind of reforms and austerity are we talking about here?
We're talking serious amounts of austerity. Greece has been through five rounds of budget cuts and tax hikes in just two years.
These include a freeze on public sector salaries, bonus cuts, cuts in overtime, VAT rises (the top rate is now 23 per cent), taxes rises on exports, special taxes on pensions, more taxes on company profits.
There have been proposals to increase the average retirement age from 61 to 65, to reduce the number of publicly-owned companies from 6,000 to 2,000 and raise €50 billion through both sell-offs and privatisation as well as reduce the number of municipalities from 1,000 to 400.
There has been a cut of a fifth in the minimum wage, extra taxes on low income earners, a two per cent tax to help battle high unemployment, cuts to defence (Greece has one of the the largest armies of any eurozone country) and health spending. There has also been a pledge to eliminate 150,000 jobs in the public sector by 2015 with 15,000 expected to be gone by the end of this year.
Woah. That's a lot of austerity. What effect has that had on the economy?
Nearly a fifth of the Greek population are now unemployed with youth unemployment running at about 50 per cent. The Greek economy contracted by 7.5 per cent in the last quarter of 2011, far deeper than was expected according to a EU forecasting data released on Friday.
That data did little for the old optimism with the economy predicted to fall further in 2012 and the number of those in employment also expected to decline. Employment levels will not stabilise before 2012, the EU said, and even when they do job growth will be slow.
The annual deficit to GDP ratio is predicted to be at just over 7 per cent this year with an eventual target of 1 per cent. To achieve this, the EU said, that Greece will have to adopt expenditure savings of 3.8 per cent of GDP in the coming months.
That all makes for more austerity and indeed the next government will have to approve budget cuts of €14.5 billion next month in order to receive another tranche of its EU/IMF bailout loans which altogether total around €240 billion.
The loans already drawn down form part of a total debt owed by Greece of around €400 billion which includes money owed to private bondholders and other creditors according to data compiled by Bloomberg this week. It suggested that in someways this could be a trump card for Greece if and when it comes to renegoiating the bailout programme.
In other words, the eurozone does not really want Greece to walk away?
No, probably not. All the talk and rhetoric is cheap but the single currency zone can ill-afford to lose this indebted member.
As the economics professor at the University of Thessaloniki, Dimitri Mardas, noted in a piece for the BBC earlier this week, Greece leaving the eurozone would cost around €1 trillion, a somewhat unfathomable amount, like when we used to think a billion was a lot of money in the finance world.
The Financial Times said this week that such an exit has become "probable rather than possible" and warned that eurozone leaders needed to formulate contingency plans for this.
Last November, at the height of the crisis we explored the ways in which Greece could or would leave the eurozone with Janis Emmanouilidis of the European Policy Centre outlining one option being that if the EU halted the bailout programme, Greece would be forced out of its own accord. But in this instance it appears as if Greece might just press the self-destruct button itself if the electorate decides as much.
So a lot hinges on the June elections?
It most certainly does and the outcome there is far from certain at this point as we've said. If there's one indicator of what might happen, bookmakers in the UK this week suspended betting on a Greek exit from the eurozone.
Beyond that, as Donald Rumsfeld once said, there are known unknowns. And a lot of them too.