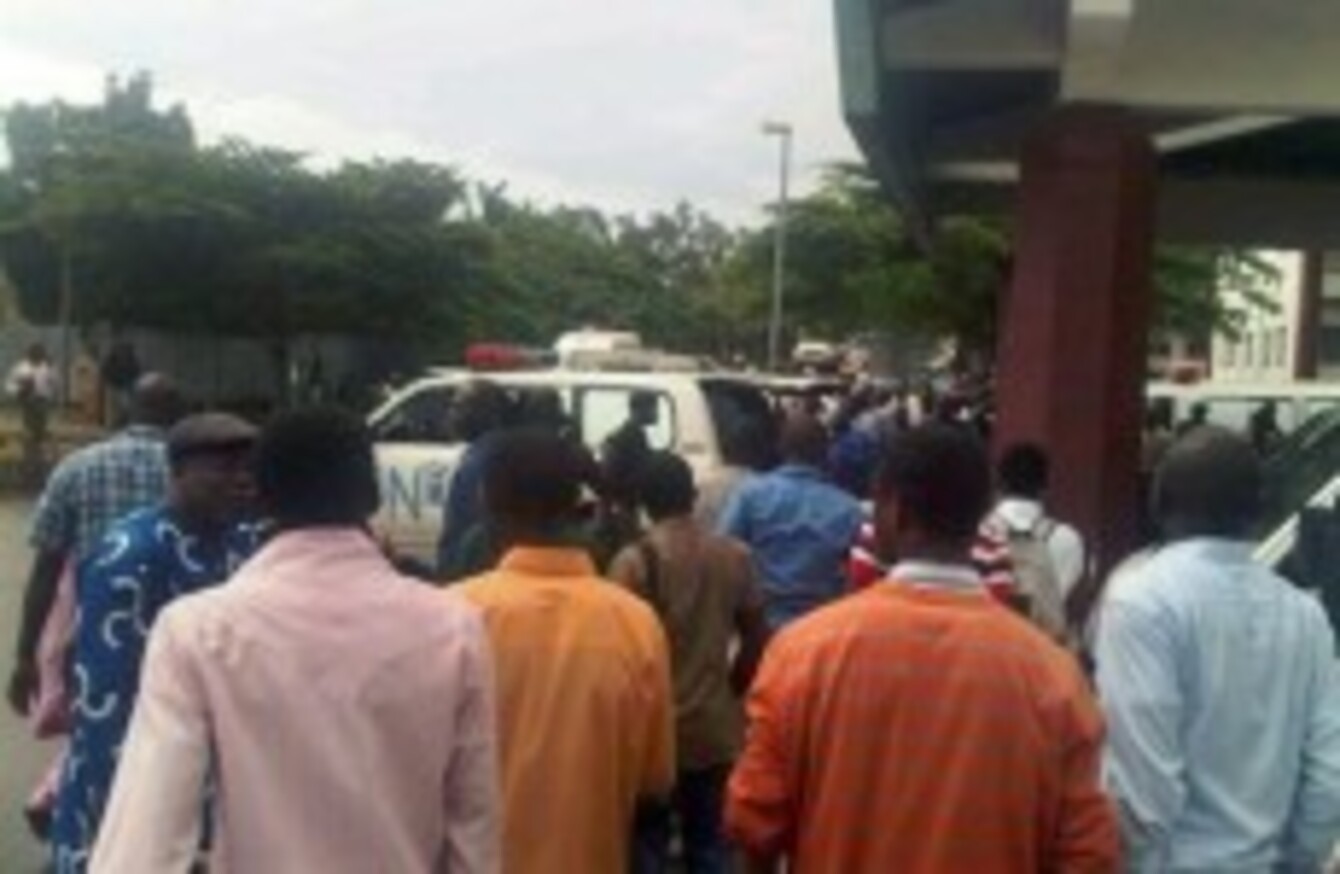 People gather outside a hospital in Abuja today as ambulances arrive after today's explosion.
Image: AP Photo/Luke Skylolo
People gather outside a hospital in Abuja today as ambulances arrive after today's explosion.
Image: AP Photo/Luke Skylolo
Updated at 3.55pm
A LARGE explosion struck the United Nations' main office in Nigeria's capital Abuja today, flattening one wing of the building and killing at least 16 people.
"I saw scattered bodies," said Michael Ofilaje, a UNICEF worker at the building. "Many people are dead."
He said it felt like "the blast came from the basement and shook the building."
The building houses about 400 employees of the UN in Nigeria, including the majority of its offices. A local UN spokesman declined to comment. Alessandra Vellucci, a spokeswoman for the UN office in Geneva, said the global body's offices in Abuja had been bombed.
The building, located in the same neighbuorhood as the US embassy and other diplomatic posts in Abuja, had a huge hole punched in it. The Nigerian Red Cross says at least 16 people are dead after a car bomb attack on the United Nations' offices in Nigeria's capital of Abuja.
Umar Mairiga, the head of the organisation's disaster management department, told The AP that at least 11 others were injured.
Local police spokesman Jimoh Moshood confirmed the blast, but said police were still investigating.
No one immediately claimed responsibility for the blast, but oil-rich Nigeria faces terrorism threats on multiple fronts. Last year, a militant group from the country's crude-producing Niger Delta blew up car bombs in the capital during Nigeria's 50th independence anniversary ceremony, killing at least 12.
Video: Raw footage of the scene of today's explosion:
Increasing threat
Nigeria, a nation of 150 million, is split between a largely Christian south and Muslim north. In recent months, the country has faced an increasing threat from a radical Muslim sect called Boko Haram, which wants to implement a strict version of Shariah law in the nation. The sect has carried out assassinations and bombings, including the June car bombing of the national headquarters of Nigeria's federal police that killed at least two people.
Earlier this month, the commander for US military operations in Africa said Boko Haram may be trying to link with two al-Qaida-linked groups in other African countries to mount joint attacks in Nigeria.
Gen. Carter Ham told AP on 17 August during a visit to Nigeria that "multiple sources" indicate Boko Haram made contacts with al-Qaida in the Islamic Maghreb, which operates in northwest Africa, and with al-Shabab in Somalia.
"I think it would be the most dangerous thing to happen not only to the Africans, but to us as well," Carter said.