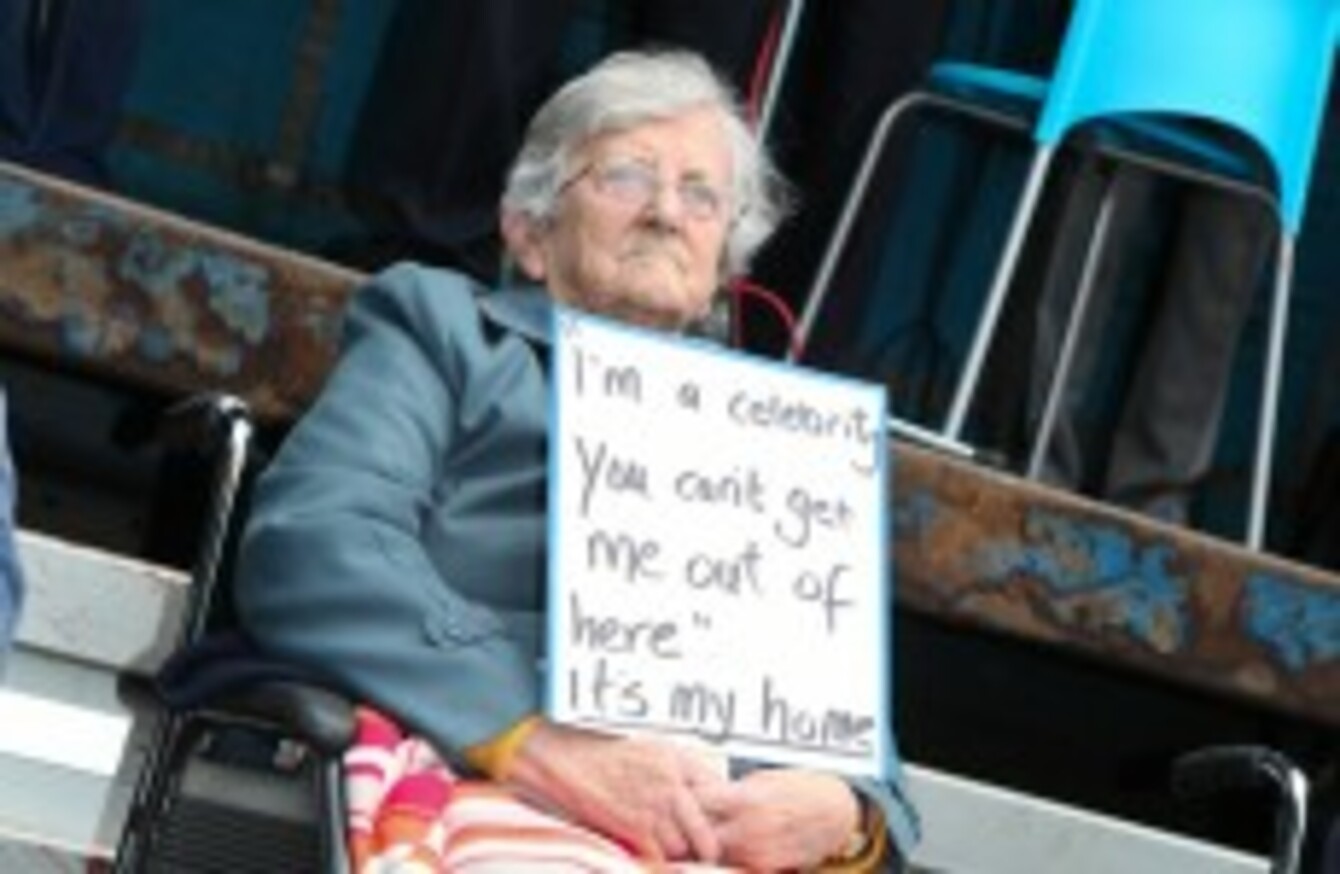 Bridget O'Neill takes part in today's protest against the Abbeyleix unit closure.
Image: Brenda Fingleton
Bridget O'Neill takes part in today's protest against the Abbeyleix unit closure.
Image: Brenda Fingleton
Updated at 8.35pm
UP TO 6,000 PEOPLE turned out to a protest march in Abbeyleix, Co Laois today against the closure of a nursing unit in the town.
The HSE said earlier this month that it planned to close the Abbeyleix Community Nursing Unit over concerns it could not ensure a safe service would be delivered to the unit's residents due to its reduced budget and lower staff levels.
The health service said it would close the facility on a phased basis and that its 28 long-term residents would be moved to alternative locations in the surrounding area, while staff based at the Abbeyleix unit will be redeployed to other services in the area.
Karen Shiel secretary of the Abbeyleix and District Hospital Action Group which organised today's protest said the march was supported by a number of local organisations and community groups, and that patients have been heartened by the level of support shown by the community.
She said that moving the residents to alternative facilities could seriously affect the level of contact they have with family members and the community they are so much a part of. Some relatives are able to pop in three or four times a day, she said, and that would be a huge loss to the patients.
(Image via Brenda Fingleton)
"Callous"
Labour Senator John Whelan told TheJournal.ie this morning that his parliamentary party has secured a private meeting with Health Minister James Reilly on Tuesday evening to discuss the planned closures of the Abbeyleix unit and St Brigid's Hospital in Portlaoise.
"This government said there would have to be tough decisions, but it also promised that these decisions would be fair," he added. "It is far from fair to penalise and to pick on the most vulnerable, most feeble, most marginalised in our community – our senior citizens."
Fianna Fáil TD Seán Fleming told TheJournal.ie that three of the older residents at Abbeyleix are taking a High Court action against the closure and that this might delay the process.
He said that although the HSE has organised meetings with residents and their families, the majority are refusing to engage in discussions as they want to see the decision to close the facility reversed.
"There's a massive level of support for today's protest because it's not just about the number of patients affected, this is a hospital that will be needed in the coming years."
He said that some of the unit's residents are aged in their 90s and that putting older people effectively out of their homes could not be good for their health or well-being.
"It is a callous way to treat older people," Fleming said.