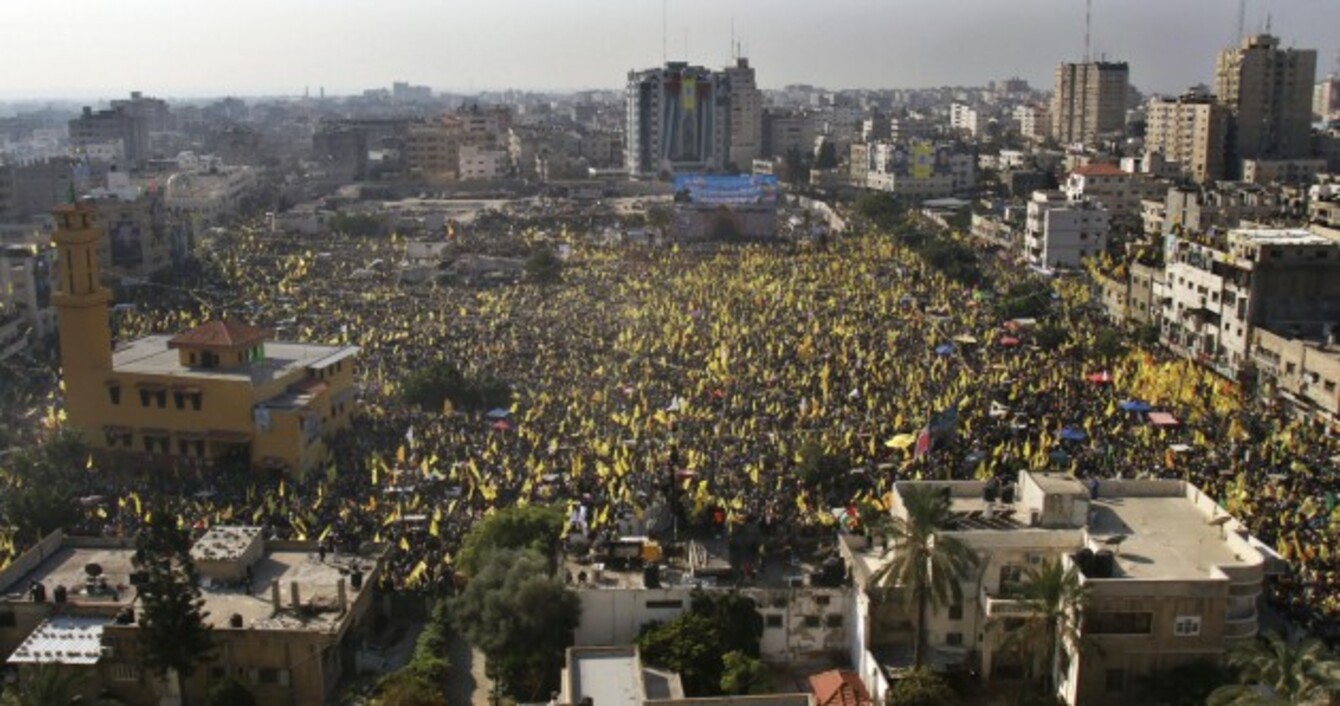 Image: AP Photo/Adel Hana
Image: AP Photo/Adel Hana
HUNDREDS OF THOUSANDS OF supporters of Palestinian president Mahmoud Abbas's Fatah party have held a mass rally in Gaza – their first since Hamas seized control of the territory in 2007.
"Victory is near and we will meet you in Gaza in the near future," Abbas said in a short speech from his West Bank headquarters in Ramallah, beamed to the Gaza crowd at the Saraya complex on giant screens.
"Gaza was the first Palestinian territory rid of (Israeli) occupation and settlement and we want a lifting of the blockade so that it can be free and linked to the rest of the nation."
Hamas, in a sign of reconciliation with Fatah, permitted the rally to go ahead as the climax of a week of Gaza festivities celebrating the 48th anniversary of Fatah taking up arms against Israel.
Demonstrators, many of them women and children waved Palestinian and Fatah flags and carried pictures of Abbas, an AFP correspondent reported. Balloons in the colours of the Palestinian flag with portraits of Abbas hovered above.
"This crowd is a vote in favour of (Abbas's) Palestinian Authority and shows that Fatah is still out in front," local Fatah leader Selim al-Zaraei told AFP.
Palestinians wave yellow Fatah flags during the rally (AP Photo/Hatem Moussa)
Fatah Gaza spokesman Fayez Abou Eita told AFP that "hundreds of thousands of people are currently taking part in the public festivities."
Hamas congratulated Fatah on the anniversary, saying it considered it a "celebration of national unity and a success for Hamas as well as Fatah."
"This positive atmosphere is a step on road to restoring national unity," it said.
(AP Photo/Adel Hana)
Abbas's address was to be followed by a speech by senior Fatah official Nabil Shaath, who travelled to Gaza from the West Bank for the event. He was to be followed by Hamas official Rawhi Mushtaha, who was to speak in the name of all the Palestinian factions.
But Shaath and Mushtaha did not end up delivering their speeches after the crowd became rowdy, Abou Eita said.
Khan Younis resident Ayman Barbakh, 24, said he hoped the rally marked "the beginning of true unity and reconciliation, because our Palestinian people have suffered enough."
(AP Photo/Hatem Moussa)
"It's been six years since we in Fatah have been waiting for this moment," said participant Sabrine Srour. "I feel the joy I can see on people's faces."
A young man attempting to fasten a Fatah banner to an electricity pylon was killed and seven others were injured by electrocution, medical sources said.
Some participants brandished portraits and chanted slogans in favor of ex-Fatah strongman in Gaza, Mohammed Dahlan, excluded from his movement and reviled by Hamas.
(AP Photo/Hatem Moussa)
Hamas and Fatah had been at loggerheads since the Islamist movement seized control of Gaza in June 2007, following its victory in Palestinian parliamentary elections the previous year.
But under Egyptian mediation, the two groups reached a unity agreement in April 2011, although its main provisions have so far not been implemented.
The anniversary commemorates the first operation against Israel claimed by Fatah's armed wing, then known as Al-Assifa (The Thunderstorm in Arabic), on January 1, 1965.
Israel considers Hamas a terrorist organisation, and is opposed to it moving closer to Fatah.
(AP Photo/Hatem Moussa)