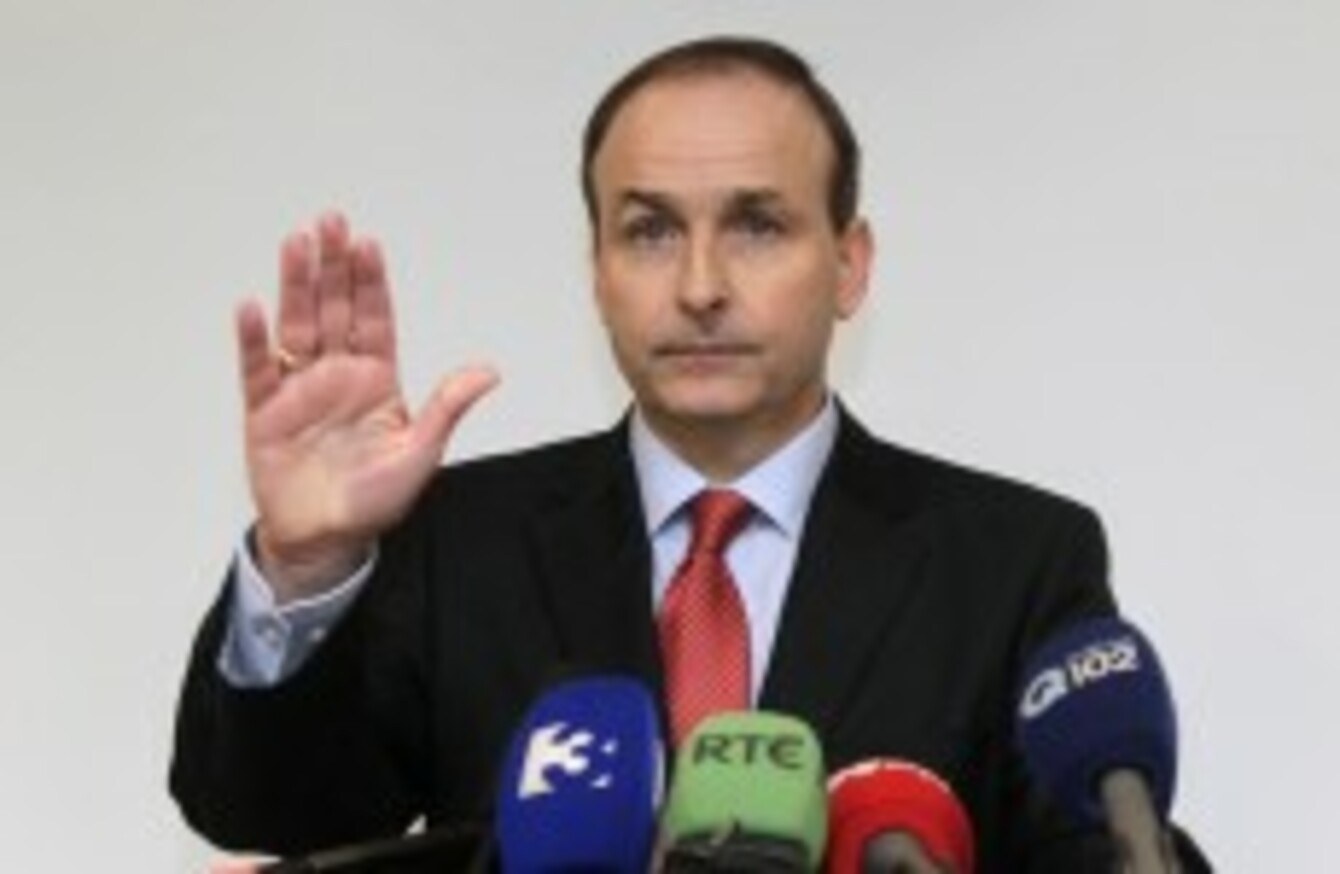 Michéal Martin's Fianna Fáil could be stopped in its tracks if the analysis of Boards.ie's online opinion poll bear fruit.
Image: Niall Carson/PA Wire
Michéal Martin's Fianna Fáil could be stopped in its tracks if the analysis of Boards.ie's online opinion poll bear fruit.
Image: Niall Carson/PA Wire
FIANNA FÁIL will struggle to pick up second and subsequent preferences from voters across the country – and may be on course for a total electoral meltdown, according to the result of a nationwide opinion poll.
Boards.ie's election poll - which has been running since February 4 – has accrued over 13,000 votes, with members of the site asked to rank the candidates in their constituency in order of preference, just as they would on a ballot paper.
And with the nationwide share of first preferences putting the party in fourth place – with just 8.2 per cent of Boards.ie users giving local Fianna Fáil candidates their first preference votes – a significant number of lower preferences are needed if it is to retain many of the 72 seats it currently holds in the Dáil.
The poll shows, though, that Fianna Fáil will struggle to pick up preferences further down the paper: the party is likely to pick up just 7.47 per cent of the second preference votes, and only 6.3 per cent of third preferences.
By way of comparison, the quota candidates needed to secure election in three-seat constituencies is 25 per cent of the total number of votes – meaning that the party could have a major fight on its hands to retain any significant share of the 31st Dáil – a prospect that becomes even more difficult in constituencies where it is running more than one candidate, and risks splitting what remains of its support.
The bad news for Fianna Fáil comes after the Irish Independent's opinion poll, commissioned by Millward Brown, showed the party on its lowest ever approval rating in formal opinion polling – with a mere 12 per cent of voters in that poll giving them their first preference.
Fine Gael, meanwhile, will command a substantial proportion of second preference votes: aside from the 30.41 per cent of the first preferences it will accrue, the party's candidates will pick up more than a third of all second preference votes – 33.75 per cent.
That level of support, if spread nationwide, would be sufficient to see the party come close to forming an overall majority in the Dáil, for which it needs to win 83 of the 165 seats available.
Labour, meanwhile, also performs well in second preferences: it is set to pick up about 27 per cent of all number 2 votes, to add to the 23.67 per cent share of first preferences it enjoys.
In some constituencies where a sufficient number of votes have been cast, Boards.ie has already tabulated the likely results – and suggests that, with the virtual count completed in 31 constituencies out of 43, there are just two Fianna Fáil candidates assured of election: party leader Micheál Martin in Cork South-Central, and Bobby Aylward in Carlow-Kilkenny.
Fine Gael picks up 44 seats out of the 119 already allocated, while Labour picks up 39, and Sinn Féin 17.
In a potential sign of frustration at the options being presented, over 4 per cent of voters spoilt their virtual ballots.
Boards.ie is part of the Distilled Media Group.Journal Media Ltd has shareholders – Brian and Eamonn Fallon – in common with Distilled Media Group.