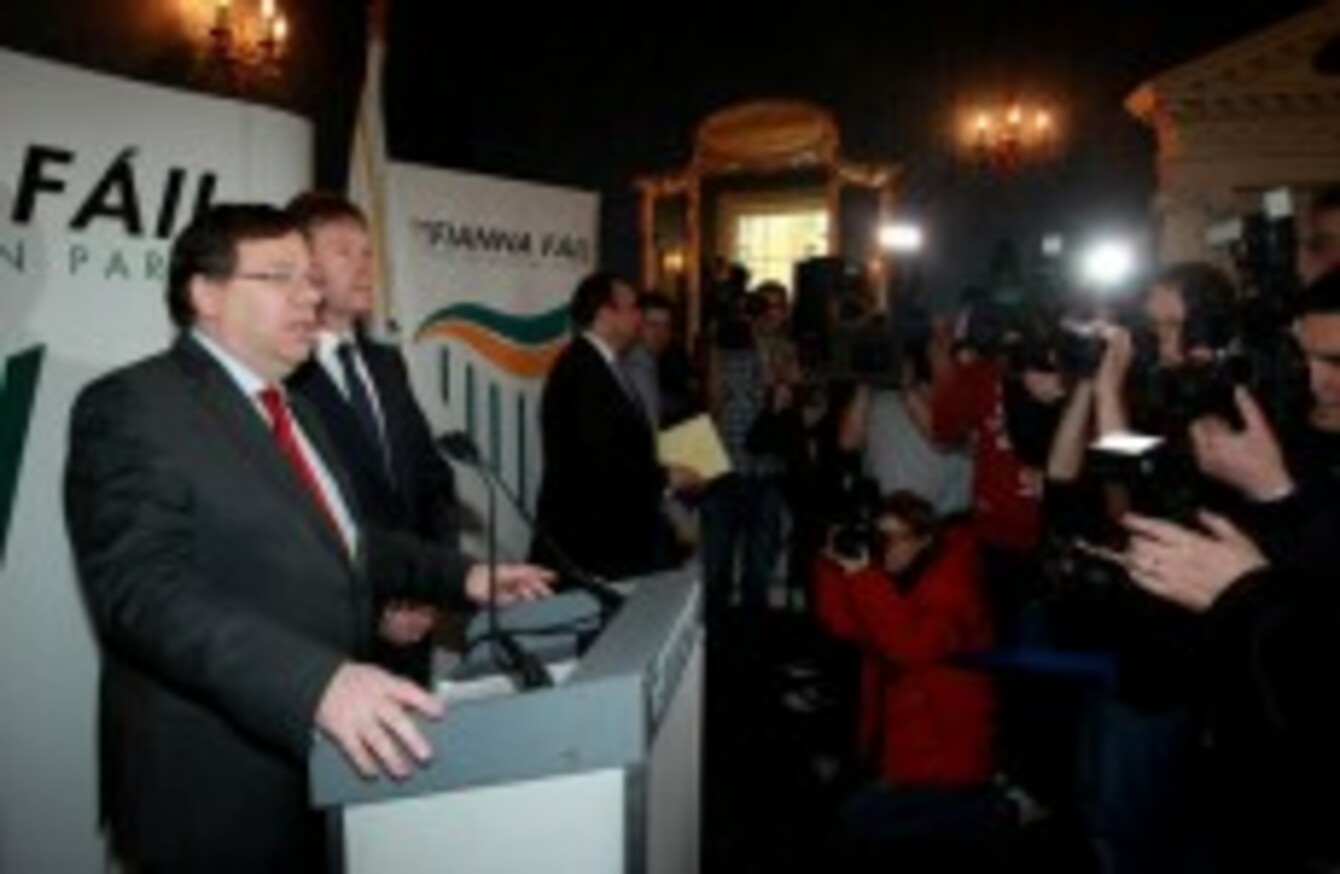 Image: Julien Behal/PA Wire
Image: Julien Behal/PA Wire
THE NOMINATIONS FOR A NEW Fianna Fáil leader have opened already, and will stay open until lunchtime on Monday.
Four names in particular are featuring heavily in rumours about who will take over the role, including three sitting ministers and one recently-resigned.
Micheál Martin has become the first to announce his intention to put his name forward for consideration.
Martin, who resigned his ministerial post after last week's confidence motion in Cowen's leadership, gained support from party colleagues over his handling of that motion.
He publicly announced he would not support Cowen in the vote, saying he was concerned over the future of the party and thought it would be better off heading into an election under a new leader.
Cork TD Noel O'Flynn told RTÉ News that he is "delighted" Cowen has made this decision and said he had heard that a number of TDs were coming out behind Micheál Martin and his vision for the future of the country and of the party.
O'Flynn said, though, that he would favour a contest so as to prevent further qualms over the party leadship.
Junior minister Martin Mansergh said he did not believe in rushing into things, and would be "quite happy" to see a contest for the position, but would not say which one candidate he would like to see succeed Cowen.
Minister Eamon Ó Cúiv had said last week he would like to become party leader if that was the wish of the party's ordinary members.
Ahead of the confidence motion, Ó Cúiv said he supported Cowen and thought he should stay on. However, by the end of the week, he would not say whether he still held such confidence.
Ó Cúiv, already Minister for Social Protection, was allocated the responsibilities of the office of the Minister for Defence after Clare TD Tony Killeen resigned last week.
Minister for Finance Brian Lenihan has repeatedly refused to be drawn on his interest in the position, saying simply that there was no vacancy to fill, but could be a strong contender in a leadership battle.
However, Lenihan's in-party support may have diminished recently. He came under criticism last week after announcing he would back Cowen in the confidence motion. TDs John McGuinness, Sean Power and Michael Kennedy claimed Lenihan had leadership ambitions of his own, and were disappointed he decided to support Cowen.
Lenihan denied his party colleagues' claims he was seeking to organise a coup against Cowen.
Minister Mary Hanafin could also be in the running, but according to Paddy Power, is not as likely to take the role as her other three colleagues.
Minister for Social and Family Affairs, Hanafin was given the added responsibility of the Enterprise, Trade and Innovation portfolio upon Batt O'Keeffe's resignation last week. Hanafin did not publicly state which way voted on the motion, but said she voted the way she had told Cowen she would vote.
Strong favourite
Micheál Martin has emerged as the early favourite with the bookmakers too; an early FF leadership market from Paddy Power – who was present at the Merrion Hotel as Cowen announced his departure – offers odds on Martin at a measly 25/1 on.
Such short odds mean that a punter would have to bet €25 on Martin winning the leadership battle to win €1 back from the bookie.
By comparison, Power offers odds of 12/1 on Brian Lenihan being the next leader, 14/1 on Éamon Ó Cuív and 18/1 on Mary Hanafin.
Longer odds are available for junior ministers Dara Calleary (25/1) and Sean Connick (33/1). The party's current deputy leader, Mary Coughlan, is a 50/1 shot.
Additional reporting by Gavan Reilly