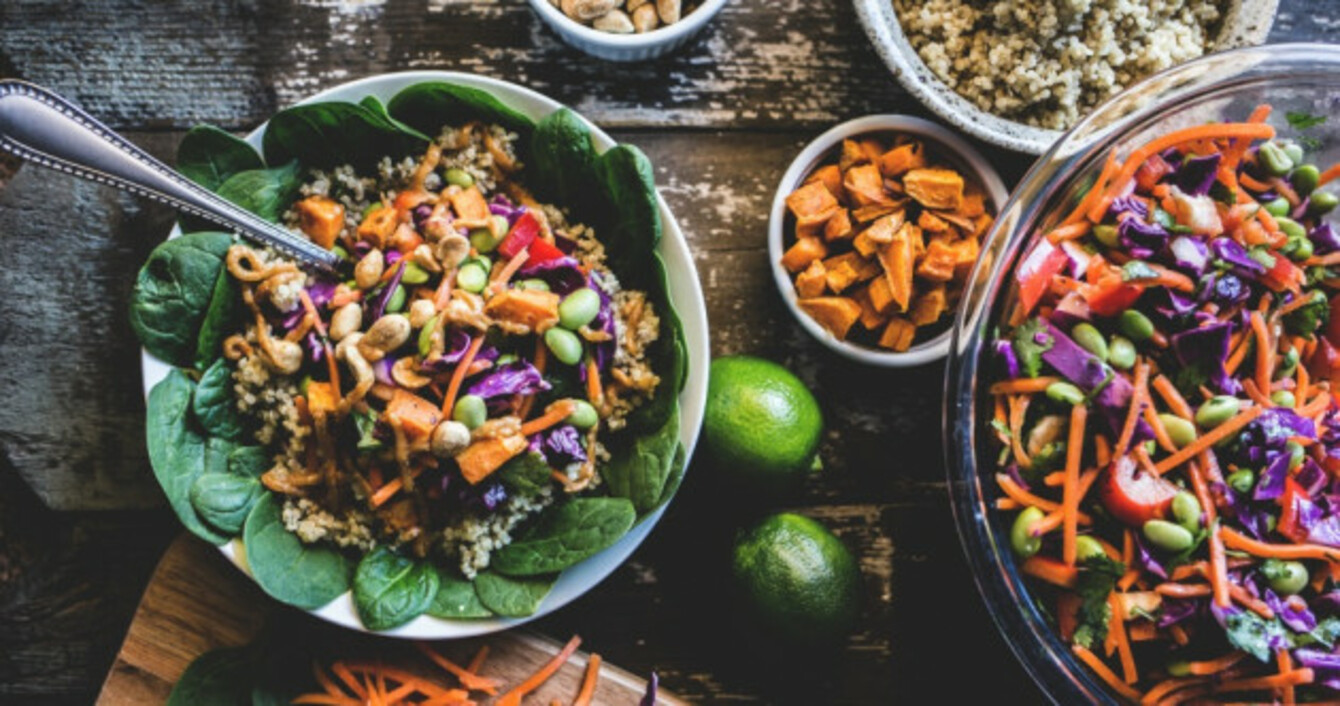 IT'S TIME TO DISPEL the age-old myth that salads can't be filling.
When done right, a salad bowl can keep you satisfied long after lunch or dinner time. The key is to think beyond the classic garden salad for something a little more creative.
There's very little that can't be added to a salad. Get your basic ingredients ready, pick your added ingredients, check your fridge and cupboards and then check again.
Are there a few loose radishes or scallions in the bottom drawer? An egg to boil and crumble on top? Nuts or seeds that can be toasted and sprinkled across? Almost anything can be turned into a salad ingredient, so happy salad making!
As the weather starts to warm up and salads come into mind, here a few key additions that will make your bowl the heartiest around and move your salad firmly from side dish to main course…
1. Add stale ciabatta for a Tuscan bread salad
Whoever suggested that salad should ever be a carb-free zone was wrong. Chef Paul Flynn has a go-to salad he teaches in his Dungarvan Cookery School:
Tuscan bread salad. It's one of my favourites because it's hearty and filling and stale ciabatta is a big component.
Flynn adds roasted peppers, anchovies, orange, and sometimes cheese but interchanges the ingredients according to what he has.
"Think of it as a one-pot supper but it's just a one pot salad. The bread is essential as it soaks everything up, takes all the flavours on board." It's basically a Panzanella salad, which always includes chunks of soaked stale bread.
2. Transform leftover sausages, chicken or roast veg
Dinner leftovers can become a brilliant next day salad. Cook a few extra sausages and use them cold for a salad with a honey mustard dressing, or extra chicken can be transformed into a Caesar. Holly White uses roasted squash, while Paul Flynn uses leftover cooked potatoes for a simple warm salad:
For a really quick fix I roast asparagus, red onion, some cooked potatoes, olive oil, garlic and throw it in a hot oven for eight to ten minutes so it chars a little. Then I mix through baby spinach and it wilts into a lovely tangle of stuff. It's great as it is for a vegetarian version or you can add roast chicken or barbecued lamb. 
3. Use toasted stale pita for a Middle Eastern fattoush
Jess Murphy from Kai in Galway, well known for her flavoursome cooking, also advocates the bread salad for a wholesome feed. She favours "old pita bread" in her version, using it to make a fattoush.
For the uninitiated, that's a Middle Eastern chopped salad with plenty of fresh herbs and pita in place of croutons.
4. Add a dollop of hummus for a ready-made mezze
Pita aside, there are plenty of other Middle Eastern-inspired additions that can turn your salad into a filling mezze plate. Adding hummus is a no-brainer for filling you up, made from fibre and protein-packed chickpeas. Falafel, bought or homemade, offers a brilliant alternative to chicken or meat in most salads you are already making.
Using lemon juice or yoghurt as a dressing is simple and effective. Keep an eye out for some Mediterranean pantry staples to keep on hand for fast salads fixes like baba ganoush (roast aubergine), dolmades (stuffed vine leaves), jarred artichoke hearts and olives.
5. Hard-boil your eggs for the classic Irish 'salad plate'
I am a sucker for the salad of my youth, an Irish salad plate, inspired by Myrtle Allen in The Ballymaloe Cookbook. Use lamb's lettuce or baby gem as your base and then assemble á la Allen: 
Arrange lettuce leaves like a rose in a deep bowl – biggest leaves on the outside, small leaves in the centre. Scatter some or all of the following between the leaves: quartered hard-boiled eggs, quartered tomatoes, slices of cooked beetroot, slices of cucumber, cress, watercress, mustard leaves.
I like to add cooked ham and a bit of brown bread with butter and for the ultimate trip down memory lane, a dollop of salad cream.
6. Cook up some quinoa or rice for an easy grain bowl
The right seeds, grains or legumes can add that all-important texture to a salad as well as filling protein and fibres. Plant-based cook Holly White starts with the grains and works her way up:
To make a salad more filling I always think of a good base such as quinoa or rice. It's a great way to use up leftovers and also mops up flavours so well. 
7. Add salty oven-roasted chickpeas for extra crunch
If you are avoiding bread or wheat, a toasted seed or chickpea topping mean you won't miss our on the crunch of croutons. Holly White roasts her chickpeas for 30 minutes at 180C:
Simply marinate them in some tamari [or soy sauce] and then roast. They're a handy snack but also inject some tasty vegan protein and minerals into whatever else is in my salad.
8. Use smoked salmon or steamed fish for a protein boost
Fish offers up some super easy options to make your salad a real feast. You can simply add steamed or pan-fried fillets of salmon or another firm fish, but for something even more straightforward, think ready-to-eat.
Smoked salmon is a real treat and goes so well with herby and lemony salads, and it also it pairs perfectly with goats cheese. For an everyday staple, I love smoked mackerel: great value and usually comes smoked with some pepper or spices. I make a salad of leaves, chopped celery, apple, feta and toasted walnuts, dress it with lemon, oil and then break a smoked mackerel fillet through it.
9. Open a tin of tuna for an easy Nicoise
Nicoise salad is another favourite of mine, a classic combination of leaves, green beans, black olives, eggs and tuna. You could, of course, sear a fresh tuna steak should you find one, but I mostly make mine with tinned tuna chunks. Again, add lots of herbs and lemon for summer in a bowl.