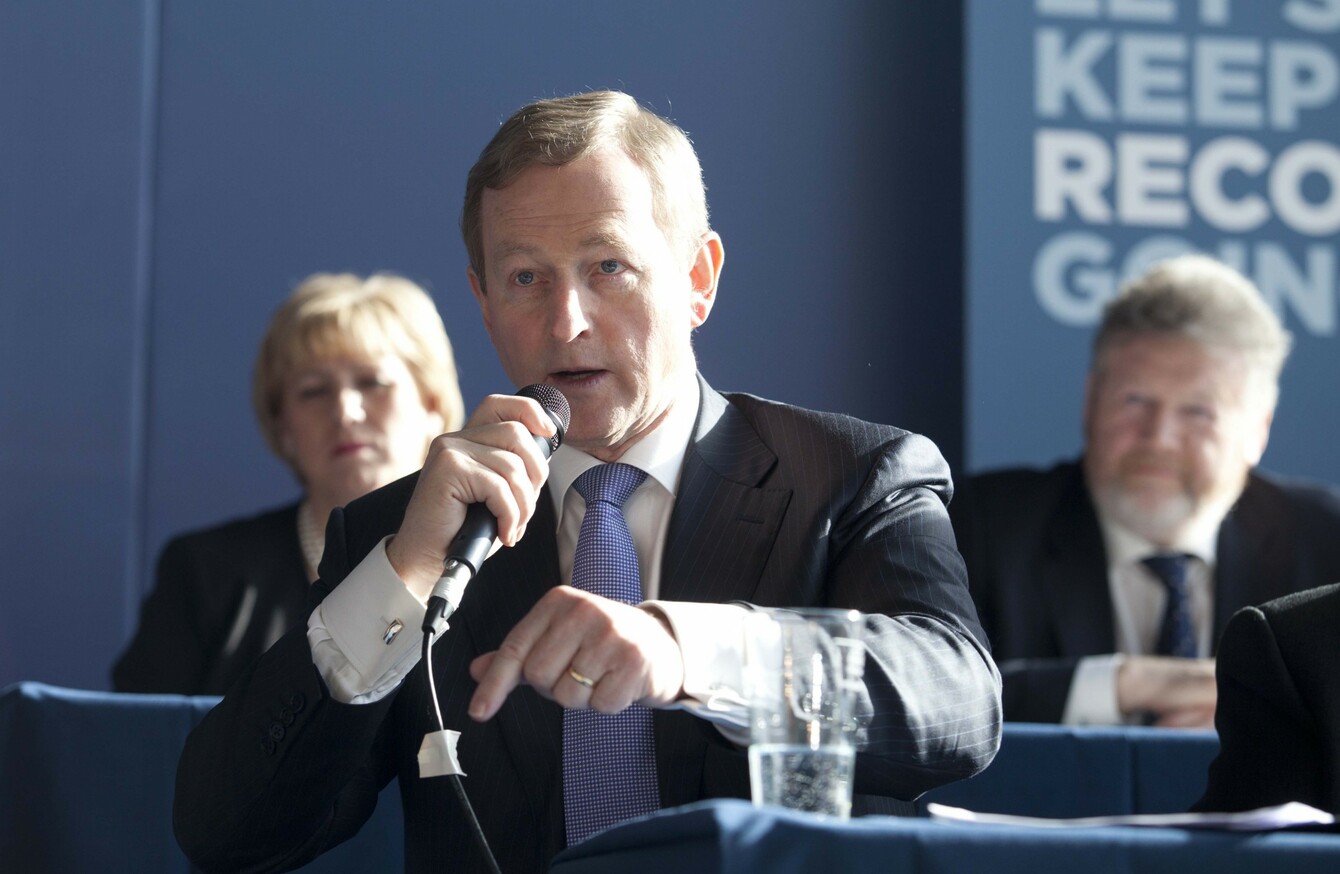 Image: RollingNews.ie
Image: RollingNews.ie
TAOISEACH ENDA KENNY HAS repeatedly refused to rule out serving as taoiseach in a potential coalition government with Fianna Fáil.
The Fine Gael leader was asked three times today if he would step down in the event that his party needs to be propped up by its long-time rival following the general election.
"I do not contemplate doing business with them," he said when pressed on the matter.
Stability, security and recovery were the three big buzzwords at Fine Gael's general election manifesto launch this afternoon.
But questions over whether it would do business with Fianna Fáil also dominated the event, with senior ministers using the opportunity to attack the previous government's legacy.
"Now is not the time to take risks with Ireland's recovery," Kenny told reporters and party stalwarts gathered at the launch in Dublin's CHQ building.
The choice presented to voters, he said, is between "stability or chaos, security or strength, prosperity or poverty, recovery or risk".
Negative campaining
While Kenny denied engaging in negative campaigning, Fianna Fáil today accused his party of taking "a sinister turn" in personally attacking Micheál Martin.
"This Nixon-like negative campaigning is the last gasp of a desperate government which has spent five years ignoring problems and letting them become crisis after crisis," the party said in a statement.
Kenny also failed to directly respond to a question about whether James Reilly, who supports repealing the eighth amendment, would remain deputy leader of Fine Gael.
"In this party, we always have conversations and tensions," he said, adding that any decision regarding appointments would only be reached following the election.
Manifesto commitments
In its manifesto, Fine Gael commits to abolishing the USC and creating an extra 200,000 jobs by 2020.
The party says its plan for full employment will also see 70,000 Irish emigrants returning  home to work.
The manifesto proposes a €20 increase in weekly social welfare payments to carers, the disabled and the sick, as well as a €25 increase in the weekly pension.
The party wants to raise the minimum wage to €10.50 per hour and extend free GP care to all children by 2019.
It also commits to maintaining the corporation tax rate of 12.5% and doubling housing output to 25,000 per year by 2020.
Fine Gael says its plan will lead to over 10,000 new doctors, nurses, gardaí, teachers, social workers and other frontline staff.
Falling support
The launch comes after a Red C opinion poll published yesterday showed support for the party has fallen by three points to 28%.
Backing for Labour has also slumped by two points to 8%, while 18% say they will vote for Fianna Fáil, down one point since the last comparable poll.
Support for Sinn Féin, now the second most popular party in the country, has risen by three points to 20%.