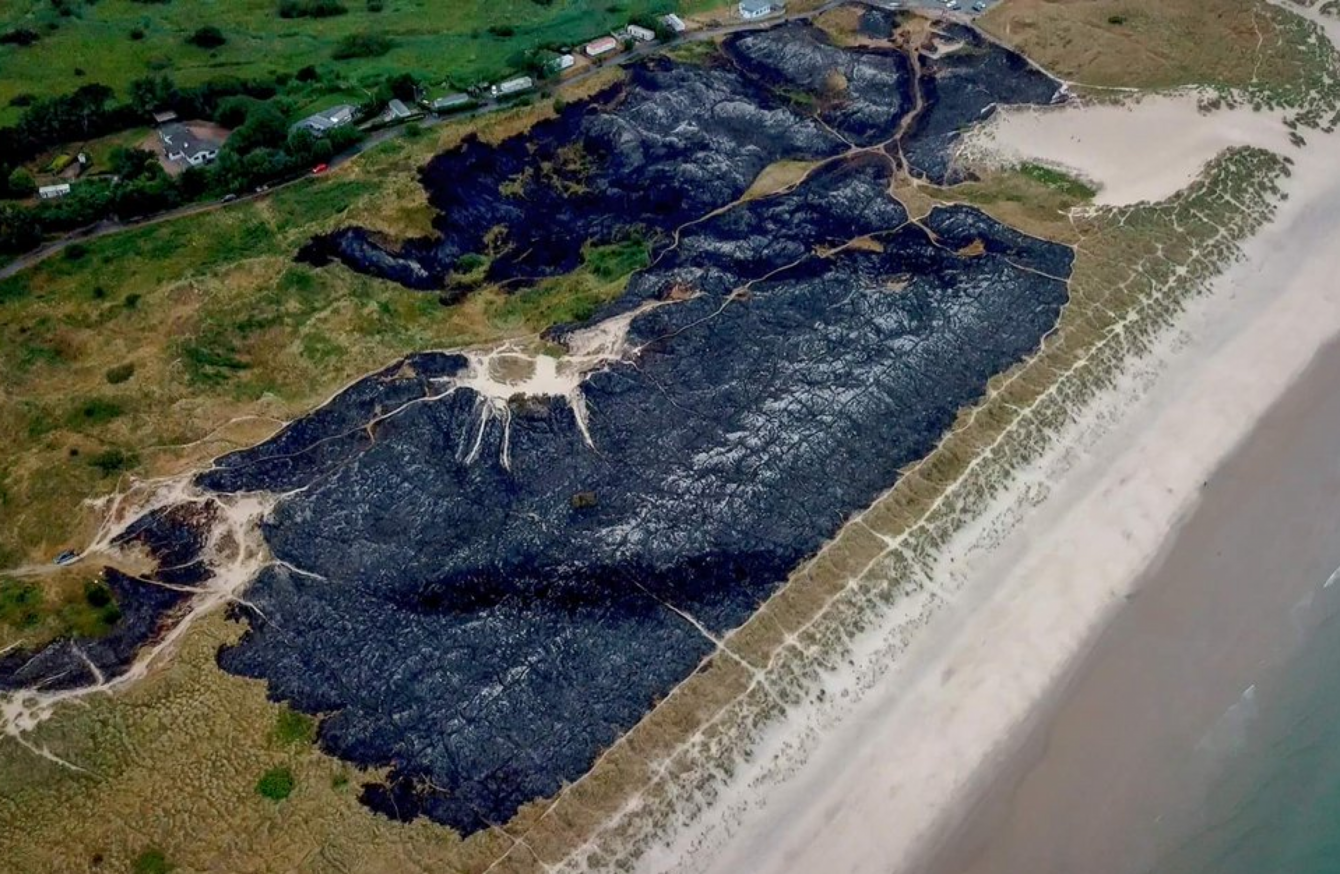 Charred land over Curracloe Beach in Co Wexford following a dune fire earlier this month
Image: Twitter/@IrishAirCorps
Charred land over Curracloe Beach in Co Wexford following a dune fire earlier this month
Image: Twitter/@IrishAirCorps
WET AND DAMP conditions are usually the hallmark of an Irish summer, but to everyone's surprise, this year has seen the country experience its hottest year since 1976.
But while most people have been enjoying the unusually high temperatures in recent weeks, the ongoing heatwave has had unexpected side-effects for a number of others.
Farmers are worried about crop failure, hospitals have seen an increase in the number of patients presenting with sun-related conditions, and Irish Water has warned that we could experience shortages into the autumn.
Meanwhile, firefighters across the country have been forced to deal with an unprecedented number of call-outs as dry patches of land catch flame.
Last week, emergency services evacuated Curracloe Beach in Co Wexford, while firefighters in Dublin spent more than 24 hours battling a gorse fire on Bray Head earlier this month.
According to figures compiled by the Tipperary Fire and Rescue Service, calls to emergency services have hugely escalated as a result of the recent dry spell.
Since 1 June, the service has received around 400 calls, double what it has become accustomed to over the same period in previous years.
"We've been very busy with wild land fires on top of our day-to-day call outs like traffic collisions and standard fires," Tipperary's chief fire officer Dave Carroll tells TheJournal.ie
"We're constantly being called to gorse fires, bog fires, hill fires, and things like that, all related to the dry weather.
Thankfully, nobody has been killed or seriously injured as a result of the fires, most of which have happened away from properties and town centres.
But Carroll, who works from Nenagh, says that the unexpected nature of the calls has put a strain on the service.
"It can be difficult because if we're fighting a wildfire, we also have to make sure that if something routine like a traffic collision happens, we can get to that," he says.
"We have to balance resources to make sure we don't commit everyone to one location.
"There's a lot of disruption to our firefighters because it puts family life on hold for them while they're dealing with these things."
One of those firefighters, Thurles-based Marc Mulhaire, says this summer is the busiest he's ever seen.
"Some days, we're just going non-stop," he says.
"The first bog fire we had two weeks ago, we were called out at about half one in the morning, and I didn't get home until half seven or eight in the morning.
"We got another call again at half ten, two hours later, and we were back on the bog until 12 o'clock that night."
Mulhaire says that most of the fires he and his team deal with begin accidentally, and can also start from the most innocuous of sources.
"The bog fires we attend wouldn't be malicious. A lot of those start from shards of glass or pieces of plastic that reflect the sun onto the grass and it catches.
"It can even happen with something as simple as a crisp packet. They reflect the sun onto on the same spot for a while, and up it goes. It doesn't take much at all."
#Open journalism No news is bad news Support The Journal

Your contributions will help us continue to deliver the stories that are important to you

Support us now
With rain falling over the weekend, it might appear that Tipperary's firefighters have finally been granted some reprieve for the time being.
But Carroll warns that the rainfall is likely to be insufficient, urging the public to continue to be cautious about how they dispose of flammable material.
"People need to be very careful about things like barbecues and lit cigarettes," he says.
"The land is really tinder dry, and even the rain we've had wouldn't be enough to have had a big effect on eliminating the hazard.
"Any sort of discarded ignition source, like a barbecue or even a plastic bottle, can make foliage take off, and it gets out of hand very quickly.
"Within an hour, you can have a very significant fire burning, and it's too late for individuals to deal with at that stage."
For now, firefighters will continue to deal with the unprecedented level of callouts across the country.
But if you're living on a farm or in a rural area and want to stay safe without having to call emergency services, you can find a full list of fire safety tips from the Department of Housing here.