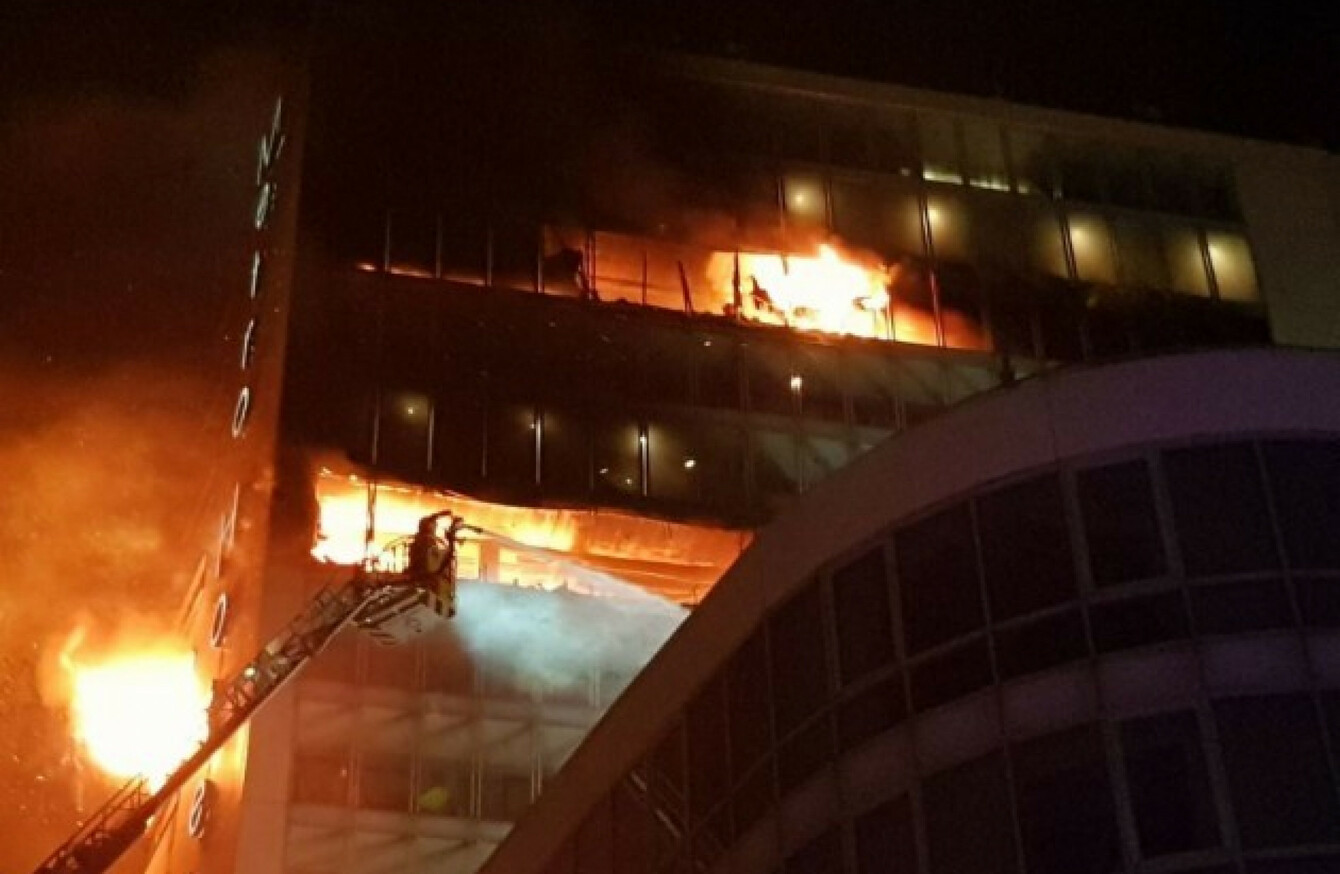 Image: Dublin Fire Brigade/Twitter
Image: Dublin Fire Brigade/Twitter
DUBLIN FIREFIGHTERS HAVE passed two motions of no confidence in the National Director for Fire and Emergency Management, Sean Hogan and the Dublin Fire Brigade (DFB) Chief Fire Officer, Pat Fleming.
Siptu said its members in Dublin Fire Brigade voted at an emergency meeting last Saturday in the wake of the high-rise fire at the Metro hotel in Ballymun.
Last week the union pointed out that it did not have adequate equipment for this fire as it would have been unable to reach people on balconies or at windows on the top floors because the turntable ladders are not tall enough.
In a statement today, Siptu sector organiser Brendan O'Brien said the union believes no satisfactory improvements have been made despite representatives "continually raising health and safety concerns" in recent years.
'Somebody will lose their life'
O'Brien told TheJournal.ie that his members have been "calling for a proper robust risk assessment" of the city to be carried out. He said this would give firefighters an indication of the type of structure they are dealing with – and any potential fire safety concerns - before they even arrive at a scene.
He said similar systems to this are in place in Northern Ireland and Scotland.
"What we have at the moment is a type of self-certification by builders and developers and as we've seen with the likes of Priory Hall etc, it is not a reliable method of ensuring fire safety standards," he said.
"These buildings were certified as safe when they clearly weren't. Our members, they go into these buildings when they are on fire and they see the fundamental flaws they have. Somebody is going to lose their life one day over this."
Though he said he did not want to anticipate the findings of the investigation into the Ballymun fire, he said he had been hearing "some questions" from firefighters.
"The fire started on the 13th floor and jumped to the 10th floor, so people are questioning how it transferred from that floor. Normally a fire moves upwards – this one went down – so there is a question about how that happened."
Thankfully, there was no loss of life or serious injury, but a lot of that is down to the fact that it happened at 8pm when there were hotel staff to help with the evacuation and people were awake. If that happened at three or four in the morning and you only have a night porter to raise the alarm, it could have been different.
O'Brien also expressed concern about the work of the Fire Safety Task Force, which was set up here after the Grenfell Tower tragedy in the UK. He said he felt that the key issues raised by the one staff representative on the taskforce "haven't been addressed in that forum" and will not be included in the final report to the minister.
'Surprised'
In response to Siptu's statement this evening, Minister for Housing Eoghan Murphy expressed his full confidence in the work of both Sean Hogan and Patrick Fleming.
"People will be surprised at this evening's statement from SIPTU. Anyone who has seen the role that Sean Hogan has played in leading the country's response to many national emergencies, most recently in relation to snow storm Emma at the beginning of this month, a role that I have witnessed first-hand myself, will recognise Sean's extraordinary leadership ability, his sound judgement and sheer dedication to public service and public safety.
Pat Fleming and Sean Hogan have made an extraordinary contribution to developing and implementing fire safety policy in their various roles in leading local authority delivered fire services in this country. This is what makes it hard to believe that SIPTU would issue a statement of the kind we saw today.
The Minister also said fire safety policy has resulted in declining numbers of fires, as well as having smoke alarms in over 90% of households.
He said it is important that the government moves forward with the implementation of vital fire safety policy which will delver better response times.
"We need to get on with urgent fire safety work and I look forward, in particular, to the finalisation of the report of the Fire Safety Task Force I set up in the immediate aftermath of the Grenfell Tower tragedy, which I expect to receive at the end of April, and implementing its recommendations."