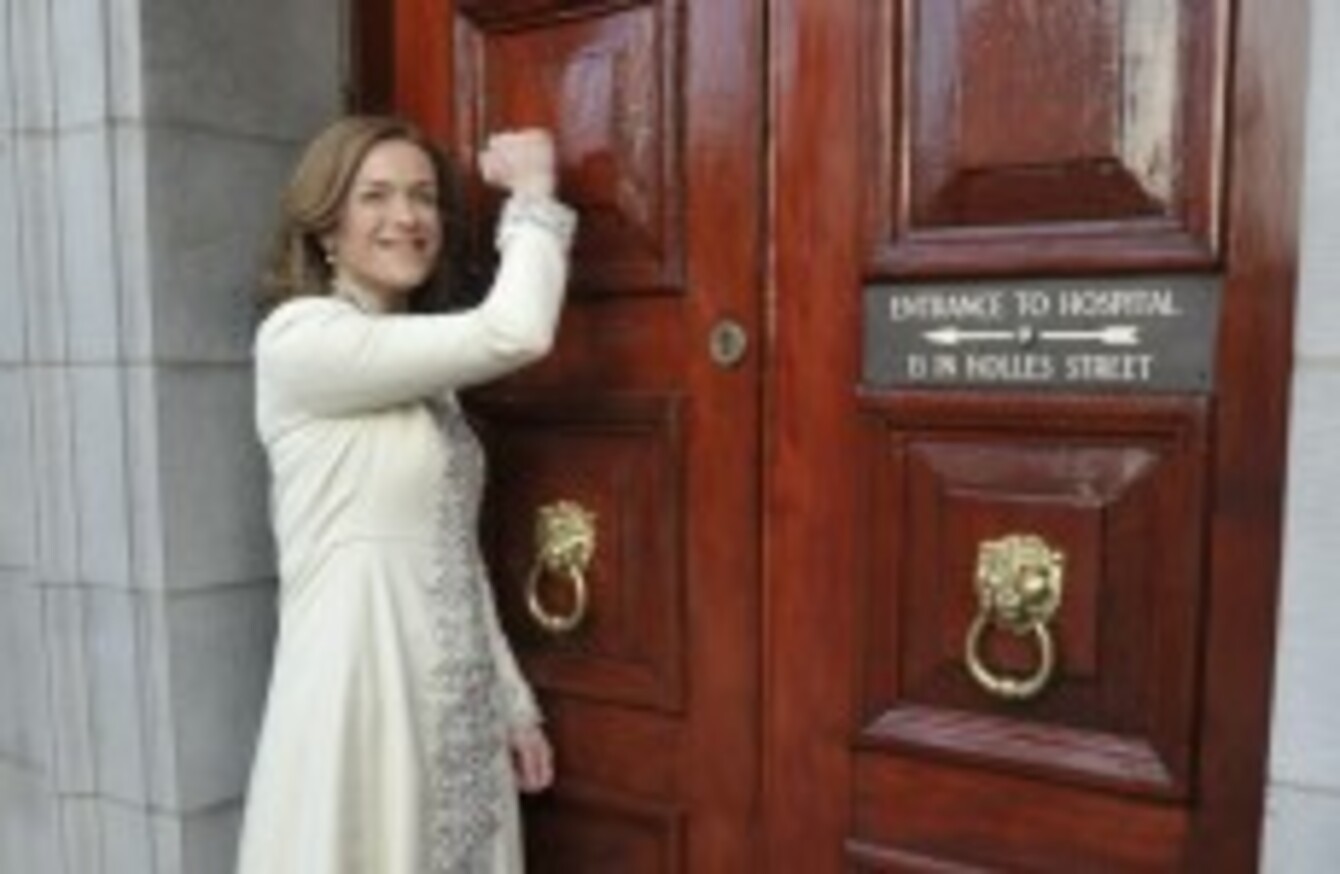 Dr Rhona Mahony at Holles Street today
Image: Sasko Lazarov/Photocall Ireland
Dr Rhona Mahony at Holles Street today
Image: Sasko Lazarov/Photocall Ireland
THE NEW MASTER of the National Maternity Hospital in Holles Street began her seven-year term today.
Dr Rhona Mahony went through the traditional ceremony which greets a new Master to the role on New Year's Day by visiting the hospital with her own four children and husband. There she met the hospital's first newborn of 2012, Elsie Ann Tumulty who was born at 26 minutes past midnight. Weighing in at 6lbs 9ozs, Elsie Ann slept soundly as she and her parents Ian Tumulty and Nikki Mitchell were greeted by Dr Mahony.
Holles Street is the busiest maternity hospital in Ireland with almost 10,000 babies born there in 2010. Dr Mahony is its first-ever female Master and replaces Dr Michael Robson. She was a consultant obstetrician and gynaecologist at the hospital until she took up her post today. The Master is a term from the 19th century when the Rotunda, the Coombe and Holles Street hospitals were each given the power to appoint one head each to take control of all aspects of the hospital's clinical and administrative areas.
Dr Mahony is a specialist in foetal and maternal medicine and, according to the Irish Nurses and Midwives Organisation, has had her research into topics such as maternal weight gain and pelvic floor injuries following childbirth published in international medical journals.
The last annual report issued by NMH Holles Street – for 2010 – warned that the hospital was under "serious infrastructural constraints" and that its goal was to move to the St Vincent's University Hospital campus. Dr Mahony, in an interview with the Irish Times last May on the announcement of her forthcoming promotion, would not comment on the proposed move.
New Master at Holles Street

Dr Rhona Mahony meeting Ian Tumulty and Nikki Mitchell and newborn Elsie Ann

New Master at Holles Street

Dr Rhona Mahony with husband Daragh Fagan, children Hugh, 5, Daragh, 9, Sarah, 11 and Lorna, 12
Pics by Sasko Lazarov/Photocall Ireland