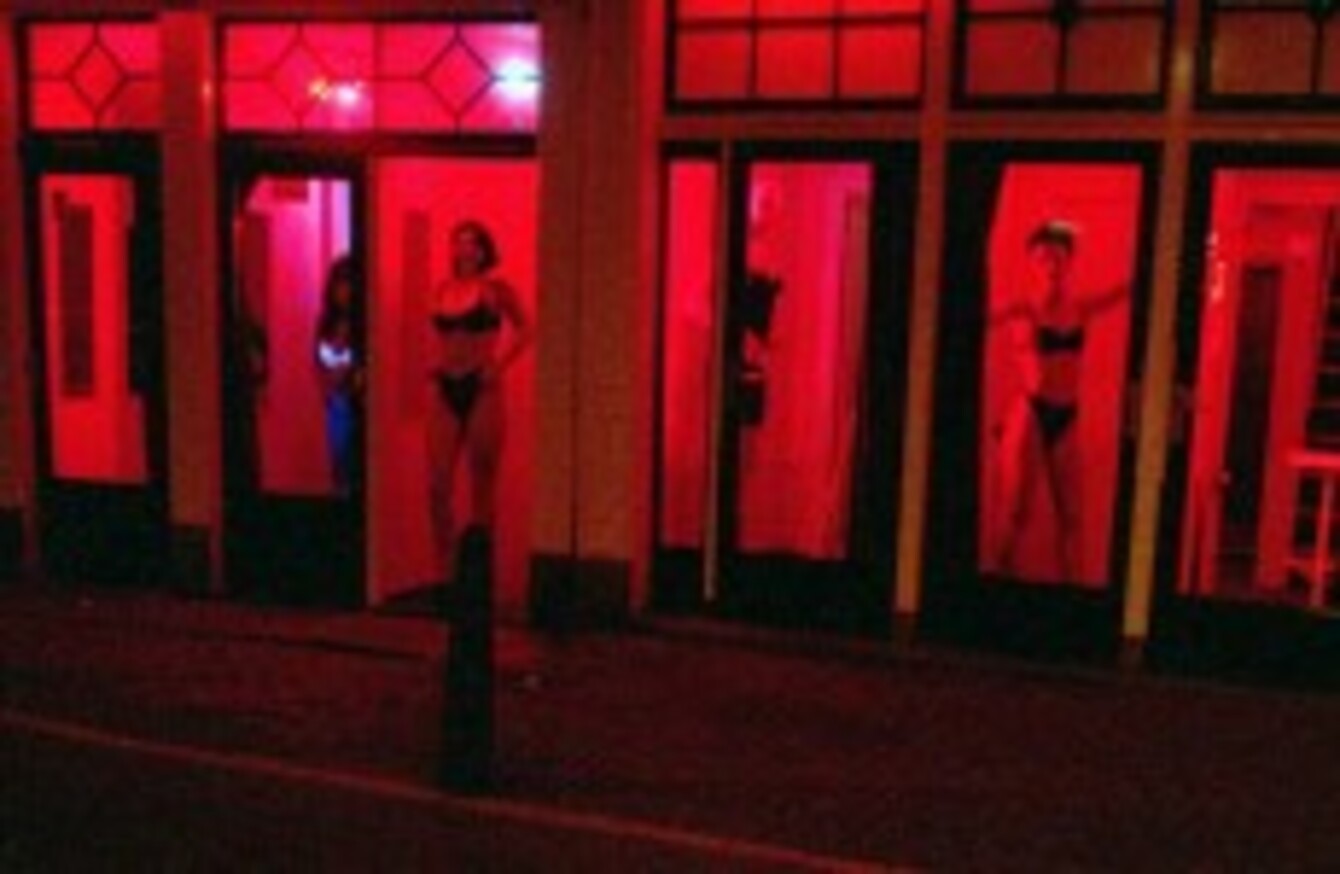 FILE-Prostitutes stand behind red-lit windows, waiting for customers in Amsterdam's Red Light district
Image: PETER DEJONG/AP/Press Association Images
FILE-Prostitutes stand behind red-lit windows, waiting for customers in Amsterdam's Red Light district
Image: PETER DEJONG/AP/Press Association Images
THE FORMER ESCORT, writer Brooke Magnanti – once known as Belle de Jour – has joined the calls for sex workers in Ireland to get to have their say on a review of prostitution legislation.
Magnanti, who blogged anonymously for six years about her experiences in sex work under the name Belle de Jour – which in turn inspired a TV series – told TheJournal.ie about her concerns around the current hearings on such legislation by the Joint Committee on Justice, Defence and Equality.
The criminal law in this area is being reviewed because of the changed nature of prostitution in Ireland. Currently, Irish law does not criminalise the exchange of sex for money but it does criminalise most prostitution-related activities such as pimping.
Hearings
The type of legislation considered may be based on the Swedish model, which criminalises the purchase of sex, and members of Sweden's police force have met with Irish gardaí on the issue.
Magnanti, who has watched the committee hearings online and tweeted about them under the hashtag #sexworkhearing, told TheJournal.ie that she has become concerned that to date no sex workers have spoken to the committee, although groups representing them have.
Magnanti said that she and others have mailed the committee about this, while she has also spoken to its chair, Pat Neary.  She said she was told by Neary that sex workers will be included in future hearings which will not be open to observers or webcast, but was not told when these hearings would take place.
Magnanti said:
There was a lot of concern because I was hearing from sex workers based in Ireland who had actually first been trying to go to hearings, but also trying to get on the list of people presenting evidence. So far it has been other groups and other organisations claiming to speak for sex workers.
She hopes allowances will be made for people who want to take part anonymously due to the stigma around sex work.
People on both sides of the issue are watching very closely what is happening in Ireland. This could set the tone for what is happening with legalisation in the UK [and other countries].
These are voices that need to be heard, people like me whose experience is relatively positive, and people who have negative experiences.
"We are so used to sex workers not speaking out," she said. "People are so used to this idea that researchers and social workers and outreach programmes are going to be the people who have our voice for us."
While blogging and social media provide a way for sex workers to have their voices heard, Magnanti said governments could allow people to anonymously submit their thoughts on legislation using technology.
There is no reason why we can't protect somebody's privacy, their anonymity and still get [to hear from them]. It's such a huge thing that's missing. We wouldn't make legislation for anything else without including [the people concerned].
Having made a submission to the commission, Magnanti said she would consider speaking, but explained: "I really think to get the best possible input you need to get people who are currently or former sex workers in Ireland."
Swedish model
Magnanti's main concern about adopting the Swedish model "is around whether or not this actually improves the life of a sex worker". The Swedish model comes from the end-demand model, which "seems to say if we stop men buying sex then everything will be OK".
But Magnanti questions if criminalising men does actually stop them buying sex. She said that the voices coming out of Sweden suggest that the new laws have "made it more dangerous" and are forcing some sex workers underground.
"How can you criminalise one side of the transaction and not the other?" asked Magnanti.
You then have to be tracking the sex workers. People say that it has brought down trafficking but all their biggest arrests in Sweden for trafficking have been since the law came in. It is seeing more trafficked women and there is a higher proportion of Swedish men who have had paid sex. Obviously demand hasn't gone.
My concern is: does it make life safer? That has to guide policy through and through.
Are governments ignoring other models of legislation? Magnanti believes they may be. She said that the Swedish model, for example, is supported by the religious side of the spectrum and radical feminist groups, but it isn't supported by others.
To ensure that all legal avenues and viewpoints are discussed during the hearings, she is appealing to the Irish committee to ensure that sex workers' voices are heard – especially as other countries are taking note.
The main thing that surprised me when I spoke to Mr Neary was [the government] don't seem to realise how closely people are watching. It really could set a precedent.