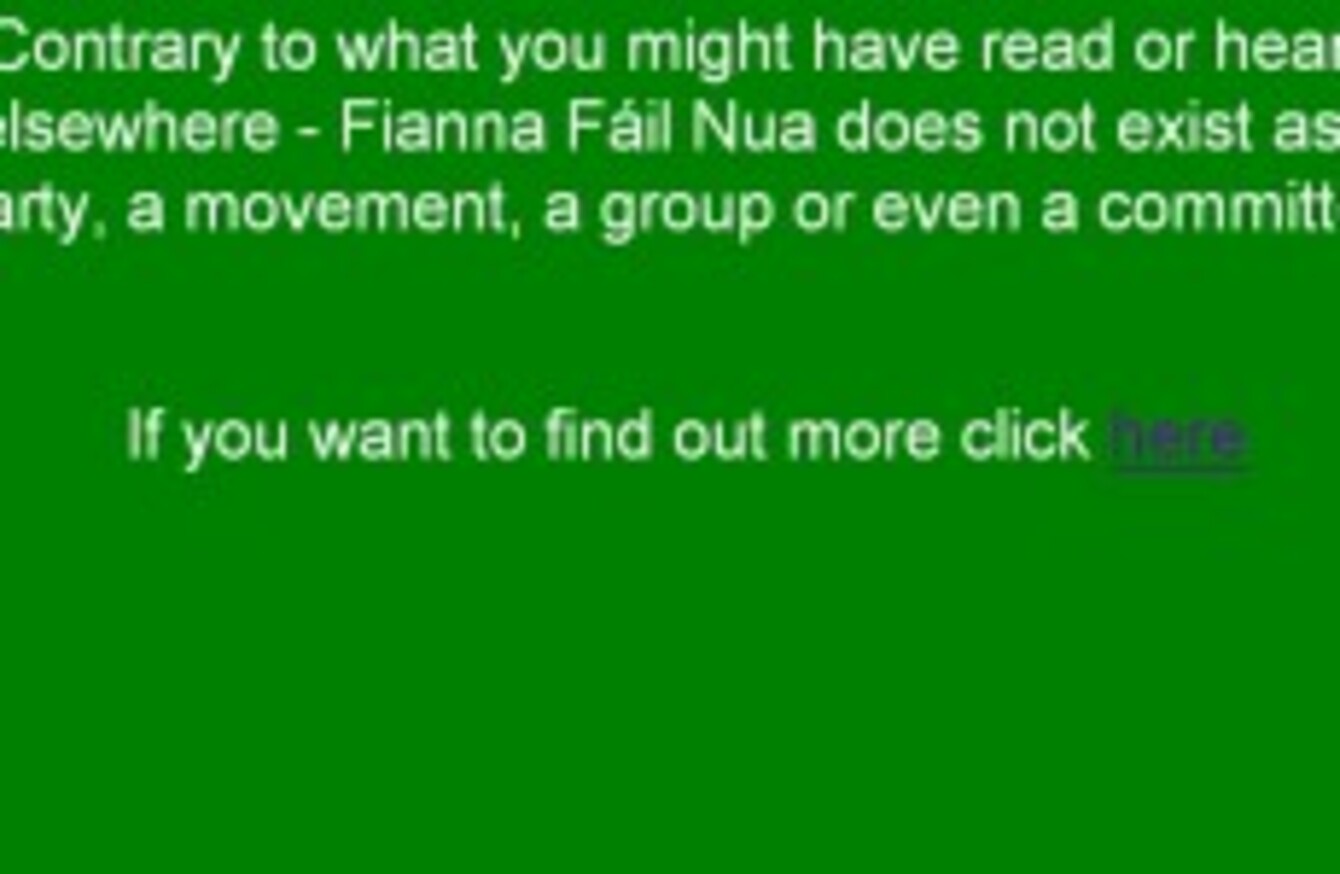 The home page of www.fiannafailnua.com Clicking 'here' brings one to the official FF party website.
The home page of www.fiannafailnua.com Clicking 'here' brings one to the official FF party website.
A PLAN BY a close friend of Bertie Ahern's to launch a website called Fianna Fail Nua has been partly scuppered by a FF party faithful. Stephen Kearon said he snapped up the domain website name www.fiannafailnua.com when he heard businessman Jerry Beades on the radio yesterday saying he wanted to launch the site as part of a plan to "revitalise" Fianna Fail.
Mr Kearon, a former special advisor to Fianna Fail junior minister Dick Roche, has set up a home page that simply reads:
Contrary to what you might have read or heard elsewhere – Fianna Fail Nua does not exist as a party, a movement, a group or even a committee. If you want to find out more, click here.
On clicking 'here', the reader is then rerouted to the official Fianna Fail website at www.fiannafail.ie. Contacted by TheJournal.ie about why he bought the site and then set up the redirect to the FF party page, Mr Kearon told us:
As an ordinary FF member I don't like the idea of our party's name being used by individuals on ego trips. If people want to go outside FF that is their right – but they shouldn't be able to take the FF name or identify with them when they turn their back on the party.
Mr Kearon confirmed that he had ceased being a Special Advisor to Dick Roche after the-then Minister Roche left the Department of Environment after the 2007 general election. He says though that he continues to be an "active member" of Fianna Fail and was elected PRO for the Wicklow Comhairle Ceantar of the party last April.
Ironically, the type of Fianna Fail member Mr Beades claims to be targeting with his proposals to shake up the party with "root and branch reform" are grassroots members, such as make up the local CCs.
While the domain name www.fiannafailnua.com has been taken by Mr Kearon, the name www.fiannafailnua.ie remains unregistered.