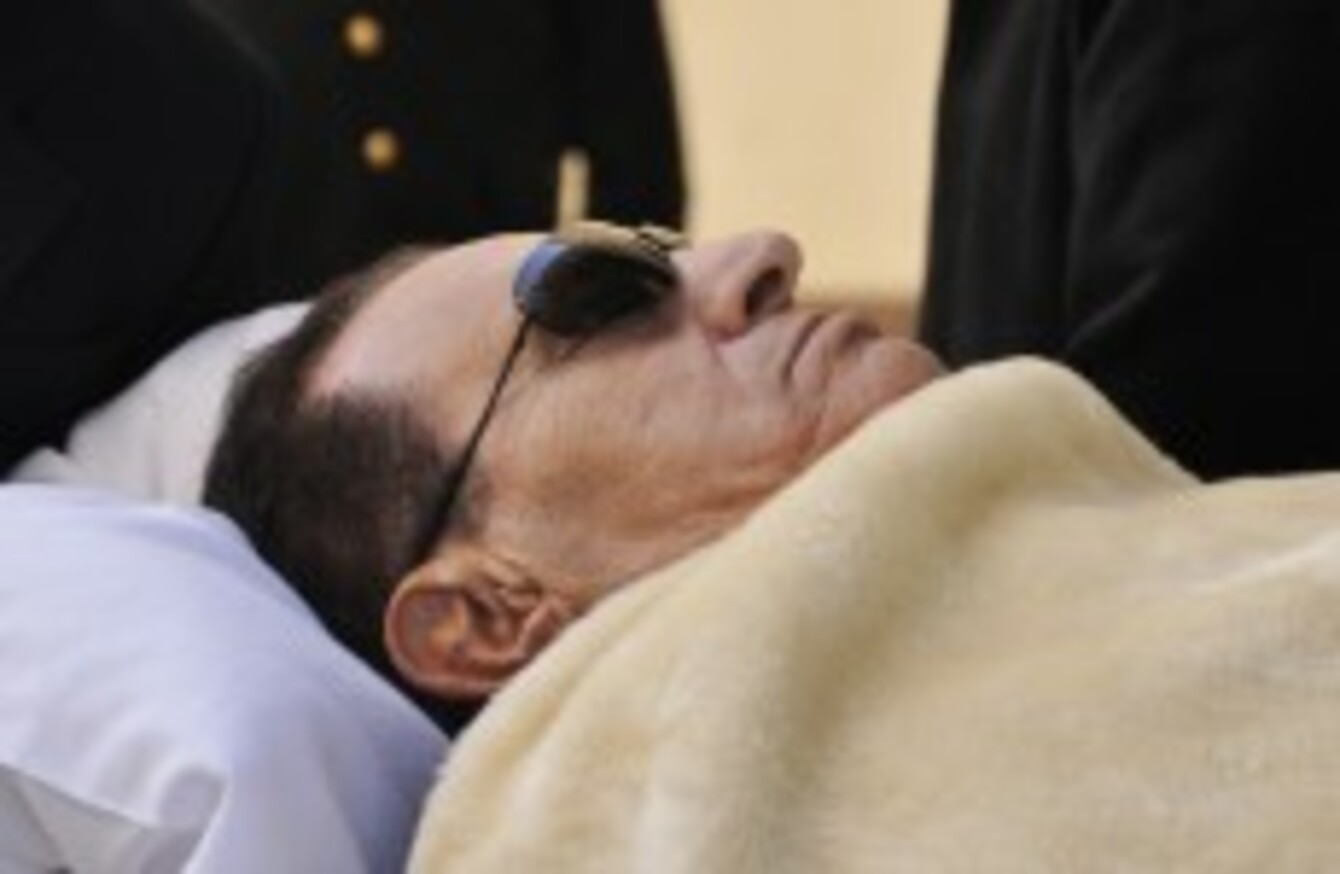 Image: Mohammed al-Law/AP
Image: Mohammed al-Law/AP
Updated, 11:15
THE FORMER PRESIDENT of Egypt, Hosni Mubarak, has been sentenced to life in prison for his involvement in the murders of protestors seeking to oust him from power in last year's uprising – but has already vowed to appeal.
Chief Judge Ahmed Rifaat this morning sentenced the ailing former president, 84, to life in jail for conspiracy to kill the demonstrators who ultimately forced his departure last year.
Mubarak, who had taken power in October 1981 after the assassination of Anwar Sadat, had pleaded not guilty to the charges.
Wearing dark sunglasses, Mubarak was brought to the Police Academy court by helicopter and taken inside on a stretcher. He was placed behind a caged area within the courtroom as the rulings were being delivered.
TV footage from the courtroom showed violent clashes breaking out between revolutionaries and former loyalists in the aftermath of the ruling, as Mubarak himself was wheeled away. "Void, void," some Mubarak supporters chanted, adding: "the people want the judiciary purged."
A senior member of Mubarak's defence team, however, immediately insisted that the 84-year-old would appeal his sentence.
"We will appeal. The ruling is full of legal flaws from every angle," the lawyer said, before insisting he would "win, one million percent."
Prosecution lawyers, meanwhile, were angered over the acquittals of the police commanders, and told AFP they feared that Mubarak would be acquitted in his appeal.
Over 800 people were killed during the revolution, which culminated in over two million people demonstrating against Mubarak's three-decade rule in Tahrir Square, while a further 300 people have died in post-revolution violence.
Former interior minister Habib al-Adly was also convicted and sentenced to life in prison. Six police commanders were cleared of the charges.
Corruption charges against Mubarak's sons Alaa and Gamal were dropped because of the statute of limitations.
The former president was acquitted on a separate charge of selling natural gas to Israel at lower than market prices.
Additional reporting by AFP