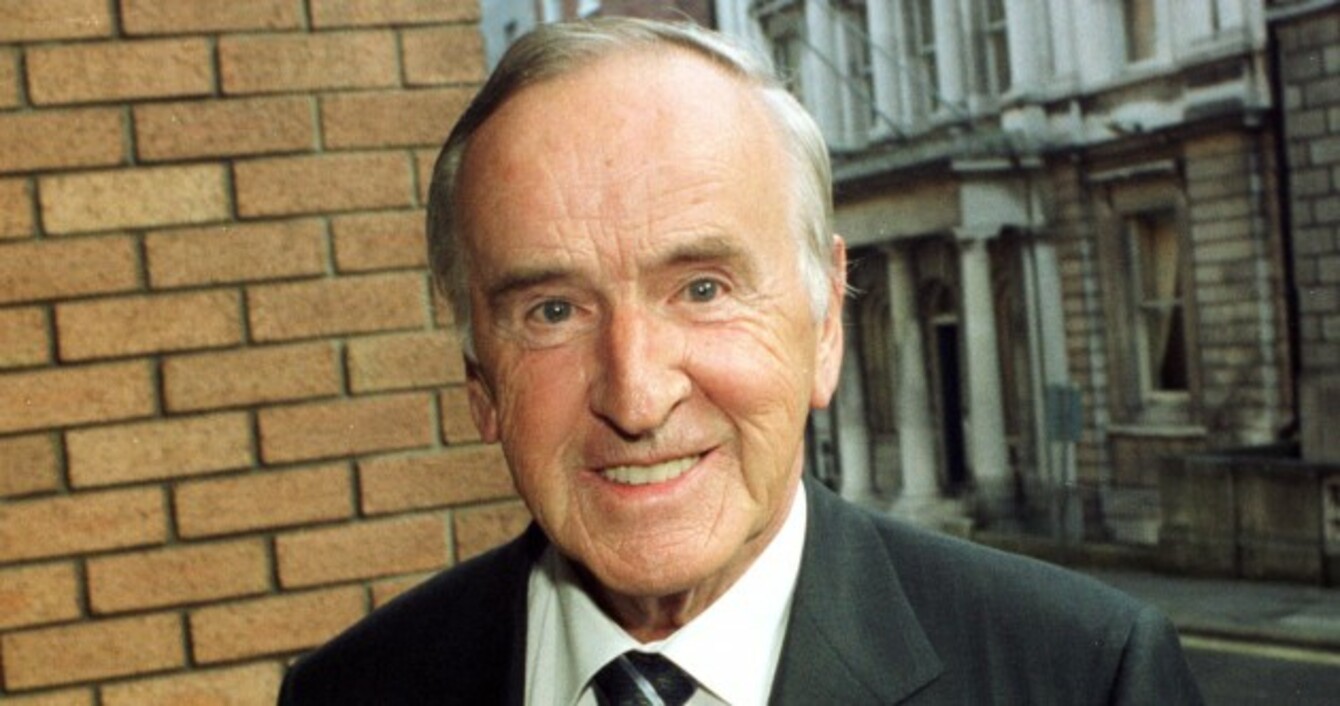 Image: Graham Hughes/Photocall Ireland
Image: Graham Hughes/Photocall Ireland
Updated 10.48am
FORMER TAOISEACH ALBERT Reynolds has died, aged 81.
Reynolds was first elected to the Dáil in 1977, and went on to lead the country as Taoiseach in two separate terms between 1992 and 1994 – first in Fianna Fáil's coalition with the Progressive Democrats, and secondly with Labour.
He also served as Minister in a number of different departments, the first being Posts and Telegraphs in 1979.
His family issued a statement on his death to national broadcasters RTÉ and BBC, saying that he passed away in the early hours of this morning following a long illness.
Reynolds was Taoiseach during controversies such as the X Case and Beef Tribunal, and helped bring about progress in the Northern Ireland peace process.
Taoiseach Enda Kenny extended his sympathies to Reynolds' family and Fianna Fáil, and paid tribute to Reynolds' achievements:
Albert Reynolds brought an energy and drive to the development of business and economic growth during his tenure in office as Minister for Industry and as Minister for Finance. As Taoiseach he played an important part in bringing together differing strands of political opinion in Northern Ireland and as a consequence made an important contribution to the development of the peace process which eventually lead to the Good Friday Agreement.
Speaking to RTÉ's Morning Ireland, Fergus Finlay, Foreign Policy Advisor to the Coalition Governments between 1993 and 1997, paid tribute to Reynolds, saying he will never be forgotten for his contribution to the peace process.
Former Fianna Fáil politician, and constituency rival of Reynolds, Mary O'Rourke, told the same programme that he had two aims as Taoiseach.
One was to bring peace to Ireland and the second aim was to bring up the economy of Ireland.
"He succeeded in the first and partially succeeded in the second."
Reynolds is survived by his wife, Kathleen, and seven children. O'Rourke spoke of his "devotion" to this family throughout his career, and called it a "sterling quality" in a very busy person.
Sinn Féin leader Gerry Adams also spoke about how close Reynolds was with his wife.
"She was hugely supportive and very, very loyal."
Adams said the former Taoiseach brought a "straightforwardness and a down-to-earthness" to the Peace Process and had the "ability to act when it mattered".
Fianna Fáil TD Timmy Dooley told this website that Reynolds' achievements were "really tremendous".
Everybody recognises his fantastic contribution to peace in Northern Ireland.
"Over the last 20 years to some extent people had almost forgotten the role that he had played and now in passing that will be back centre stage, and rightly so."
Party leader Micheal Martin said "there weren't too many around at the time who believed it could happen".
He told RTÉ there were a lot of cynics who thought he was going about it the wrong way
His "close relationship" with John Major, according to Martin was "instrumental" in the process.
Reynolds' successor, Bertie Ahern, said he played a key part in getting the economy back.
He worked hard in the European system to get those kinds of resources that gave the kick-off in the 90s to the Irish economy.
"Albert Reynolds was an astute political leader who will always be remembered for his stalwart efforts in pursuing peace in Ireland," Ahern said in a statement today. "He was not afraid to take political risks to further the path of reconciliation."
So much of this achievement has its roots in Albert's courage, perseverance and his commitment to democratic politics. When the definitive history of this period is written, his name deserves to stand tall.
Like many others today, Ahern spoke about the extremely strong relationship Reynolds had with his wife Kathleen who he said was "so important in Albert's life".
"Family always came first", the former Taoiseach noted.
Another former Taoiseach, Brian Cowen, also expressed his sadness at Reynolds' death, describing him has a statesman who had a simple objective:
…to end violence and to set in train a framework for inclusive and exclusively democratic politics across the entire island of Ireland.
President Michael D Higgins, who served with Reynolds in Cabinet said he found him to be "very supportive of many of the cultural initiatives" he introduced.
"I recall his great courtesy and relaxed manner in all our dealings with various issues," he said.
Commenting on the news today, Minister for Foreign Affairs Charlie Flanagan said Reynolds "took risks for peace". He added that Reynolds' legacy will be best honoured by continuing his courageous work to secure an Ireland that is fully at peace and where all traditions are recognised.
- Additional reporting by Michelle Hennessy