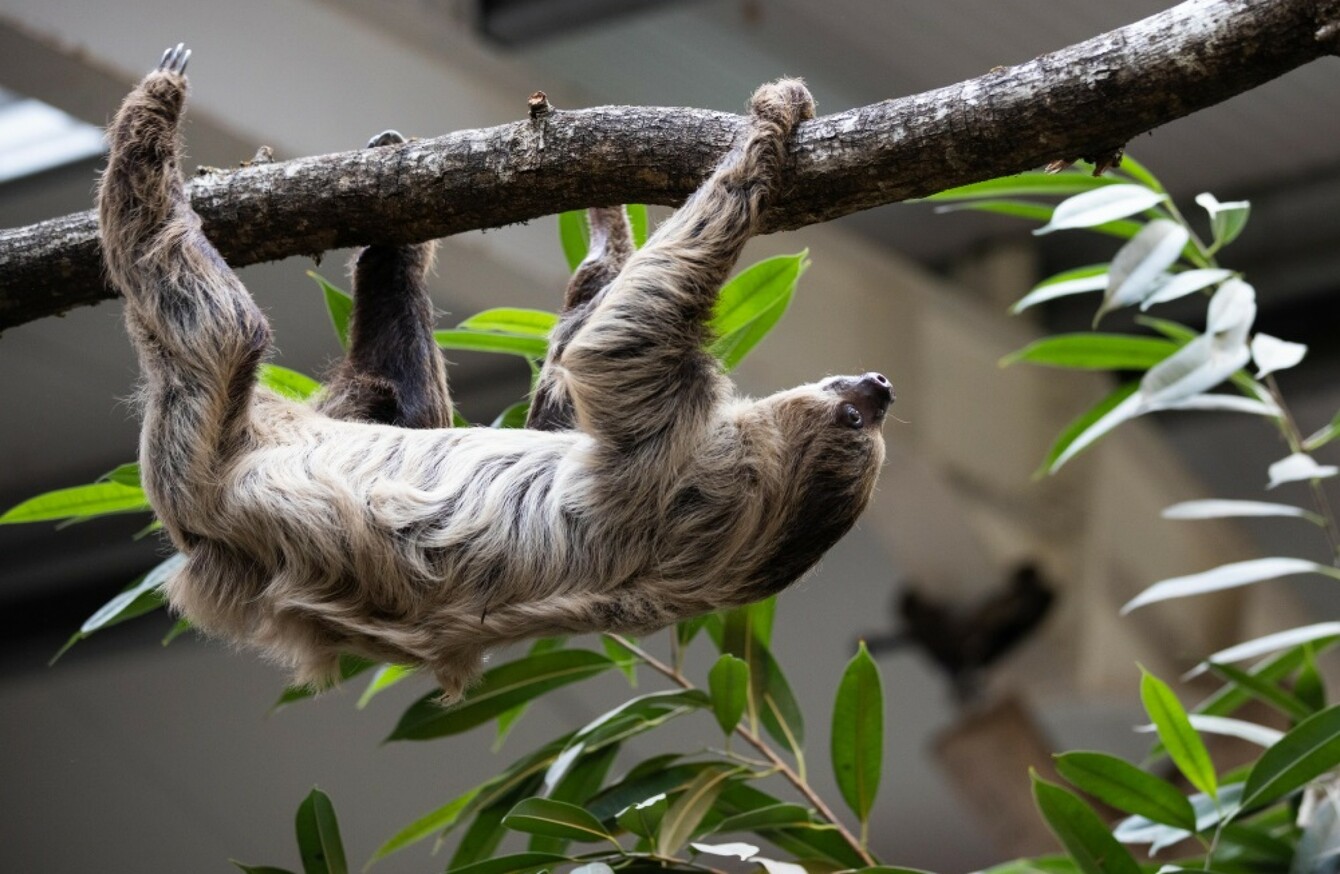 Matheo the sloth chilling out at Fota's Tropical House.
Image: Fota Wildlife Park
Matheo the sloth chilling out at Fota's Tropical House.
Image: Fota Wildlife Park
JUST A SHORT drive from Cork city, Fota Island is perhaps best known for its wildlife park, which attracts nearly half a million visitors every year.
But what's the best way to plan a day or two on the island and get the most out of one of its main attractions? When you have young kids in tow, there's not much scope to leave things to chance, so it pays to come armed with the right information.
We asked Roisin Fitzgerald, part of the team at Fota Wildlife Park, to share a few secrets.
When's the best time to go?
Fota Wildlife Park is open all year around, but gets busiest during the summer holidays, when it runs extra events such as educational weekends, art workshops and yoga classes.
Whatever time of year you decide to visit, Fitzgerald recommends starting your day early so that you can see as much as possible and get in ahead of the crowds:
It's a full day out – it's a 100-acre park with a huge variety of animals and birds. A lot of people come before lunch, and they'll typically spend at least three hours here. You need time just to observe the animals, walk around, have a picnic.
Pro tip: Plan your trip around some of the daily events such as wildlife talks and feedings. If you want to see the penguins being fed, you'll need to be there in the morning (10.45am) or later in the afternoon (4.30pm).
Where can I park?
There's a large car park at the entrance to the wildlife park, which costs €3 for the day. The car park is shared with Fota House – the 19th century estate located next door.
If you decide to get the train from Cork or further afield, there is a dedicated Irish Rail station with its own entrance into the wildlife park.
Pro tip: Entrance to Fota House's grounds, gardens and arboretum is included in the €3 car park charge, so don't forget to have a stroll around there after your trip to the wildlife park.
What are the top things to see?
Fota Wildlife Park is home to a wide variety animals, from meerkats and macaws, to penguins and kangaroos. Entrance to the park costs €16.70 for adults and €11.20 for children.
"Our animals are the number one draw and there are some firm favourites with visitors. When you walk through the main entrance the African Savannah paddock is right in front of you, so the first things you see are giraffes and zebras," Fitzgerald says.
Something that's creating great excitement at the moment is our four endangered Asian lion cubs. The cubs were born in late February so they're extremely active at the moment. Then we have two beautiful black and white lemur babies that were born at the end of April, so they're a very popular hit with the public as well.
Pro tip: Keep an eye out for the animals that roam free all around the park – you may be able to snap a close-up picture with the likes of peacocks, wallabies, kangaroos and lemurs.
Where's the best spot to stop for lunch?
If you've worked up an appetite while checking out the animals, there are plenty of options for food and drink at Fota.
"At the main entrance we have the Savannah Cafe, which does tea, coffee, baked goods, soups, sandwiches. Then at the other end by the lake is the Oasis Cafe, which is a family restaurant with a huge outdoor area," Fitzgerald says.
As you walk through the park we also have a food market area in the Asian Sanctuary, so there's food stalls with pizza, coffee, ice cream, cold drinks, hot dogs. Plus it's beside the activities tent so there's usually face painting and arts and crafts there.
Pro tip: Bring along a picnic and a blanket and eat your lunch out in the open. "There's picnic areas and plenty of green grass, so a lot of visitors bring something with them to eat," Fitzgerald adds.
How can I escape the crowds?
If the wildlife park is getting busy or you've managed to see a bit of everything, there are still plenty of other things to do nearby. Next door is Fota House, where you can take a tour of the restored building to see what life was like in the 19th century, or explore its Victorian gardens.
There's also Fota Island Resort, which has a hotel, restaurant, spa and golf club, as well as the Fota Island Adventure centre, which offers activities such as obstacle courses, orienteering, kayaking and archery.
"There's plenty of options if you're on a day trip or staying for the weekend. Everything from nature and wildlife, to accommodation, walking tours, food and dining, outdoor and water activities," Fitzgerald says.
Pro tip: Fota is just one of the Cork Harbour Islands, so keep in mind that it's just a short journey if you want to go and explore Cobh, Little Island or Spike Island.
Are there any hidden gems to look out for?
Fota Wildlife Park is constantly expanding, so even if you've visited before, keep an eye out for some of its newer additions.
"We recently added a new animal in the Tropical House – the sloth. Matheo is a two-year-old two-toed sloth, who was transferred earlier this year from Stuttgart," Fitzgerald says.
He's a nocturnal animal and tends to sleep a lot during the day, so you have to go look for him and you may need some patience to spot him.
Pro tip: Conservation is a big part of the work at Fota, so look out for two new wildflower gardens that were introduced to address pollinator decline. "That's another little gem that people might miss when they're walking around," Fitzgerald adds.