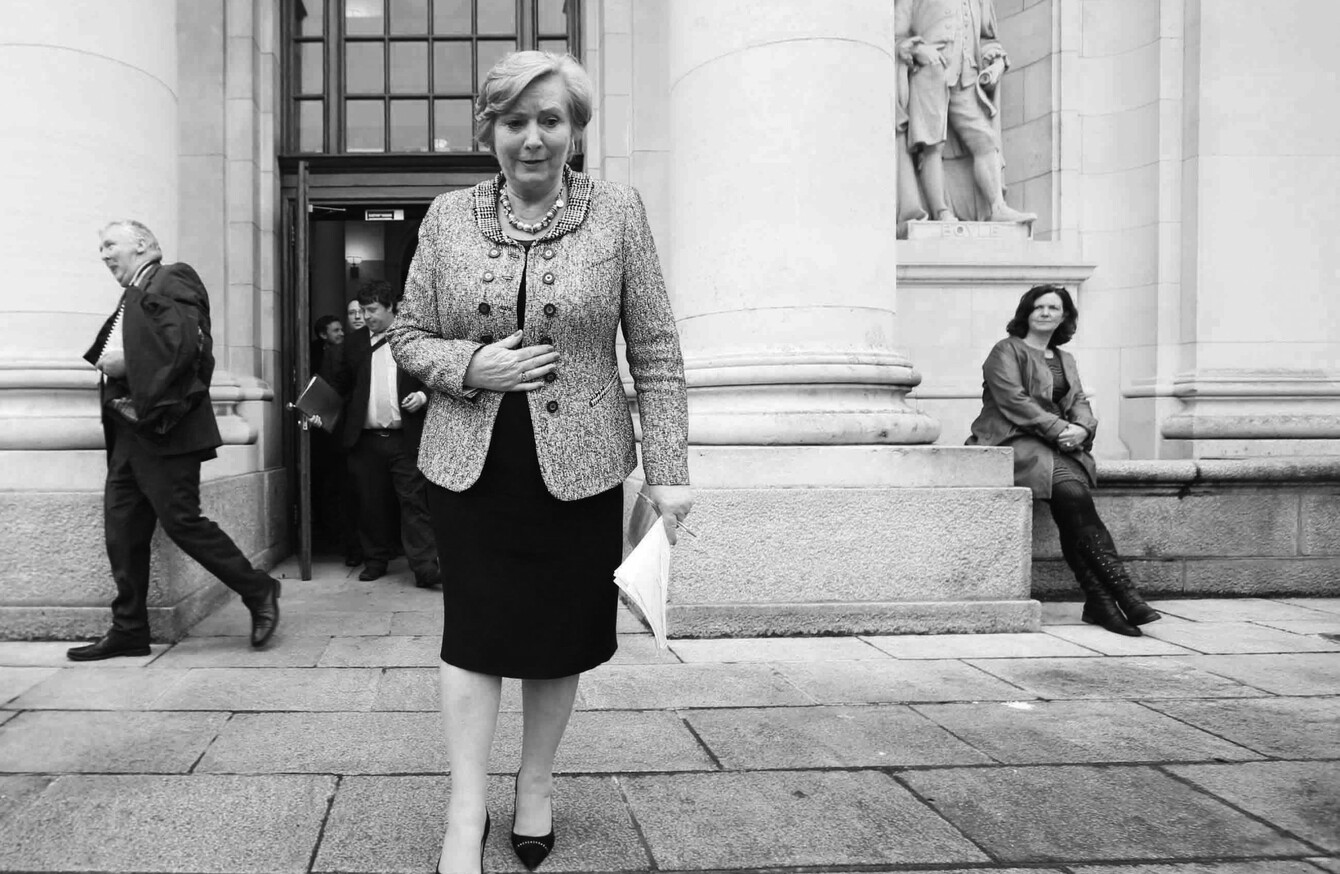 Image: Sam Boal/RollingNews.ie
Image: Sam Boal/RollingNews.ie
Updated 2.40pm
TÁNAISTE AND MINISTER for Business Frances Fitzgerald has resigned.
It follows days of controversy around the legal strategy used against Garda whistleblower Maurice McCabe during the O'Higgins Commission.
Fitzgerald told colleagues about her resignation at a meeting of the Cabinet which ended shortly after 12 noon.
In a statement, Fitzgerald said that she would be stepping down with an immediate effect.
She said she believed the decision was necessary "to avoid an unwelcome and potentially destabilising general election at this historically critical time".
"Throughout my career I have always sought to act with integrity and responsibility, and that is why I have decided on this occasion to put the national interest ahead of my own personal reputation," she said.
"I have always believed in fairness and equality and these principles have guided my work as Minister for Children and Youth Affairs, as Minister for Justice and Equality, and now as Minister for Business, Enterprise and Innovation.
"I would like the thank the Taoiseach for showing the same courage and determination to protect my good name that he displayed three years ago when he stood up and defended the reputation of Maurice McCabe.
"What I admire most about the Taoiseach is that he has always believed in doing what was right – not what was popular or politically expedient.
I will always be grateful for his confidence and support and for giving me the opportunity to serve in a government that is making a real difference in people's lives at a critical time in our history.
Fitzgerald went on to say that she felt her continuation in office, "risks destabilising that good work", and so she had decided to step down so that the country could avoid an unnecessary election.
"It will also allow me to vindicate my good name at the Charleton Tribunal, without causing any further distraction to the work of government.
"I have always believed  in due process and I believe that in the current situation that is becoming increasingly difficult for me.
"I acted correctly in difficult circumstances and, in fact, did everything that I could to support the search for truth and protect whistleblowers.
Fitzgerald finished by thanking people for their support and said she looked forward to "continuing to serve all the people of Dublin Mid-West".
Taoiseach's response
In a statement on Frances Fitzgerald's resignation, Taoiseach Leo Varadkar said the Tánaiste is resigning "to avoid an unnecessary and early General Election that could have left the country without a functioning government and Oireachtas for several months at a crucial time for Ireland".
Source: TheJournal.ie/YouTube
He said that over the next few weeks and months, the government needs to focus on the Brexit negotiations, and important legislation, as well as the work of the committee on the Eighth Amendment.
He said he had accepted her resignation "with deep regret" and that:
It is my strong view that a good woman is leaving office without getting a full and fair hearing.
He then outlined more of his thoughts on Fitzgerald's impact, saying:
Frances has been an exemplary member of Government and a loyal colleague. She established the Department of Children and Tusla, changed the constitution twice to enshrine in it children's rights and the right to marriage equality. She was one of the most reforming Ministers for Justice we have ever had setting up the Independent Policing Authority chaired by Josephine Feehily, the Legal Services Regulatory Authority and bringing in a raft of reforming legislation including the Sexual Offences Act. She always supported whistle-blowers, and enshrined a code of ethics in An Garda Síochána to protect them.
He described the recent days as "a feeding frenzy", saying "it became impossible for her to get a fair hearing based on the full facts".
I hope that will change in the period ahead.
"While all of the facts still remain unclear, there are a few things that we do know," continued the Taoiseach. "Frances had no hand act or part in the former Commissioner's legal strategy, did not devise or guide it in any way. She was advised by her own officials that she had no function in the matter.
The Attorney General has since confirmed this advice and further advised that she would have been acting improperly and inappropriately if she had sought to interfere with the work of the O'Higgins Commission.
The Taoiseach said that he hopes "calm, measured reading of the evidence will show that the Tánaiste acted appropriately, and I hope the Charleton Tribunal will establish this conclusively in the weeks ahead, and that she will have her good name vindicated".
I expect her to continue to play a full role in political and public life including at the highest level.
Throughout her career, the Tánaiste has been a champion of women's rights, and equal rights, she has been a pioneer when it comes to supporting children, and fighting against all forms of inequality and injustice.
He said that the events of the past few days "have exposed major problems once again within a dysfunctional Department of Justice, including the way important emails were not found and therefore not sent on to the Charleton Tribunal during discovery".
He is now to direct that there will be an external inquiry into this, which will report before Christmas.
"Systemic problems within the Department were identified in the Toland Report. Minister Fitzgerald began the process of implementing the report, and this has continued under her successor Charlie Flanagan," said Varadkar. "These reforms will now be accelerated, and the government is planning radical action to restore public confidence in the Department of Justice."
An independent and change implementation group will be established on the issue.
"These events have reminded us of some of the ways Maurice McCabe was undermined, when he shone a light in some very dark places," continued Varadkar. "As Taoiseach I am determined to shine the brightest of lights into the darkest of places, so that we arrive at the truth and have true accountability."
He said that in the meantime, "the Government will continue to work for the good of the country".
We will not be distracted as we strive to do what is in the best interests of all the people.
Hours before deadline
Fitzgerald's resignation comes just hours before Fianna Fáil was scheduled to table a motion of no confidence in her, which would have led to a collapse of the government and the calling of a general election.
Fitzgerald had last night doubled down on her position,  indicating that she would not resign and saying that she would give evidence to the Disclosures Tribunal early in January. However she came under increasing pressure from Fine Gael members in the past 12 hours.
When asked in the Dáil whether the Tánaiste knew of the legal strategy to discredit McCabe earlier this month, Fitzgerald had that she didn't remember an email sent to her in May 2015. Officials at the Department of Justice had located the email last week in response to questioning.
But emails released by the Department of Justice show that Fitzgerald had "noted" the legal strategy being employed, and that the email had been sent to her on three separate occasions in May 2015, when Fitzgerald served as Justice Minister.
What Fitzgerald knew about the then-Garda Commissioner Nóirín O'Sullivan's legal strategy against McCabe had threatened to collapse the minority government between Fine Gael and Fianna Fáil, which would prompt a snap election.
The Department of Justice released the damning emails at the same time that Taoiseach Leo Varadkar and Mícheál Martin attempted to prevent the collapse of the government in the weeks before Christmas.
With reporting from Christine Bohan, Cormac Fitzgerald and Aoife Barry