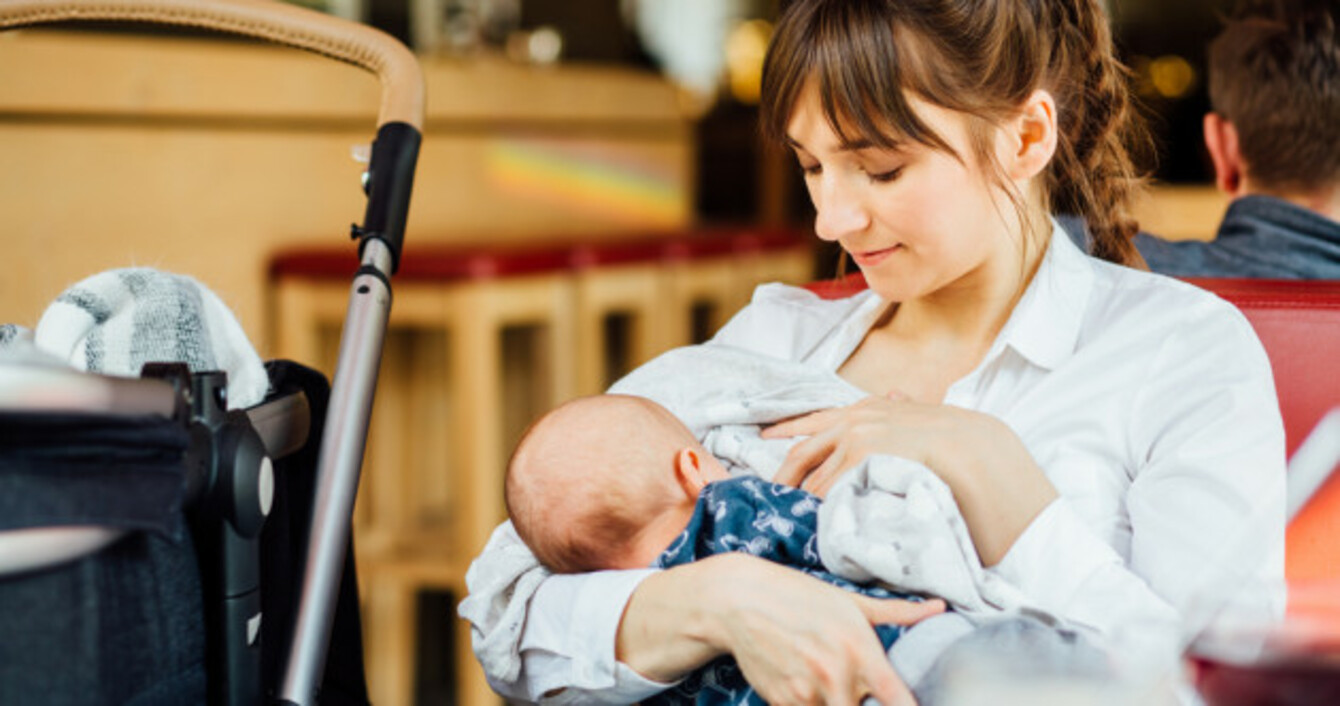 Image: Shutterstock/Iryna Inshyna
Image: Shutterstock/Iryna Inshyna
IT'S WORLD BREASTFEEDING Week. And there will undoubtedly be a lot of articles written about the benefits, challenges and hard-hitting facts of latching and lactating.
But what about laughing? As any nursing mum knows, breastfeeding can also come with a few lols. To prove it, we asked some of Ireland's mams to share their ~breast~ funny stories.
"It was my birthday when my daughter was two weeks old and, exhausted as I was, I wanted to mark the occasion in some way. So I met my sister in a beautiful little café. I was still nervous breastfeeding in public so I used their lovely feeding room where the baby fed nicely, winded well and I went back out happily. My sister was pointing at me as I came out of the room, as was another lady at the table next to us. I hadn't a clue what was going on until I was back in my seat, looked down and saw my left boob out. The old man opposite us nearly died. I was too tired to care."
Michelle, 35, Waterford – currently feeding a seven-month-old
I got married three weeks after giving birth. Not only did I start to leak mid-vows but, because I'd barely fed our son most of the day and forgot to wear my sleep bra and breast pads going to bed, I woke up on our wedding night in an actual puddle. On the plus side, I knew I'd definitely married the right man because we had a good laugh about it.

Karen, 36, Co Down – no longer breastfeeding
"This is maybe a bit too risqué to share…but in the throes of passion I suddenly realised I was spraying my boyfriend with a leaking left breast."
Lu, 39, Co Dublin – currently feeding a three-year-old
I couldn't figure out what my cat was gleefully batting at with her paw until I looked down and realised there was a perfect stream of breastmilk shooting out of my boob like a garden hose.

Aine, 36, Co Down – no longer breastfeeding
"So far I've been instructed to breastfeed: plastic dinosaurs, baby dolls, minions and toy horses. And while my son is feeding, my free breast gets used as a race track."
Jennifer, 32, Offaly – feeding a three-year-old
Sitting on the couch watching telly with hubby and friends, baby decides to have a look at the TV, unlatching mid-let down. Hubby got it straight in the face, I have an exposed nipple, friends haven't called since.

Tina, 40, Galway – feeding an 11-month-old
"I was bridesmaid at a friend's wedding while feeding an eight-month-old. The bride had been great about making sure my dress was feeding friendly and I was wearing my daughter at the reception in a ring sling and feeling quite smug about how well I was managing. My little girl was feeding away discreetly while I stood with a group of guests when someone dropped a plate. The loud noise startled the baby, she unlatched and I watched in horror as a spray of milk hit the silk dress of another guest. She didn't notice as it was on her back – and I didn't have the courage to tell her.
Clare, Dublin – feeding a 14-month-old
I'd found a nice quiet spot in a pub of older men to feed my 2-year-old. I never noticed the big screen above my head… never noticed the TV being switched on…did notice the 15 men suddenly standing two metres from me screaming at the horseracing.

Maryline, 38, Dublin – no longer breastfeeding
"I was breastfeeding my three-month-old in a café in Dundrum when a woman at the other table asked me if she could have some milk. I thought 'Well, I mean, OK, I guess if she's comfortable with it, I don't see anything wrong, but how will I express with one hand while I keep feeding the baby…?' It took me a solid two minutes, sitting in silence looking at my chest before I realised she meant the jug of milk on the table. She must have been so confused what took me so long."
Claire, 33, Dublin – currently feeding a one-year-old
Getting dressed after a shower my 28-month-old asked me 'where are the other boobs? The ones like this' and cups her hands. "I only have these two!" I said, putting on a bra. "There they are mummy!" she shouted. Hm, my boobs are obviously saggier than I thought.

Bernie, 34, Co Wicklow – currently feeding a 2.5-year-old
"Pumping away in the staff room in work I heard a loud "Jaysus!" from above me and looked up to see I've just given a builder an eyeful! He's working on the roof next door and spotted me through the skylight!"
Andie, 34, Co Dublin – currently feeding a 26-month-old and a 15-week-old
And finally… one from me. "I had just finished an important work interview over the phone when I heard my baby wake up and start crying. "Don't worry! The boobies are on their way!" I shouted down to him…only to hear a muffled voice on the phone saying 'I'm sorry? What was that?" I hadn't hung up. Mortified."

Chrissie Russell, 36, Co Dublin – currently feeding an almost-three-year-old
Want to win a relaxing two-night getaway at the Dunboyne Castle Hotel & Spa? Simply enter your email address below. Full competition details here.
If you have stories to add, share them in the comments below!