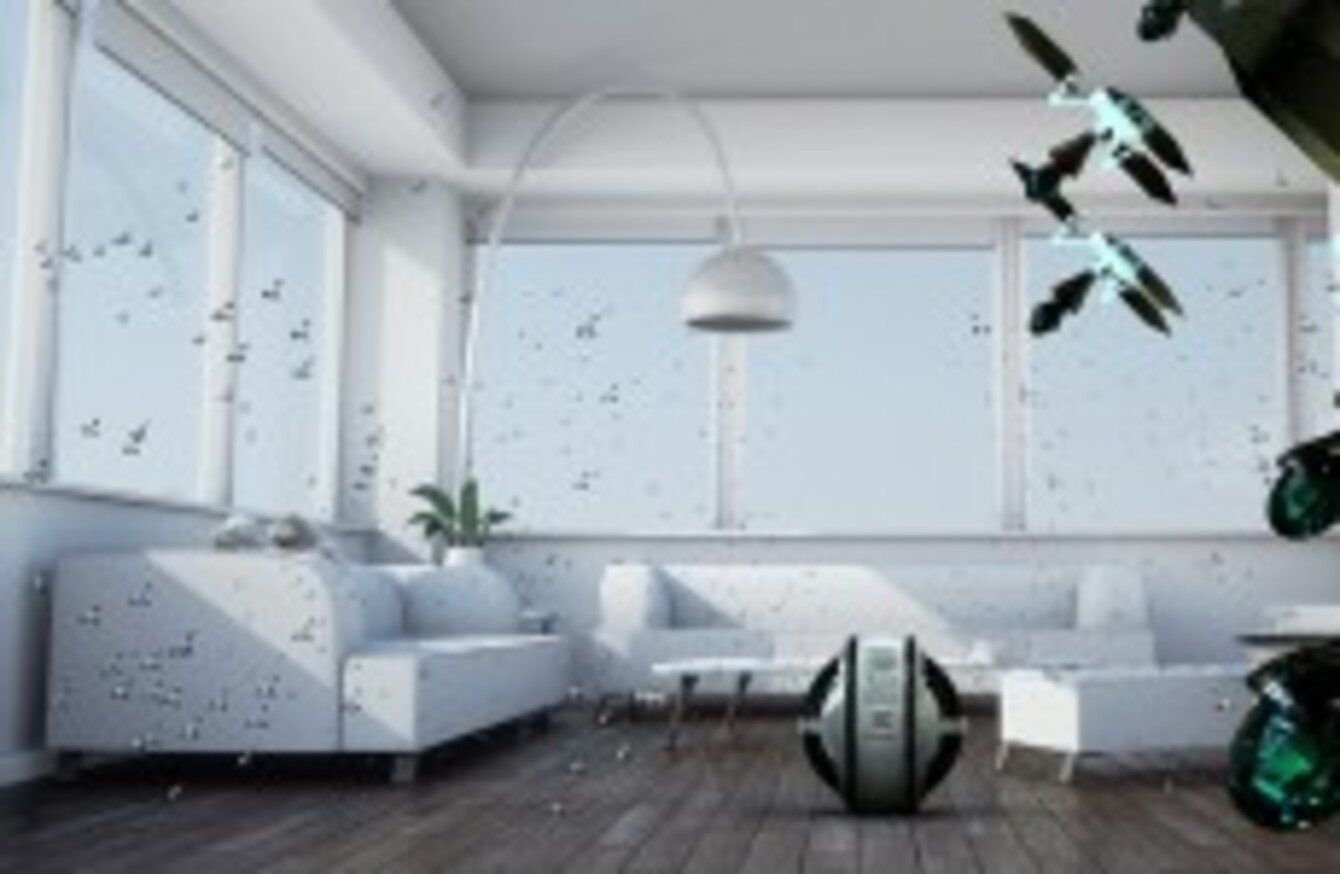 Computer-generated impression of how the mini-robot cleaners would 'attack' a room.
Computer-generated impression of how the mini-robot cleaners would 'attack' a room.
WHAT DOES THE future of the home hold?
Flying mini-robot cleaners, expanding walls that filter the air and 3D food printers according to some of the visions in an annual design competition.
The flying robot cleaner concept – called 'Mab' – won first prize at the Electrolux Design Lab competition at the Fotografiska Museum in Stockholm, Sweden.
The winning concept, by Adrian Perez Zapata from Colombia, is an automated cleaning system consisting of hundreds of flying mini-robots. The robots clean surfaces by touching them with a drop of water. Mab scans the house, determine the areas to clean and sends the robots flying.
"I was in my university gardens when I observed the controlled flight of bees pollinating a flower, and how magical it is to see swarms of bees working together," Perez Zapata said.

My concept Mab only requires a short initial configuration to function autonomously, so you could arrive home and see a swarm of mini-robots roaming around cleaning independently. This means you could sit back and relax, as you observe with great astonishment the little Mab 'fairies' working their magic autonomously.
"This year's winning concept renews the idea of looking at the robot, seeing it not as one unit that mimics a person, but instead as something inspired by the magical logic of nature's collaborative efforts and group intelligence," said Stefano Marzano, Chief Design Officer at Electrolux and head of the jury.
Second prize in the competition went to the Atomium 3D food printer, by Luiza Silva from Brazil, for a concept that "addresses the global issue of adopting healthy lifestyles and countering chronic diseases, with inspiration from the playfulness and creativity of children".
Third prize went to Jeabyun Yeon from Korea for Breathing Wall. The jury's motivation was: "The Breathing Wall creates a relevant discussion about a future business model which is not just about making the appliances, but about generating propositions that could bring a poetic quality into the construction industry."
People's Choice Award went to Mab after receiving over 40 per cent of the 4 391 public votes on the Design Lab website.