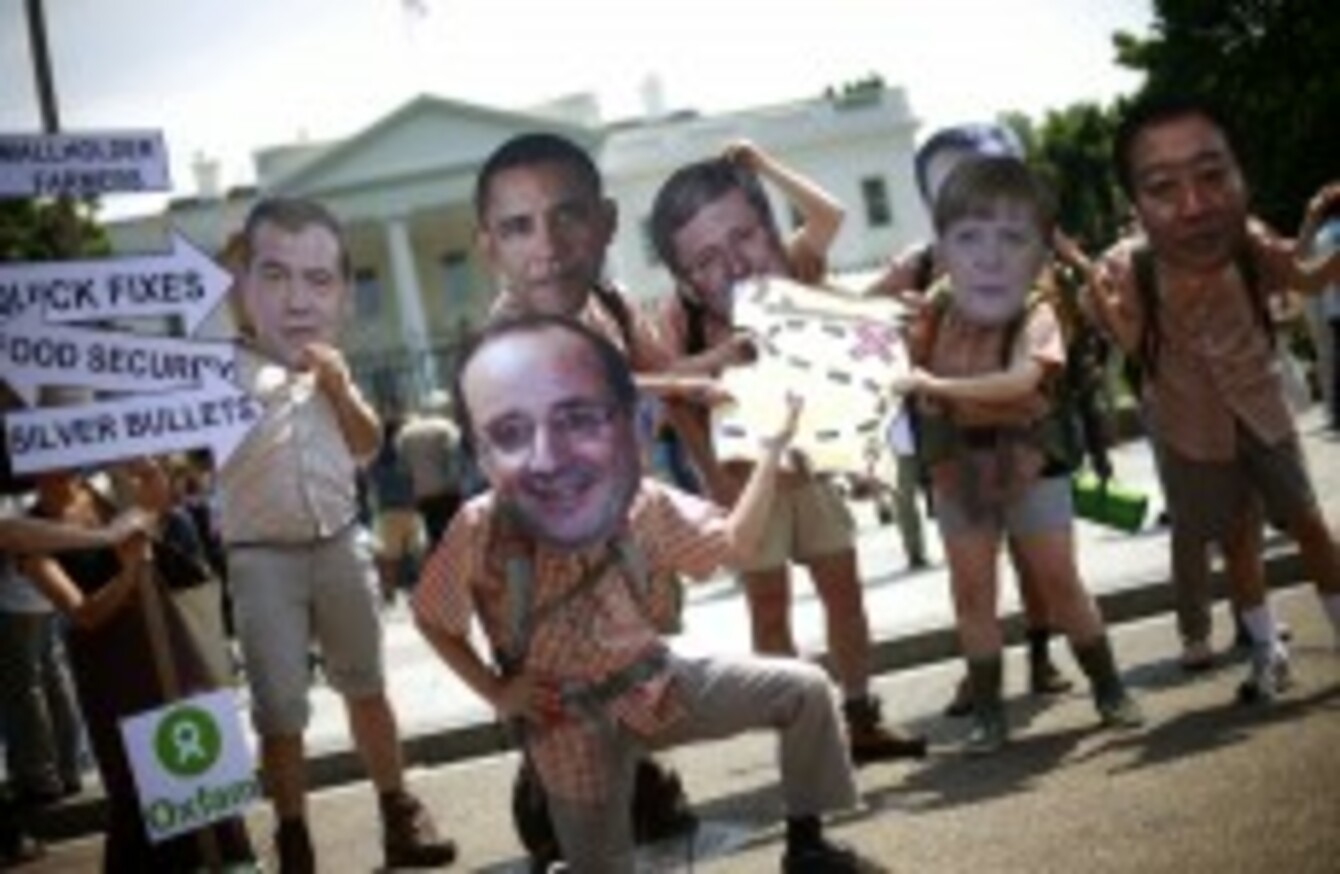 Oxfam activist wearing masks depicting G8 world leaders participate in a demonstration outside the White House in Washington last year
Image: Pablo Martinez Monsivais/AP/Press Association Images
Oxfam activist wearing masks depicting G8 world leaders participate in a demonstration outside the White House in Washington last year
Image: Pablo Martinez Monsivais/AP/Press Association Images
THEY ARE ARGUABLY the most powerful politicians in the world and they are all gathering in Co Fermanagh today and tomorrow to discuss the most pressing world issues.
But who are the G8 leaders? We've put together a quick profile of the leaders of the G8 countries and the two representatives from the European Union to get you up to speed…
Canada – Stephen Harper
Elected as prime minister 2006, Harper subsequently won re-election in 2008 and 2011 when he turned his minority government into a majority, securing over half of the seats in the Canadian parliament.
He is seen as having moved the Conservative Party from the hardline right to the political centre, thus ensuring greater popularity and electoral success in the vast and resource-rich North American nation.
Born in Toronto, Harper studied at the universities of Toronto and Calgary earning a master's degree in economics. He has a wife, Lauren, and two children.
France – Francois Hollande
Elected president only last year, Hollande has not been enjoying the best of times as successor to Nicolas Sarkozy with France's economy struggling and considerable disquiet with his attempts to reform the public sector.
The Socialist leader has a long history in politics having previously served as secretary of the party and an adviser to former president Francois Mitterand.
Hollande holds degrees from the École nationale d'administration (ENA), and the Institut d'Études Politiques de Paris. He has a partner, Valérie Trierweiler, and four children with his previous partner, Ségolène Royal, a one-time Socialist candidate for president.
Germany – Angela Merkel
Elected as chancellor in November 2005, Merkel's profile has been raised considerably across Europe and the world in recent years by the advent of the global financial crisis.
She has been seen as a key leader whose comments and actions have held considerable sway, but have not always gone down well among the EU's smaller and more debt-ridden nations who see her as a hate figure. She faces a crucial popularity test at home with elections later this year.
Previously a researcher and physicist, she has a doctorate in the latter from the University of Leipzig. She is married to Joachim Sauer and has no children.
Italy – Enrico Letta
A G8 debutant, Letta has only been prime minister of Italy for less than two months, succeeding the technocratic Mario Monti at the end of April, following months of political stalemate after a close election.
Left-leaning Letta has previously held positions in various Italian ministries including European affairs and industry. It is early days in his premiership but his popularity won't have been harmed by his recent apology to young Italians who've been forced to emigrate because of the recession there.
He holds a PhD in international law and is married to Gianna Fregonara. The couple have three children.
Japan – Shinzo Abe
Re-elected as prime minister in a landslide election last December, the leader of the Liberal Democratic Party previously served as Japanese PM between 2006 and 2007.
His programme of aggressive monetary expansion, i.e. increasing the the supply of money in the  Japanese economy, has provided a boost to a country notorious for little or no economic growth over the last two decades although this has inevitably led to concerns about inflation.
A graduate in political science from Seikei university and public policy from the University of Southern California, he is married to Akie. This is his second G8 summit.
Russia – Vladimir Putin
A G8 veteran, this will be Putin's tenth summit having re-assumed the Russian presidency in May of last year after four years out of office (well, he did serve as prime minister in that time).
First elected in 1999, Putin has overseen a period of great change in Russia as it adjusted to a post-Communist regime that has seen a flood of money into the now oil-rich country. However there have been increasing concerns about inequality, corruption and human rights in a country ruled by a former KGB agent.
A graduate of the law faculty at Leningrad (now St Petersburg) State University, Putin spent much of his career in the KGB and later headed up its successor, the FSB. He has two daughters with his wife Ludima who he recently announced he was divorcing from.
United Kingdom – David Cameron
The Conservative Party leader became prime minister in May 2010 and has overseen a period of austerity aimed at tackling the country's massive deficit.
This has led to a double-dip recession and poor economic growth but Cameron has committed to maintaining this austerity agenda while at the same time looking to radically overhaul and reform Britain's famous welfare state.
Formerly a Tory party advisor, he was educated at Oxford and first elected to parliament in 2001.  Married to Samanatha, the couple have three children (a fourth child, Ivan, died in 2009).
United States – Barack Obama
Re-elected in November 2012, Obama made history five years ago when he became the first African-American president in the country's history.
He has overseen a period of great uncertainty as the US battled its worse economic crisis since the Great Depression with unemployment remaining high by US standards – although falling in recent months. Added to that are the Iraq and Afghan wars, one troop withdrawal completed, the other ongoing.
Obama has degrees from Columbia and Harvard universities and has previously worked as a community organiser, a state and then a US senator. He is married to Michelle and the couple have two daughters.
European Council – Herman van Rompuy
The Belgian politican is the full-time president of the European Council, a new position to which he was elected to in November 2010.
This has coincided with the most turbulent period in the European Union's history with the eurozone crisis but he has earned praise for his handling of tough, often long negotiations where his mediation skills have often been employed to good effect.
Previously he has been prime minister of Belgium and before that a lecturer. He has a bachelor's degree in philosophy and a masters in applied economics. Married with four children, this is his fourth summit. His party trick? He does a good Haiku.
European Commission – Jose Manuel Barroso
The former Portuguese prime minister led the government in his native land for just two years before becoming president of the Commission in 2004.
Describing himself as a "centrist reformer" he has been accused of being asleep on watch as the eurozone crisis unfolded but he might argue he has overseen greater EU expansion and integration, and brought the 27-member bloc through the worst of the crisis – though the latter remains to be seen.
Formerly an academic who studied law at the University of Lisbon, he has a master's in economics and social sciences and a doctorate from Georgetown University in the US. He is married to Maria Margarida Pinto Ribeiro de Sousa Uva – to give her full name – and has three children.