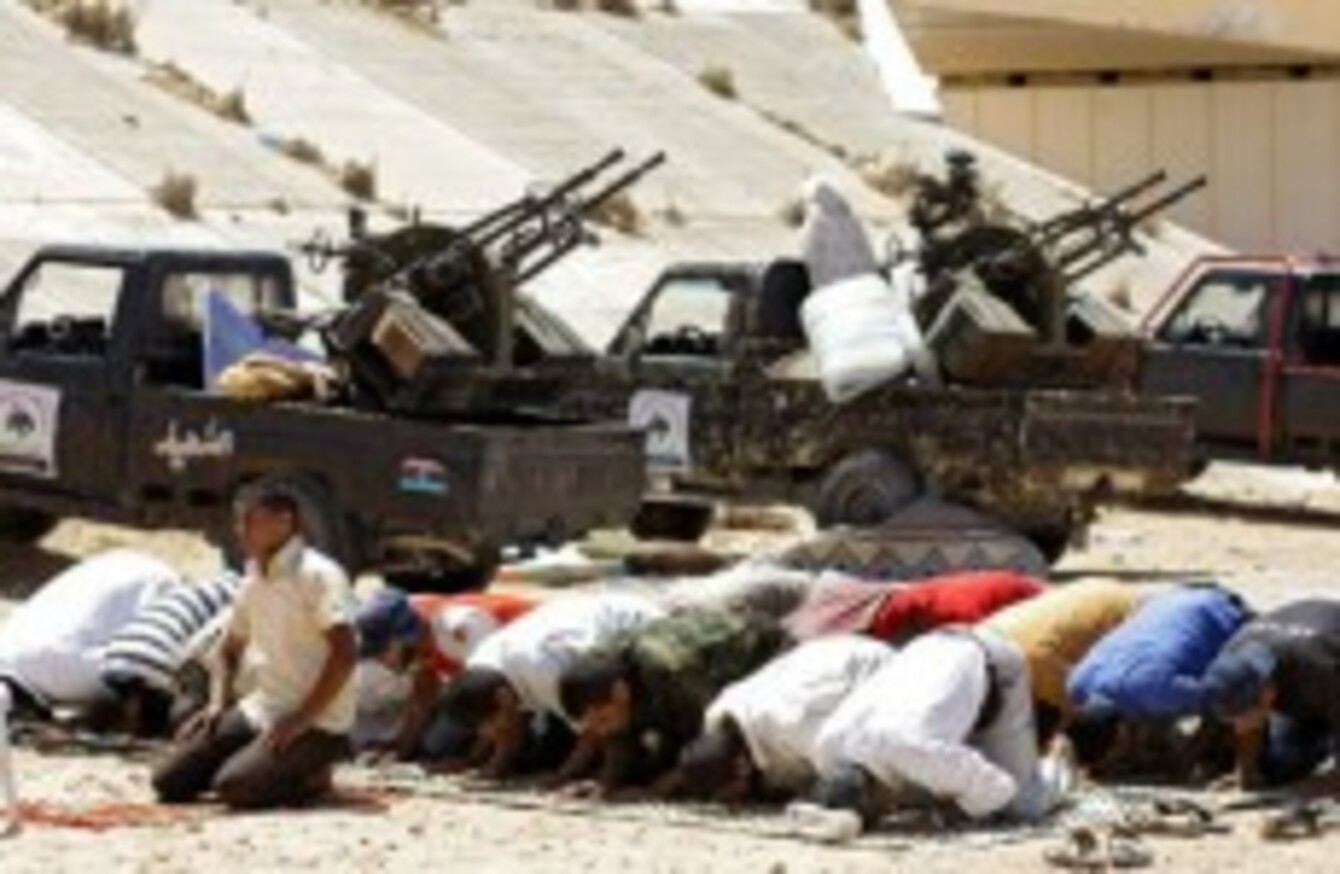 Rebel fighters pray at a last rebel checkpoint some 80 kilometers east from rebel-held Misrata
Image: Sergey Ponomarev/AP/Press Association Images
Rebel fighters pray at a last rebel checkpoint some 80 kilometers east from rebel-held Misrata
Image: Sergey Ponomarev/AP/Press Association Images
MUAMMAR GADDAFI WARNED yesterday that his loyalist tribes in his main strongholds were armed and preparing for battle.
His warning came hours after rebels extended their deadline for the surrender of the fugitive leader's hometown.
The rebels had demanded that the town of Sirte be handed over on Saturday.
However, a spokesman for the rebels, Mohammed al-Rajali, said:
We want to save our fighters and not lose a single one in battles with Gaddafi's forces. In the end we will get Sirte, even if we have to cut water and electricity.
They do say that their advance on Sirte is going well and that they are closing in on Gaddafi.
In a late night broadcast on Syrian-based Al-Rai TV, Gaddafi told them:
We won't surrender again; we are not women. We will keep fighting.
He warned "the battle will be long and let Libya burn" and that "we will burn the ground under their feet".
He added:
Get ready to fight the occupation … Get ready for a long war, imposed on us … Get ready for the guerilla war.
Gaddafi's wife and three of his children have received asylum in Algeria.
The Algerian newspaper El Watan reported Gaddafi had also sought sanctuary there, but the president refused to take his phone calls.
Asked Thursday if Gaddafi could be given asylum, Algerian Foreign Minister Mourad Medelci said: "I don't believe so."
World leaders met yesterday at an international conference in Paris for talks with Libya's rebel-led National Transitional Council.
They vowed to free up billions of dollars in frozen assets and offered to help Libya rebuild – while stressing that it is it the Libyan people themselves who must lead the way.
$15 billion dollars were unblocked.
Currently, Libya is suffering from water, gas and electricity shortages.
US Secretary of State Hillary Rodham Clinton said the rebels "still have a huge hill to climb" but they are working with the international community.
United Nations Secretary General Ban Ki-Moon urged the Security Council to make a decision quickly on deploying a civilian mission to stabilise Libya.
For the NTC to be recognised as the government of Libya, the UN General Assembly's Credentials Committee must accept its credentials.
German Chancellor Angela Merkel offered her country's help to Libya in rebuilding hospitals, transport and a police force, mentioning their experience of a dictator in Germany and overcoming the past peacefully.
Other countries to offer help were Italy, Norway, and China.