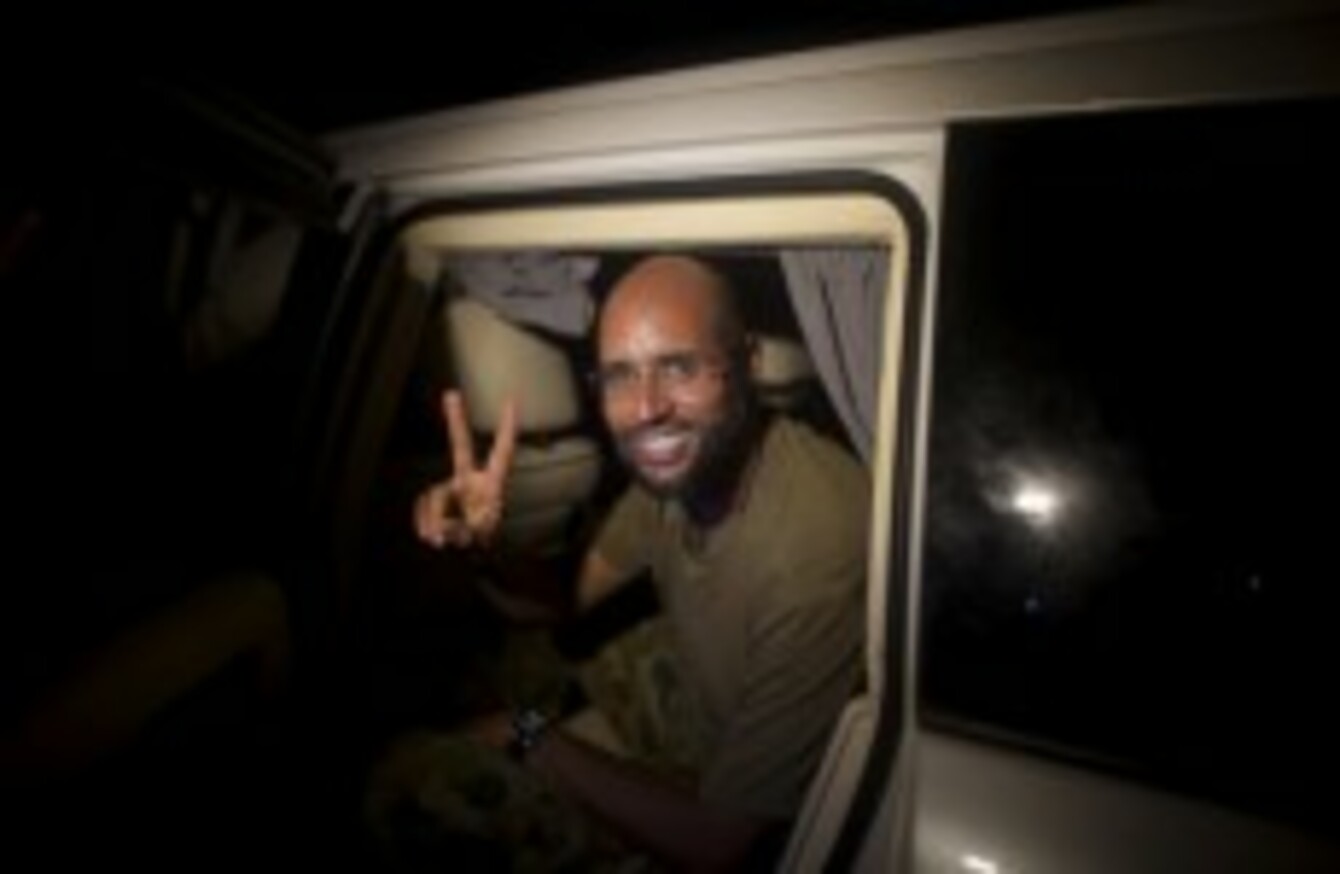 Muammar Gaddafi's son Seif al-Islam makes the victory sign as he appears at the Rixos hotel in Tripoli, Libya
Image: Dario Lopez-Mills/AP/Press Association Images
Muammar Gaddafi's son Seif al-Islam makes the victory sign as he appears at the Rixos hotel in Tripoli, Libya
Image: Dario Lopez-Mills/AP/Press Association Images
THE SON AND heir of Libyan leader Muammar Gaddafi, Seif al-Islam, has been described as "free and defiant" this morning, a day after rebels claimed to have captured him.
Associated Press said that al-Islam boasted in a bizarre reappearance that his father's loyalists still control parts of Tripoli and would crush the rebellion.
He arrived at a Tripoli hotel where foreign journalists are staying, which AP said "threw the situation in the capital into confusion" and underlined the potential for Gaddafi, whose whereabouts remain unknown, to lash back even as his grip on power seemed to be slipping fast.
Rebels say they control the large majority of Tripoli. Yesterday they were still fighting pockets of fierce resistance from regime loyalists.
Rebel spokesman Mohammed Abdel-Rahman,  in Tripoli, said the "danger is still there" as long as the elder Gaddafi remains on the run. He warned that pro-Gaddafi brigades are positioned on Tripoli's outskirts.
The rebel leadership spokesman, Sadeq al-Kabir, could not confirm whether Seif al-Islam escaped rebel custody, but he did say that another captured Gaddafi son, Mohammed, had escaped the home arrest that rebels had placed him in a day earlier.
On Monday, the rebels had said Seif al-Islam was captured, but did not give details on where he was held. The Netherlands-based International Criminal Court had confirmed his capture.
Seif al-Islam turned up early Tuesday morning at the Rixos hotel in Tripoli, where about 30 foreign journalists are staying under the close watch of regime minders.
Riding in a white limousine amid a convoy of armored SUVs, he took reporters on a drive through parts of the city still under the regime's control— the district around the Rixos hotel and nearby Bab al-Aziziya, Gaddafi's residential compound and military barracks.
When asked about the ICC's claim that he was arrested by rebels, he told reporters: "The ICC can go to hell," and added "We are going to break the backbone of the rebels."
In Benghazi, the de facto rebel capital hundreds of miles east of Tripoli, the head of the rebel National Transitional Council said the rebels have no idea where Gaddafi is or whether he is even in Tripoli.
An Obama administration official said the US had no indication that Gaddafi had left Libya.
NATO vowed to keep up its air campaign until all pro-Gaddafi forces surrender or return to their barracks. The alliance's warplanes have hit at least 40 targets in and around Tripoli in the past two days.
A day after the rebels rode into the city, the situation remained volatile. Even though rebels claimed they were in control of most of Tripoli, they still appeared to be on the defensive, ducking for cover during frequent clashes with regime fighters.
Rebels manned checkpoints on the western approaches to the city Monday, handing out sweets to motorists and inquiring about their destinations.
Intense gun battles erupted throughout the day.
Around midday Monday, rebel fighters took over a women's police college near the Mediterranean and declared that they would set up their new headquarters there.
By mid-afternoon, the college came under heavy fire. Snipers from nearby high-rises aimed at motorists speeding by and an anti-aircraft gun pounded the compound.
Later Monday, another battle erupted around a school where rebels and journalists had set up camp. Rebels fired small rockets, and Gaddafi troops responded with mortar shells.
Still, revellers flocked to Green Square. They flashed the "V" for victory sign and motorists circled the plaza, honking horns and waving rebel flags.
The Rixos hotel where foreign journalists are staying also remained under the control of Gaddafi forces.
About 30 journalists remained in the hotel where armed pro-Gaddafi youths kept a close eye on them and did not allow to them to exit the building. Journalists began to worry that food, water and fuel that powers the hotel's generator were running low.
Some of the journalists attempted to walk out of the hotel but were met with hostility by the armed guards, who said they were put there to "protect" them. Journalists said they felt like they were being held hostage.
Outside of Tripoli, almost all of eastern and western Libya is now under rebel control.
The rebels' breakthrough on Sunday, after a long deadlock in Libya's 6-month-old civil war, was the culmination of a closely coordinated plan by rebels, NATO and anti-Gaddafi residents inside Tripoli, rebel leaders said.
Libyan state television was off the air Monday amid reports it had been seized by rebels.
- AP