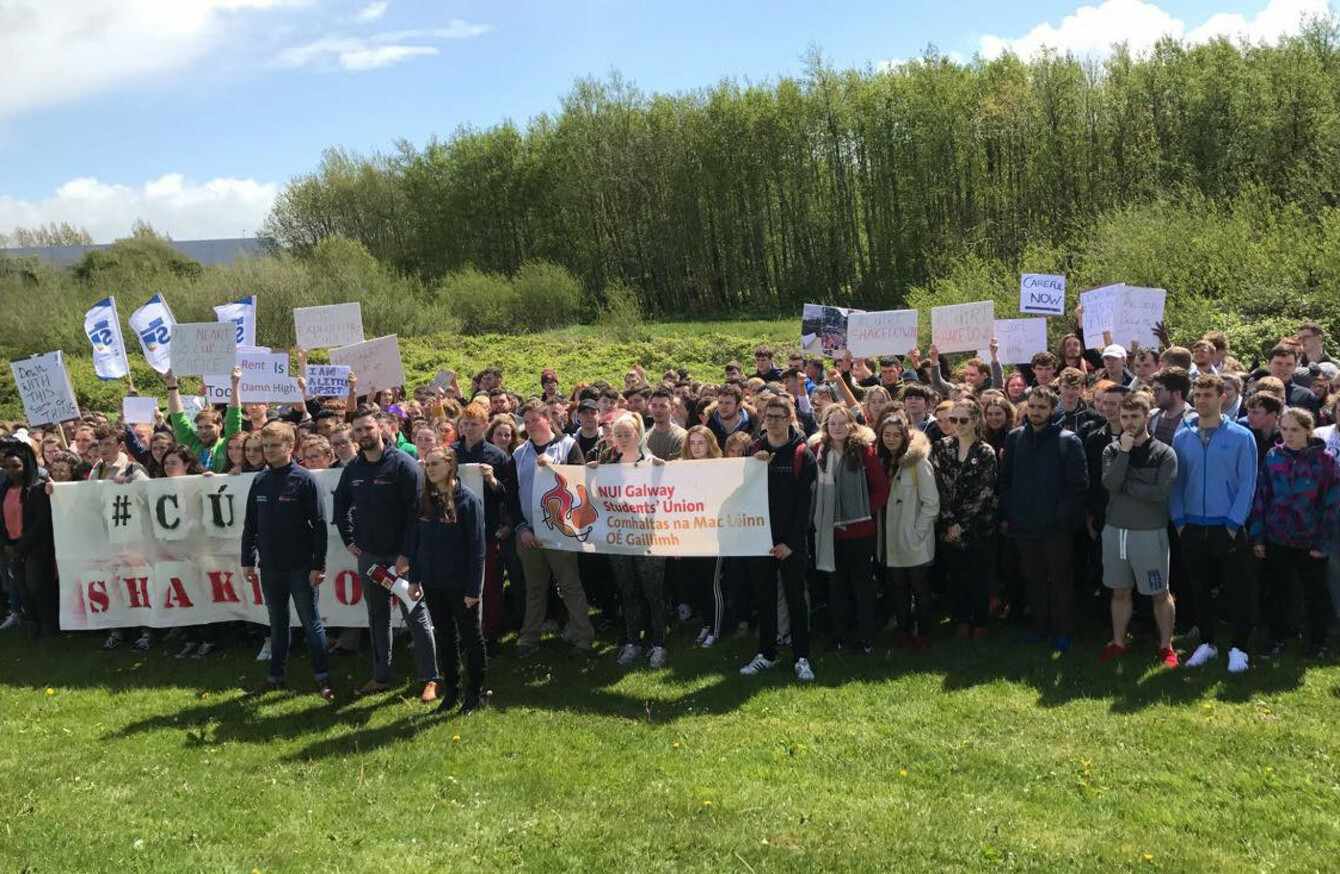 NUI Galway Students taking part in a Cúirt Shakedown protest last month
NUI Galway Students taking part in a Cúirt Shakedown protest last month
NUI GALWAY STUDENTS Union has filed a case against student accommodation provider Cúirt na Coiribe over an 18% rise in its rates for the upcoming academic year.
The case has been filed through the Residential Tenancies Board. NUI Galway Students' Union will represent a 2017/18 tenant of Cúirt na Coiribe.
Students' Union president Lorcán Ó Maoileannaigh said, "NUI Galway cannot become an elitist university only accessible to those who can afford to absorb the ever rising cost of rent.
We hope that this case will send a strong message to other student accommodation management companies across the country that students and their families will not stand by and allow their education to be put at risk due to the ever increasing cost of accommodation imposed by these companies.
However in a statement to TheJournal.ie Cúirt na Coiribe said: "The new rent rates will bring Cúirt na Coiribe in line with the wider student accommodation market in Galway."
It added that it is under new management, following a period in receivership, and that it's "set to benefit from a €2 million investment programme over the next two years".
It said refurbishment to common areas and a broadband and WiFi upgrade is planned for this summer and "a complete refurbishment of the complex will be undertaken in summer 2019″.
Students in Dublin have also been complaining about hikes in the price of their purpose built accommodation.
Some private providers of purpose-built student accommodation (PBSA) have been hiking rents by up to 30% to bring them in line with newer units on the market.
In April a group of DCU students staged a number of protests as part of the Shanowen Shakedown campaign, combating plans by a private provider to hike rents by 27%.
'Cap rent rises by 4%'
The Galway Students Union says its decision to file this case follows the new Residential Tenancies (Student Rents, Rights and Protections) Bill 2018.
Earlier this month, Fianna Fáil and Sinn Féin housing spokespeople Darragh O'Brien and Eoin Ó Broin said they would work together to ensure the uncertainty around student accommodation rents was solved.
The pair have called for the government to add a provision to its Bill which will see student accommodation rent rises capped at 4%.
When asked if the Department of Housing is considering this, a spokesperson for the department told TheJournal.ie:
"The question of rent increases for purpose built student accommodation is the subject of ongoing discussion between the Department of Housing, Planning and Local Government and the Department of Education and Science with a view to considering how best to regulate the associated pricing arrangements."
Earlier this month the head of the Residential Tenancies Board (RTB) Rosalind Carroll told an Oireachtas Housing Committee that students living in accommodation who may be facing significant rent increases should contact the RTB to ensure they are legally protected as tenants.
It was previously stated that students living in purpose-built student accommodation (PBSA) were in licensee arrangements and not traditional tenancies.
PBSA units are not subject to the rent controls that were introduced in 2016 and so don't fall under the remit of the Residential Tenancies Board (RTB).
However, Carroll said that she believes a lot of purpose-built student accommodation that is within the private sector does come within the remit of the RTB.
There are a lot of cases out there where people might claim that something is a licence but the fact is it doesn't matter what it's named, it's about what its substance is.
Ó Maoileannaigh added that the Galway Students Union "will continue to fight to hold management companies to account through collaboration with all relevant officials and parties".