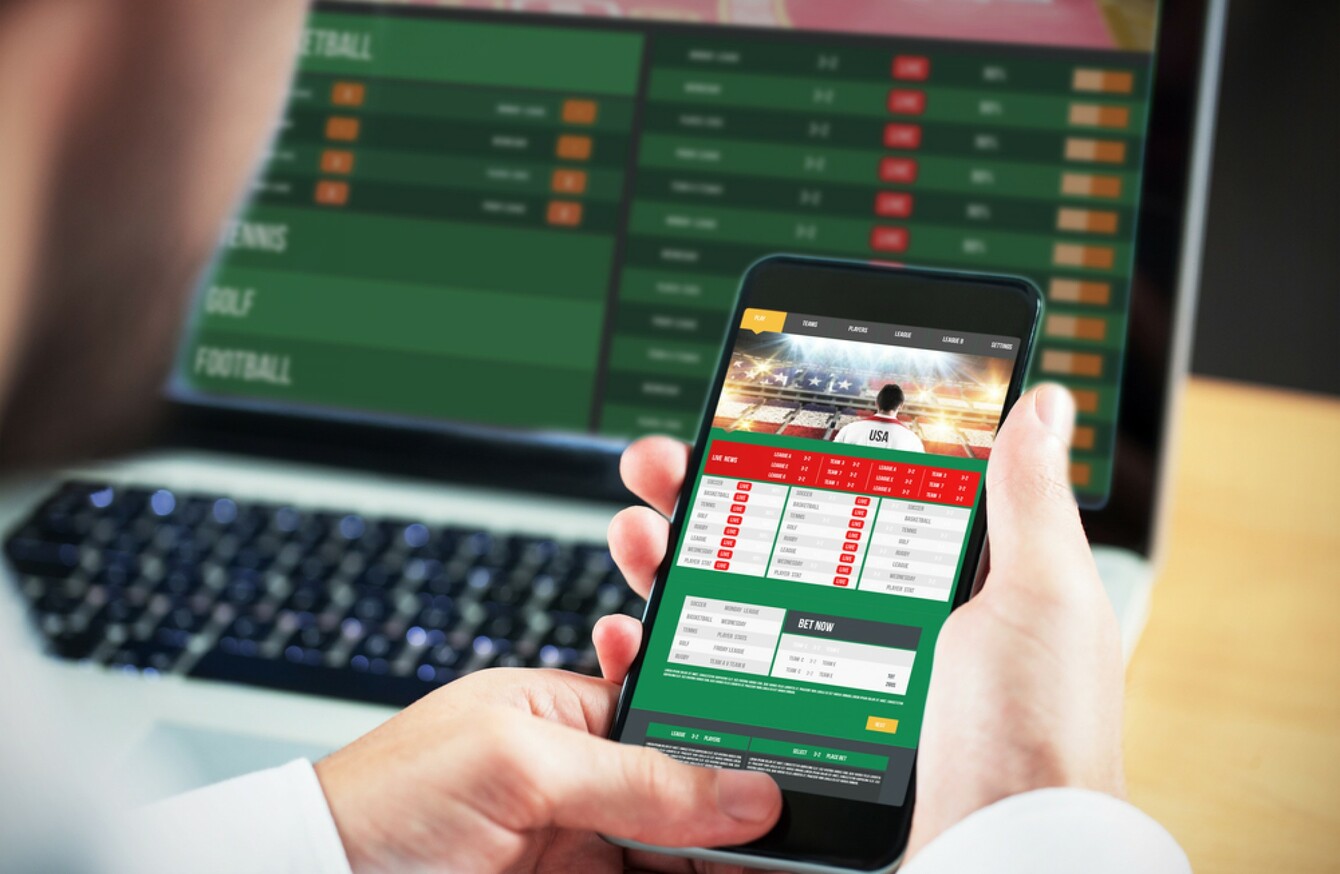 Image: Shutterstock/wavebreakmedia
Image: Shutterstock/wavebreakmedia
IT'S BEEN ALMOST four years since the general scheme of the Gambling Control Bill was published by Alan Shatter – but legislation still hasn't been enacted. Meanwhile, more and more stories of the impact of gambling addiction are being put into the public sphere.
Now moves are being made towards pushing the bill out of legislative limbo, with the Minister of State David Stanton at the Department of Justice and Equality taking it in hand.
Stanton has begun to review the regulation of the gambling sector in Ireland with a view to early legislative action based on the 2013 general scheme, his department has confirmed.
As part of this review, the Department of Justice and Equality commissioned a research project on developments in the gambling area since the general scheme was published.
The report is being examined at the moment and the Minister of State has also asked his Department to examine whether there are any "individual pressing areas of concern", intended to be dealt with in the Bill, which could be dealt with sooner in 2017 by separate legislative measures.
Experts in the addiction treatment area told TheJournal.ie that they feel it is unlikely the legislation will be enacted this year – and that meanwhile, people's lives are being affected by gambling.
A number of high-profile sports stars have come forward in recent years to speak about their experiences with gambling addiction. They include the Galway hurling star Davy Glennon, who went on RTÉ's Claire Byrne Live to describe how he funded his addiction with loans and even selling his car.
"My life was turned into a gambling rut, and I couldn't get out… There were so many lows. I isolated myself. I became a compulsive liar," he said.
Barry Grant is the CEO and founder of Problem Gambling Ireland, which he set up due to his experiences as an addiction counsellor in private practice.
He has been working with the Union of Students of Ireland and the Rutland Centre (which provides therapy for people with addictions) to lobby the government to bring in wide-ranging legislation on the issue. They are also working on raising awareness of gambling.
"Most international research would show that fewer than 5% of people with a gambling problem ever seek help," he pointed out.
'Online gambling is 24/7′
"In the beginning I was just seeing people who are going into traditional bookies shops but more and more now it's nearly all online gambling," said Grant.
He described this as particularly worrying, "because at least a bookies shop or casino or another bricks-and-mortar gambling service has opening and closing times".
Whereas with online gambling it's never-ending sport going on 24/7 around the world, and even if there isn't sport going on you can gamble on roulette games, online poker and countless other gambling services.
The ubiquity of smartphones means that people can be "basically carrying around a bookies' office 24/7 in your pocket".
He said that in his experience he has seen people affected "across the age groups".
I'm even seeing people in their 40s and 50s going to race meetings and gambling on football on their phones at meetings because they're not getting a buzz out of race meetings anymore.
In addition, betting advertising is something that is "relentless" with sports such as soccer, he said.
In bed gambling away the rent
Gambling addiction is "a silent addiction and invisible addiction – usually the point at which people seek help is way, way down the line when they've gotten into serious trouble," said Grant.
I am working with gambling people in bed with their partners, pretending to play [a game] on their phone while gambling away the week's rent.
He noted that people can be gambling in an unproblematic or 'pro-social' way, but for others it becomes a problem that they can easily hide – until the bailiffs are at the door.
He described the proposed legislation as "a huge step in the right direction" and has made recommendations to the department on the issue.
He said that within the general scheme of the bill there is the capacity to limit advertising to watershed hours, which he would be in favour of.
"What I would love to see is an opt-out or opt-in option from social media sites," said Grant. "If people could opt out or choose the types of ads you want to see in your timeline or your feed that would be progress from our perspective, however the revenue stream that comes from gambling advertising is substantial even in a small market like ours. I would imagine that the social media operators might be reluctant to do that."
Grant believes that the legislation might not arrive in 2017.
"Even with the best intentions I don't think that would happen, but as long as it keeps moving in the right direction," said Grant.
Lives turned upside-down
Maebh Leahy, CEO of the Rutland Centre, said she is concerned the legislation "will focus on money laundering and the taxation end and it won't focus on the harm end and the social funding".
What we see here on a daily basis is people coming in for a treatment and their lives have been turned upside-down, in a state of chaos and their families are in the same position, and because of the nature of gambling by the time they come to us normally it's a very serious problem.
We are at the coalface – we can see the effect it's having; we can see the risk of suicide, we can see the impact on mental health.
She said that the focus in the bill needs to be on research, data, treatment, and "creating a fund where people can access treatment to gambling and that is fair and accessible across the country".
Leahy wants the bill to focus on advertising and sponsorship "so we are protecting vulnerable and young people".
"We would regularly hear stories from people who come in for treatment that say they started gambling underage," said Leahy.
"Whenever we do a piece like this we get calls from parents worried about children aged 13 – 15 years. We have to ask the question – how are they getting access? And online is a huge problem in that respect."
It's changing so fast, the access is there 24/7, the younger generation are the first generation growing up with social media as an integral part of life. They are becoming completely desensitised to it and on top of that then it is advertised everywhere – there's no escape, 24/7 it's involved in sport. That combination is like petrol.
There is only one centre in Ireland that treats under-18s for addiction, but at the Rutland Centre Leahy said they "would regularly see young men in particular in their 20s and 30s who have got into significant debt, lost jobs, resorted to crime, these lads are from 'good families' there's no stereotyping."
A total of 13% of people last year that came in for treatment to the centre had a gambling problem.
"I can see already this year and we are only at the 11th of January, that we have a higher proportion of gamblers currently in treatment at one time that we had last year. Whether that pans out or is a bubble I'm not too sure – I think it's only going one way to be honest with you."
She added that it is seen across the country, and is not an isolated issue.
"We are not anti-gambling by any means, what we are about is protecting young people and protecting vulnerable people."
As for the delay with the bill, Leahy said: "I think it's really disappointing to be honest with you because it's a bill that's needed and I think the longer that we stick our head in the sand the bigger the problem is going to be, and the harder it's going to be to resolve it".
The costs, suicide and mental health, will just keep spiralling out of control. I would urge Minister Stanton and Minister Fitzgerald to prioritise and enact the bill fully.
Leahy said she applauds anyone that comes forward with their story, but that she wouldn't want people to think that gambling addiction only happens to high-profile sports people.
The risk of suicide is "higher in the gambling population than the normal addicted population and that alone should be ringing alarm bells with government", said Leahy.
"I think the burden of responsibility rests with industry – they need to be proactive, they need to be compelled to act."
Social media sites
TD Anne Rabbitte says that gambling legislation is one of her key focuses in the new year – and she hopes to get representatives of the major social media giants like Facebook and Twitter around the table to discuss betting advertising on their sites.
She said that gambling ads should not be accessible by the under-18s.
Rabbitte believes that the gambling industry and online industry "have all the analytical supports that government could use to turn a really negative into a positive".
She said she believes Deputy Stanton wants to get the bill moving. "I think they are not going to bring the bill through the way it is drafted because it is too complex," she said.
Taoiseach Enda Kenny was asked by Rabbitte when the bill would be brought before the Dáil, and he replied that digitisation was an issue. Rabbitte said that digitisation isn't the core aspect of the bill.
"Digitisation could be sorted by bringing the main players into the room," she said.
"I think there's a role for everybody here. Parents have a role to play here; social media giants have a role to play in it."