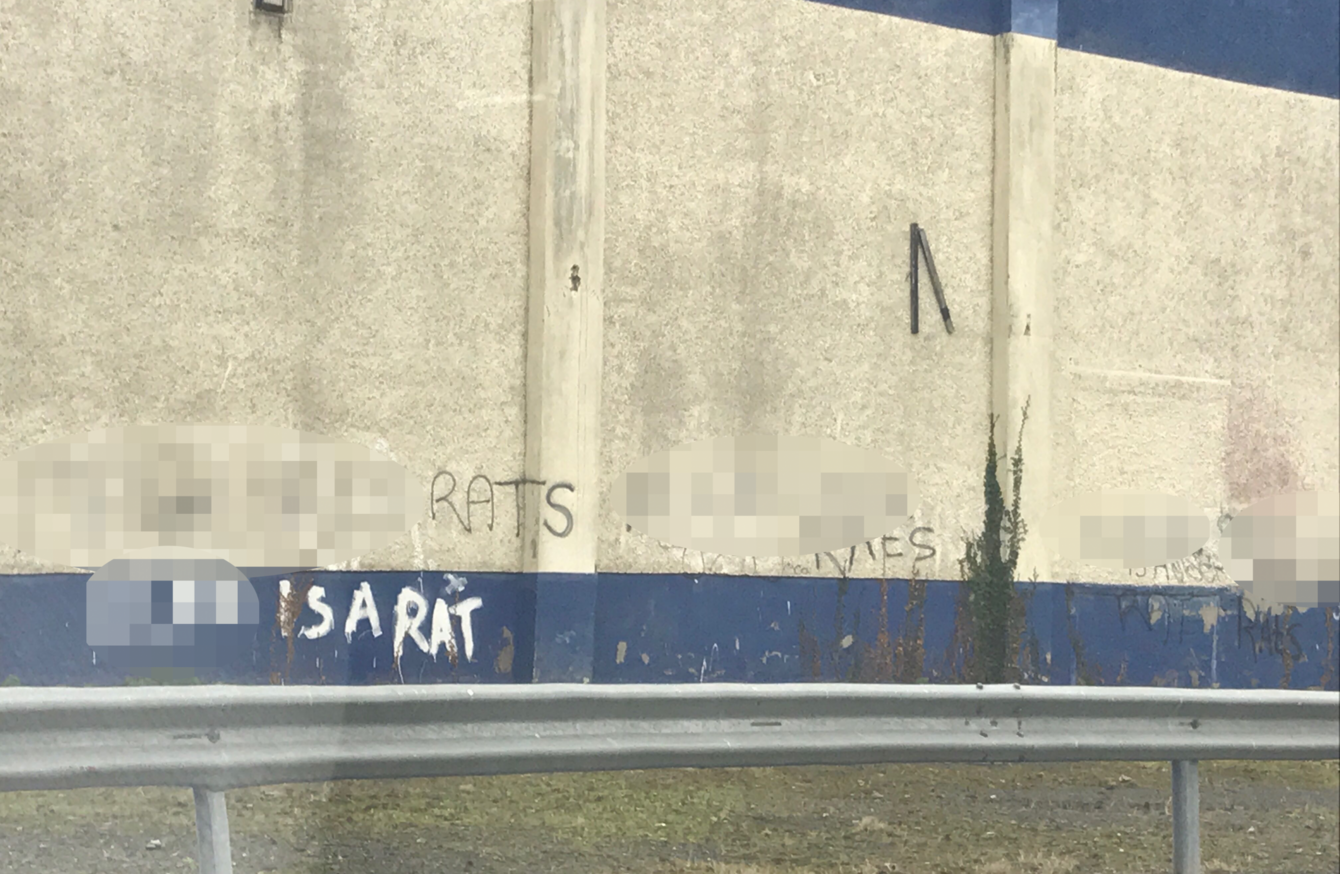 The graffiti at the entrance to Moneymore.
Image: Garreth MacNamee
The graffiti at the entrance to Moneymore.
Image: Garreth MacNamee
THERE'S GRAFFITI ON a wall in Moneymore housing estate in Drogheda – one of the main hotspots of a feud which has left a number of people hospitalised and gardaí on the edge. 
"Garda rats" – "Garda men" – "X is a rat" – these are the messages scrawled across a large white wall outside the estate where some of the key members of one of the feuding gangs live. 
The last 10 days has seen a huge amount of violence erupt on the streets of Drogheda. The locals are sick of it – the attacks on young men don't shock them anymore, residents just fear an innocent person will be caught up or that someone is going to die. 
Drogheda's West Street was bustling earlier this week when we paid a visit, people went about their daily business. Three kilometres up the road, the feud graffiti was etched – an open provocation from one side to the other.
Two feuding gangs have been vying for the lucrative drug trade in the town with reports from local representatives that some children are being forced to work in criminality as a result. 
On 5 July, Owen Maguire was shot a number of times at his home on Cement Road in Drogheda. He somehow survived being shot at least four times at close range with a handgun.
Since this shooting, the two gangs have been exchanging tit-for-tat attacks – mainly in the form of firing shots at people's homes. But violence erupted in the last week between the two gangs – one predominantly comprising members of the Traveller community, the other settled men. 
At 11.15pm on 8 November – Thursday of last week – a petrol bomb was thrown at a house in the Termon Abbey area. There were no injuries but there was some minor damage to the property.
At 11.29pm that same night, gardaí received reports that a man had entered a halting site in the Cement Road area allegedly carrying a firearm. Officers attended the scene, but nothing was found.
Then at 2am on the Friday morning, again in the Cement Road area, on a roadway in a residential area, there were reports of an apparent petrol bomb. There was damage to the roadway but no one was injured.
Also at 2am, gardaí were called to a car on fire in the Laurence's Park area – this car has been taken for a technical examination. And at 5.20am at St Laurence's Drive, just a short distance away, another car on fire was reported.
Earlier this week, a man in his 20s was found beaten and with stab wounds that were described as non-life threatening. It is understood the man was found in the bathroom of the property. A Stanley knife may have been used in the assault.
Pictures seen by TheJournal.ie show the severity of the man's injuries – stab wounds inflicted just above both of his knees, his face bludgeoned and bruised. 
These are just some of the incidents which have occurred in Drogheda, Louth, in the last week as gardaí attempt to keep a lid on a growing feud which locals say is about to boil over. 
Gardaí have put a policing plan in place and annual leave in the Louth division has been restricted to keep garda numbers as high as possible. 
West Street, Drogheda's main shopping thoroughfare, was busy even for a dreary midweek afternoon. And there was no shortage in the number of people who wanted to tell the press about what they thought about the violence – but just a handful would give their name – evidence of fear of retaliation for speaking out.
Locals in the area are trying to remain positive, although some fear that they might get caught up in the violence.
Shaun Whyte has been living in the town for eight years and says he lives "just around the corner" from the entrance to the Moneymore estate where the graffiti was daubed. The 24-year-old explained how the last six months or so have been difficult for people in the town – especially those who live near the flashpoints. The violence is something, he feels, which is giving the entire area a bad reputation. 
"I live near the college at Moneymore. There's times where I'd be walking home and there's been a group of lads there. Then I'm thinking 'do I look like one of these guys'. You hear all the time people being mistaken for other people. It's a bit worrying that way. I look like the kind of guy who'd be involved but I'm just trying to work and get paid.
"I'm not originally from here at all but I know from living here that it's full of good people. I don't want to people to be thinking that Drogheda is just a place for criminals."
Praveen Malik, who is originally from India, but living in Drogheda for the last three years,  said he has put his faith in good people living in the area. 
The taxi driver said that while the violence is disconcerting, he has full trust in gardaí to police the region.
"The garda are very good here. I see it when I drive across the town. There is trouble but they stop it. It is a problem for us because we don't like to see the violence. But we trust the garda here."
Addiction services
Louise Mahony, manager of the Red Door Project addiction centre in the town said she has seen a huge increase in the number of people contacting its service. 
Drugs, she says, have always been a problem but now they're getting more calls from concerned parents who say their child has racked up large debts. 
"We are an addiction service and community employment scheme – I suppose we're not your average one. We take people in for recovery – we take everyone so long as you're able to stand up. 
"From our point of view there's a long history of things in Drogheda being under-resourced and we're one of them. We've had a very low budget for a while now and it hasn't changed. More people are coming in looking for help and we're supposed to do it with the same level of funding. Year on year, everything is getting worse. 
What we have noticed is a big increase in family intimidation in Drogheda. There are parents ringing us asking for advice about what to do because their child has built up this big debt. We're talking huge amounts of money, people going for credit union loans to pay it off. And if they can't then there are cars being smashed up and other people being intimidated. There's definitely a pressure cooker situation. 
Despite Drogheda's problems, Mahony explained how the large town is no different to many other towns across Ireland. She cites the "amazing community spirit" and the "willingness" to change the town's fortunes. 
But she said that this can only be done by resourcing the people who are trying to better their community.
"We're very near Dublin and we don't have the services – we don't have the choice. We are the only addiction service in Drogheda. The HSE hasn't one addiction counsellor and we have had no outreach for two years – so if you have no outreach you have no idea what's going on. You're always slightly in the dark. We only know what's coming in the doors."
There are those like Louise who are trying to help people who have been crippled by the scourge of drugs. 
But there are others who are angry and upset by what has become of their hometown. 
Outside a local pub, there's a man in his 60s smoking a pipe. He tells me his name's Joe but won't "give the papers" his full name. He's from the Termon Abbey area – a place which had a number of petrol bombs thrown at it in recent days. He says he knows a few of the lads behind the violence. He is not impressed. 
"They're fucking animals. Going after young lads and women as well. They'd want to cop on to life. Nothing but animals. I've lived in this town all my life and I've never seen the like of it. All the good people in this place and they're coming over here and playing bang bang. We're fucking sick to our back teeth. Put that in your paper."
County councillor Kenneth Flood, who is also the chair of Drogheda's Joint Policing Committee (JPC), said that the violence is having a serious impact on the people who live in these neighbourhoods. 
He told TheJournal.ie: "We know there were tensions on the ground. We were hearing rumblings – there was just something in the air that something bad may happen.
"In July, after the shooting, gardaí openly said they didn't have the resources to police the division. Then you have the cops saying they don't have enough people to do the job. The criminals are looking at this and they're thinking, 'It's Christmas'. 
"We currently have five active murder investigations here – that's the highest in Ireland excluding Dublin. They are a huge drain on the resources. 
What we're saying to the gardaí is this; there needs to be intelligent led operations not just a lucky dip of catching someone at a checkpoint. It's going to come to someone losing their life here. If that happens, you can bet that there'll be retaliation and this will go on and on.
Gardaí continue to put a policing plan in police to contain the violence and sources have told TheJournal.ie that there's not much more that can be done that is already being done. 
According to one source, gardaí will have to take things "by the hour" in this feud.