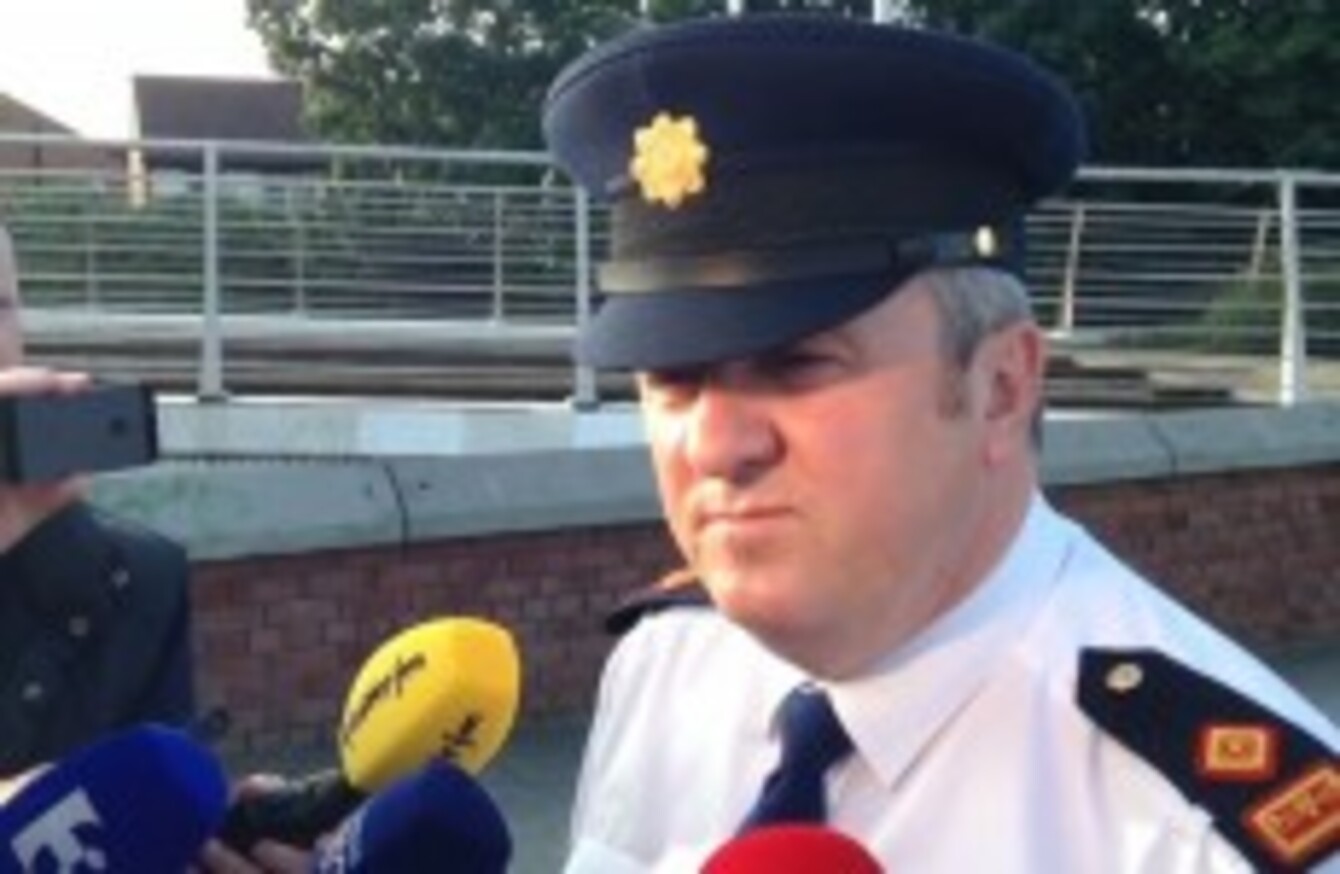 Superindentent Dave Taylor briefs reporters at the scene
Image: Daragh Brophy/TheJournal.ie
Superindentent Dave Taylor briefs reporters at the scene
Image: Daragh Brophy/TheJournal.ie
GARDAÍ INVESTIGATING THIS morning's apparent 'gangland' killing in Dublin 8 say two trams were passing by the scene just as the 27-year-old victim was being gunned down, close to the Suir Road Luas Stop.
The man – who was from the area and known to gardaí – sustained multiple gunshot wounds to the chest as he was walking at Grand Canal View, close to the Luas Red Line, at around 10.30am. He died at the scene.
Dr Michael Curtis from the State Pathologist's Office carried out a preliminary examination of the man's body, which was later removed to the City Morgue. A full post-mortem is under way tonight.
The suspected murder weapon was discovered in a car found burnt-out nearby at Rialto Court.

Gardaí are appealing for any witnesses – in particular, occupants of the two passing trams – to get in contact. Briefing reporters at the scene this evening, Superintendent Dave Taylor of the Garda Press Office said several witnesses had already come forward:
We're asking passengers – did you see the incident, did you see any person leave the scene or witness any commotion?
Gardaí describe the suspected gunman as being between 5'10 and 6′ in height. He was wearing a sky blue hoodie with white shoulders. Superintendent Taylor said the car seen leaving the scene was a very distinctive model – a grey/lilac Opel Astra – with the license plate 99 LH 5711. He asked:
Did this car pass you in an erratic manner? Did you see it being burnt out on Rialto Court? If you did, we'd be interested in talking to you.
CCTV footage from the Luas system and from local businesses in the area is being examined as part of the investigation.
Anyone with information is being asked to contact the incident room at Kilmainham Garda Station on 01 666 9700 or the Garda Confidential Line on 1800 666 111.

Luas trams passing-by the now-cleared scene of the shooting (Youtube: TheJournal.ie)