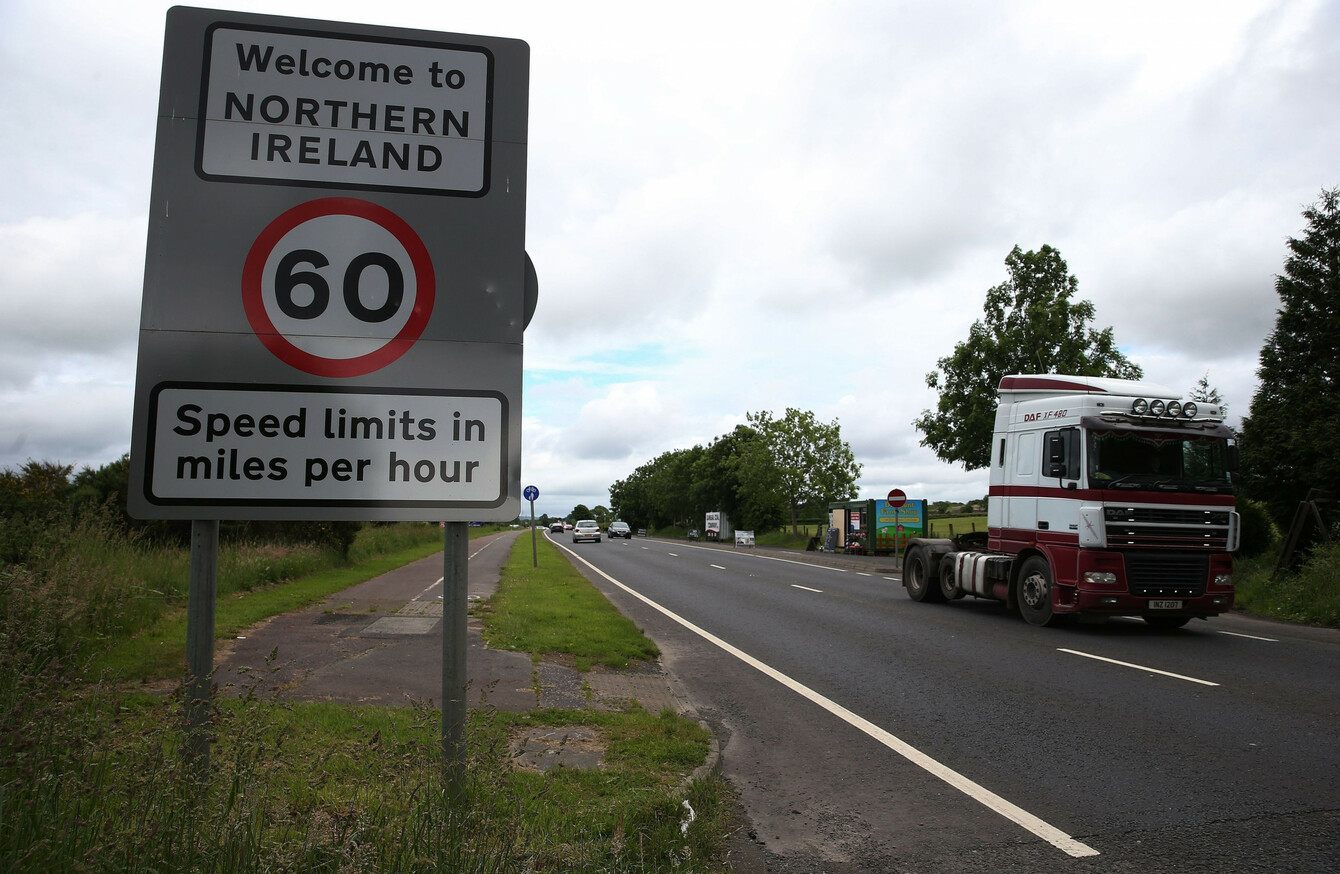 Image: PA Wire/PA Images
Image: PA Wire/PA Images
Updated 1pm
JUSTICE MINISTER CHARLIE Flanagan has told rank-and-file gardaí that they do not need to be concerned about the prospect of policing a sealed border between the north and south of Ireland, but he has no ruled out the possibility of a hard border.
Delegates at the annual conference of the Garda Representative Association (GRA) today referenced the sealing of the border during the BSE crisis and questioned how the force would manage if that happened again and was permanent.
In his speech this morning, Flanagan said there will not be a sealed border,but he did not rule out the possibility that significant resources would have to be deployed to the border after Brexit.
"One of the greatest challenges being faced by the country at the moment is the withdrawal of the UK from the European Union. I was at a border station recently in Dundalk with members of An Garda Síochána. I realise the challenge that is Brexit. I'm in contact with garda management to ensure contingency plans are in place for Brexit," he said.
"It's too early to say where the ball will actually land but I believe it's important that gardaí are Brexit ready."
This is primarily a matter for the United Kingdom. It's again a source of real regret for me as a member of government that a greater level of clarity and certainty isn't evident. I want to acknowledge the work that Minister Coveney is doing in that regard and negotiating with EU27. I would again call on the British government to introduce certainty and clarity into the what continues to be a mess.
Yesterday, gardaí stationed in border areas said they were concerned that there will be a surge in crime in the event of a hard border. They said garda management still has not told them what kind of resource support they will receive to deal with the Brexit aftermath.
Garda James Morrisroe, who represents members in the Cavan-Monaghan division, said he is not aware that there is any contingency plan now for a proposed hard border.
"If the border comes to fruition, by my estimation, there are 208 crossing points north and south, so if you just add that up you'd be talking about 1,000 extra permanent gardaí to be based on the border and that's the conservative estimate because you have 500km of border between Northern Ireland and southern Ireland. That's a lot of resources and even at the moment we're struggling for resources along the rural hinterland that is the border," he explained.
Nobody seems to know what's going to happen so from a security point of view and representing our members it is a worry.
His colleague Brendan O'Connor, Central Executive Committee member for Donegal gardaí, also pointed out that security services in the North and in the UK have acknowledged that discussions around Brexit and the possibility of any sort of border "is driving young disaffected youth". He said there they are seeing an increase in recruitment in subversive groups.
"Any infrastructure put on place that is a symbol of that division is a focus for those people who are of that persuasion."
He said symbolically, a border between the north and south would be "going back to a time we had moved away from" and that has the potential to prompt increased activity from these subversive groups on both sides of the border.
Donegal borders the north-west and it has been acknowledged that there's a significant number of dissident Republicans operating in the north-west of Northern Ireland so by default our members who are out on country roads on patrol are going to encounter those people and they're exposed to that danger. He said there is a need for armed back-up for officers working along the border.
We've had the farcical situation where there's detectives on patrol on the border who cannot turn on a blue light to rush to the assistance of a colleague [because of

a lack of training

], or cannot signal a suspect vehicle to stop. So An Garda Síochána is tasked with everything along the border from counter terrorism to immigration control to ordinary crime and there are people who aren't allowed turn on a blue light. People wouldn't believe you, but that is the reality.
When asked about policing a hard border, Acting Garda Commissioner Donall Ó Cualáin said "the outcome of the political discussions is for the politicians".
"All I can do and I have tasked Deputy Commissioner (John) Twomey with ensuring that we are looking into all possible outcomes and that we are preparing for whatever one might land.
"That means that we have a team working internally looking at all scenarios and also that we cooperate fully with the external police services in the north and also across the Irish sea."
He said until they see what the political agreement is, they can't really plan in any great detail.
"At the end of the day, the government have committed to increasing our strength to 15,000 members which will be the highest in the history of An Garda Síochána.
"It is our job to ensure they are deployed in the most efficient way. That includes all of the challenges we face."