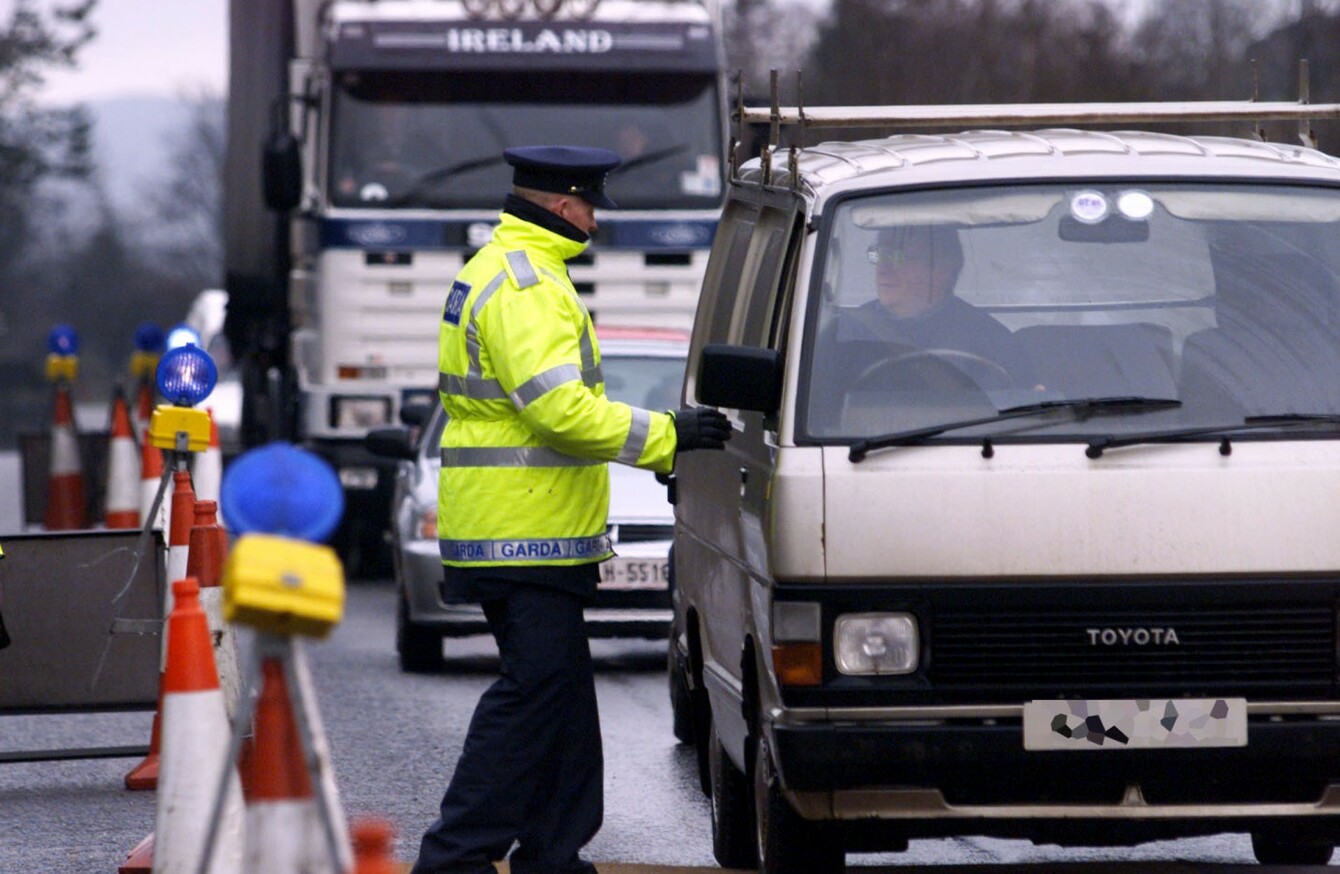 Image: PA Archive/PA Images
Image: PA Archive/PA Images
RANK-AND-FILE gardaí are concerned they could be targeted by terrorist groups and other criminals at checkpoints if a hard border is implemented post-Brexit.
Garda representatives say they are worried about their members being put in a vulnerable position as the organisation simply would not have the resources to properly police the border.
Speaking at the annual delegate conference for the Garad Representative Association (GRA), James Morrisroe, who represents gardaí in the Cavan/Monaghan division, compared the possibility of a hard border post-Brexit to the foot and mouth and BSE crises.
"At the time of the foot and mouth crisis, they would have had a large number of gardaí on temporary transfer from all over the country to cover all the border crossings, of which there are a lot, on minor roads and major roads in the Cavan/Monaghan division," he said.
"There would probably be the most border crossings in the country in the Cavan/Monaghan division. It's a huge resource issue, you wouldn't have the resources locally if you had to man all the roads if it was a hard border."
He said with the number of gardaí in the country at the moment, the temporary transfer model would not work longterm and would be costly for the State.
"You would have to increase the number of gardaí in Cavan/Monaghan – I'd say you'd have to double them at least on a permanent basis, so that has its own implications."
In January this year, the head of the Police Federation of Northern Ireland (PFNI) Mark Lindsay, told The Guardian he feared his members could "become sitting ducks for the terrorists" at customs posts and fixed points on a hardened border.
Morrisroe said this "would always be a worry" for gardaí tasked with manning border checkpoints.
There was an incident that happened to me back when I was only six months on the job in 1996 when the border was closed because of the BSE crisis. I was on my own at a checkpoint and a car went by me heading into the North. It stopped a few hundred yards away in the North and there were three guys coming back towards me, so they were obviously going to do something. I called for back-up and a car arrived, they were arrested. If they had got to me, I was on my own, I was isolated – who knows what they were going to do?
"Members would be by themselves – we wouldn't have enough to have two at every checkpoint so of course we're going to be a target. And the fear would always be there," he continued.
"If you were a European frontier, then you could be targeted by someone else, other international terror groups."
Contingency plan?
"It's within two years that Brexit is going to happen because Article 50 has been triggered and I'm not aware of any contingency plans, I don't know if the government has a contingency plan in place – if they have I'm not aware of it," Morrisroe told TheJournal.ie.
Garda Enda Dunne who is based in Ballybofey also expressed concern that there is "no policing plan in place".
"There is just so much uncertainty over the subject and we need to have discussions on this matter."
He said resources along the border are already a "huge problem" – and that is without the need for officers posted at checkpoints.
"What happens is that people are taken off the border stations to augment units at headquarters – effectively leaving huge swathes of the rural community without the service they deserve," Dunne said.  "We need to see more of a visible presence on the ground – more resources so we can have people on patrol."
Burglaries are the main focus at the moment and we have over 60 checkpoints in my district to disrupt this criminal activity. There is also a lot of subversive activity, but we aren't kept informed of any dissident activity, yet 99.9% of the time we are the people who will be the first to respond to an incident involving subversives.
Dunne said it is not uncommon to have only two officers covering an area of 65km in the Letterkenny district.
Garda Derek O'Donoghue, who represents members in Louth, said he was also unaware of any contingency plans for post-Brexit policing.
"There's senior management in the Dundalk area that would be responsible for it, who would have been at supervisory ranks during the foot and mouth crisis so they would be aware of what would be required," he said.
"It's a management issue to get the necessary resources that are required for it."
An Garda Síochána did not respond to a request for comment on post-Brexit contingency plans.