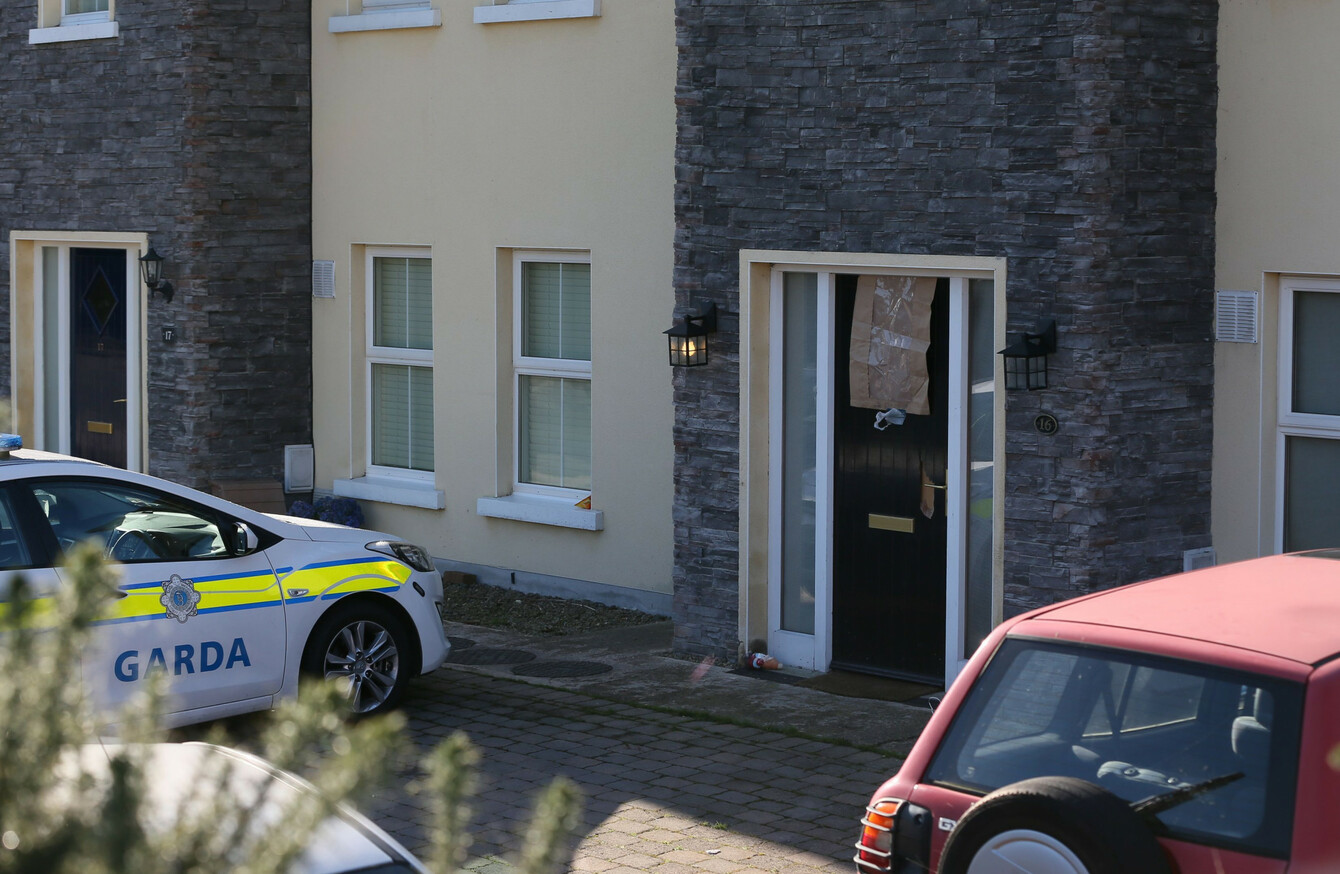 Image: Niall Carson/PA
Image: Niall Carson/PA
TWO DOMESTIC VIOLENCE incidents involving a woman who was being accompanied to her home by Garda Tony Golden when he was shot dead were not logged properly on the Pulse system.
A garda report published today noted that Garda Golden's actions were beyond reproach, but that mistakes were made with the classification of incidents relating to Siobhan Philips.
Garda Golden was killed by Adrian Crevan Mackin following a domestic incident at his house in Omeath, Co Louth on 11 October 2015. Crevan Mackin also shot and seriously injured Siobhan Philips, who was his partner. He then took his own life.
Today's report notes that Seán Philips, Siobhan's father – who was with his daughter and Garda Golden when they were shot – had contacted gardaí to express concern about his daughter in September 2015.
She had confided in him that she had been the victim of domestic violence and that Crevan Mackin had pushed her a number of weeks previously. Following the contact from her father, a garda went to her home and spoke with her about his concerns.
She declined to make a complaint and said she was not in fear. She also declined to confirm any offence had occurred and signed the gardaí notebook confirming she did not wish for any further action to be taken.
The garda told her about court orders she could seek to protect her from violence or abuse in her relationship. This incident was later recorded in the Pulse system under the heading 'Attention and Complaints'.
The review concluded that Seán Philips' conversation with gardaí about his concerns at Carlingford Garda Station and the subsequent action taken should have been recorded within the category 'DVSA – no offence disclosed'.
Injuries
On 10 October, Siobhan told a family member she had been assaulted by Crevan Mackin and she went to Dundalk Garda Station with her father and her mother Norma.
A garda took the report of the incident from her parents and observed the injuries to her. Siobhan Philips said she was suffering from pain in her head and felt dizzy and the garda advised her that her main priority should be to get medical attention. They also told her not to go back to her home.
This garda then contacted Garda Tony Golden on his personal mobile phone. Golden told him to record the matter as an Attention and Complaints incident, he told him he had previous dealings with both parties and that Philips had declined to make a statement on a previous occasion. He said in the event that she would give a statement on this occasion, the matter could be reclassified.
Details of the Dundalk station interaction were recorded under Attention and Complaints. The review publishedtoday has stated that this incident was incorrectly classified and that the garda who spoke to Philips had enough information at the time to ensure the matter was recorded as a crime incident.
After receiving treatment, Siobhan Philips and her parents went to Omeath Garda Station, but it was closed as it was past 11pm. They came across two other gardaí who were patrolling the Carlingford area, but they said they could not take a statement and advised Philips to contact Garda Golden, who would be in Omeath at 4pm the next day.
On 11 October at 4pm, Siobhan went to Omeath garda station again with her parents and Garda Golden took her statement. After this he travelled in an official patrol car behind Seán and Sibhan, arriving at the house at 6pm.
'Significant actions'
The review said it is evident that a member of An Garda Síochána did not deal with the initial report to him at Dundalk garda station strictly in accordance with policy. There was an obligation on him to record a complaint from Siobhan Philips when she attended the station.
However, it said that "significant actions" were taken by all relevant members for the purpose of addressing the issue subject of the complaints. It also found that even if the incidents had been properly recorded, it is unlikely that Garda Golden would have taken a different course of action.
An Garda Síochána is not considering disciplinary proceedings, but the review said the force has implemented a number of developments in respect of how it treats victims of domestic abuse.
#Open journalism No news is bad news Support The Journal

Your contributions will help us continue to deliver the stories that are important to you

Support us now
'Abhorrent'
Commenting on the report, Minister for Justice Charlie Flanagan said the shooting of Garda Golden and Siobhan Philips was "an abhorrent crime".
"Ms Phillips is a young woman who has suffered great trauma and serious injuries as a result of the events of that day.
"The Golden family have lost a dearly loved husband, father, brother and son. Garda Golden died selflessly doing his duty in seeking to protect the members of the community he served.
"This review has identified that the actions of Garda Golden were beyond reproach."
Although he acknowledged that the review pointed to issues with how the incidents were recorded, he said this does not appear to have been a causative factor.
The Minister also indicated that, in terms of a separate review undertaken by Assistant Commissioner Eugene Corcoran, "it is important to note that certain allegations in respect of the murder of Garda Golden are currently being examined by GSOC in two investigations".
These investigations have been ongoing since April 2017.
"Conscious of the gravity of this matter and the concerns expressed by the family of Ms. Siobhan Phillips, as well as by local public representatives, I have taken the decision in the public interest to publish this report.
"The report is subject to a number of minor redactions for necessary legal and security reasons.
"I have been assured by GSOC that the publication of this report will not have any adverse impact on the independent investigations underway and we should not prejudge the outcome of those investigations."