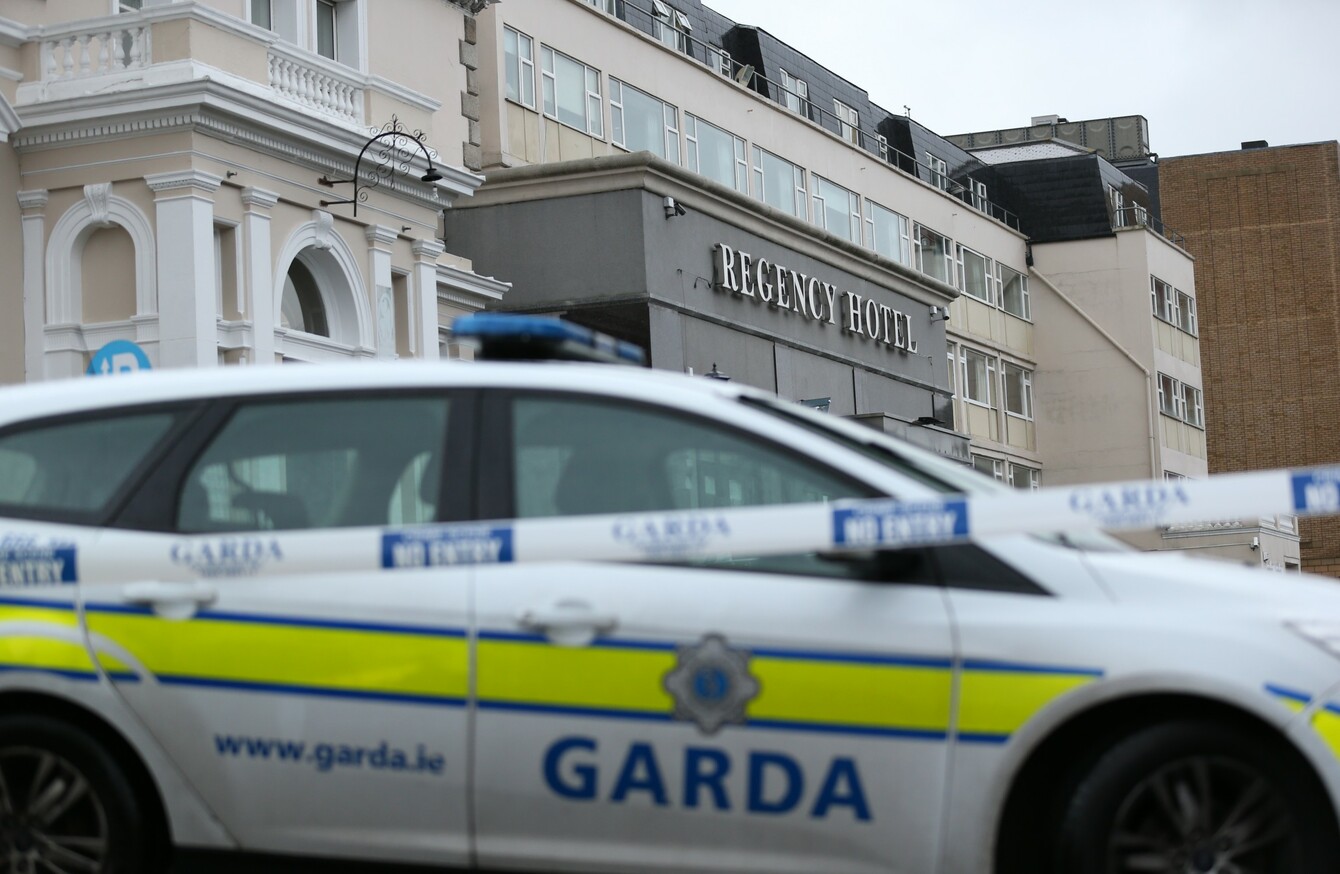 Image: Sasko Lazarov/RollingNews.ie
Image: Sasko Lazarov/RollingNews.ie
RANK-AND-FILE gardaí are becoming increasingly concerned for their safety amid the escalating gangland war in Dublin, the association representing them has said.
Garda Colin Moran, who represents members in the north Dublin Metropolitan region – including first responders to the Regency Hotel shooting – said gardaí on the ground are "concerned and worried".
Of course our members are scared – they are mothers, they are fathers, they have families. You put on your uniform and stab vest in the morning and go to work, but you are still human – of course we are in fear.
Moran said the officers who first arrived on the scene were "shook" by the incident. They did not have the tactical training necessary to respond to that kind of event.
"We were first responders to the Regency Hotel, an unarmed patrol car driven by a member who would have had to have signed a form saying that he wouldn't put on lights or sirens," he said.
If you told anyone else that in the policing world throughout Europe, they would laugh at you. It's called CPD1 Driving – it's not suitable for front line policing.
'Brave'
Garda Representative Association (GRA) delegates are due to debate two motions about the armed capabilities of the force at their annual delegate conference over the next two days.
The organisation's president, Dermot O'Brien, said ordinary rank-and-file members have not received tactical training since 2008. He said he believes his members should not be asked to go into situations they have not been trained to deal with but because of the lack of armed cover, it could be hours before backup arrives to tackle these situations.
"It's very brave what these people do," he said, explaining that gardaí take these risks because they know members of the public may be in danger at the time.
The introduction of tasers is something he said management in An Garda Síochána will have to look at if they are to properly equip members to deal with these latest threats.
Airport security
Garda Moran also spoke of the need for a visible armed presence at Dublin Airport, as Europe continues to face threats from international terrorists.
He described occasional patrols by the Emergency Response Unit as "only plastering over cracks".
It all boils down to the fact that we need more armed cover. We need more resources put in to armed policing to keep the people of Ireland safe. You can walk through Dublin Airport and you won't see any armed police force – where else in Europe would you see that?
"We don't want to ramp up people's worries, but at the same time I think they are better being secure and happy in the knowledge that they are protected than worrying about it," he added.
We'll be reporting from this year's GRA Annual Delegate Conference in Killarney over the next two days, so keep an eye out and follow @michellehtweet for updates.