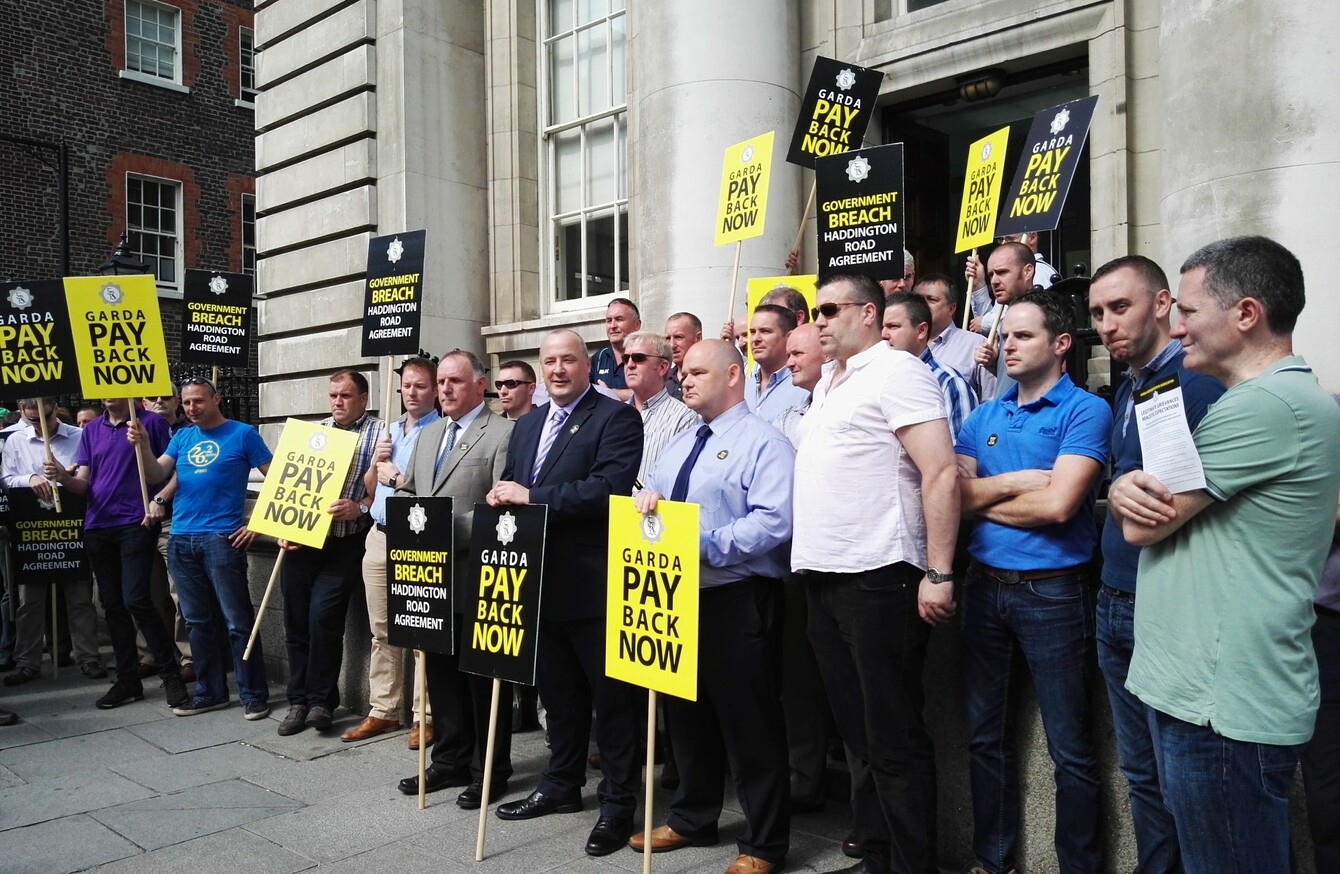 Image: Michelle Hennessy/TheJournal.ie
Image: Michelle Hennessy/TheJournal.ie
FOR THE SECOND time in as many months, today rank-and-file gardaí were protesting outside government offices calling for Minister for Public Expenditure and Reform Paschal Donohoe to sit around a table with them to talk about their pay.
From the end of June, anyone of garda rank with less than 17 years' service was subject to a pay freeze because of their rejection of the Lansdown Road Agreement.
Frank Thornton, who represents members of the Garda Representative Association (GRA) in Limerick, is one garda who will be affected by this. He has been in the force for 11 years and is due a salary increment of €2,000 from September.
The imposition of emergency financial legislation on public sector workers who rejected the recent pay deal means Thornton and his family may have to wait at least another two years for that modest pay bump.
"It has huge implications for myself and my family at home," he told TheJournal.ie at today's protest. "All these increments, we're waiting for them, you know, we have bills and we've had hardships since 2008. This is a bit of a release for us as a family and now we're kicking the can down the road and trying to survive for another two years and hope that we'll get it then."
He feels like the government "put their hand into our pockets" at the start of the recession and now that things have improved, it is time to give some of what they took back.
Charity handouts
Speaking about the financial hardship experienced by his members, Cavan/Monaghan representative James Morrisroe said some gardaí are depending on charities just to get by day-to-day.
"I know of one particular member who has a young family who is relying on charity handouts just to pay their domestic bills," he said.
I know of other members around the country as well who are receiving the family income supplement – they'd be the newest members who are only on €23,000 per year.
Garda Aidan Whelan of the Wicklow division will have 17 years of service in An Garda Síochána this September. He is also due a salary increment and estimates he will be down around €5,000 over the next two years if his pay remains frozen.
"Obviously, financially I'm struggling like every single member of An Garda Síochána at the moment. I would have had that [money] factored into my pay going forward to pay off my household bills, to pay off some loans I have. Unfortunately, I'm going to have to rejig again and see how I can cope with this.
"Specific things like family holidays we won't have, I suppose, but we've been doing without those for a while anyway. Any luxuries at all really."
I feel completely unappreciated and it's not only me, it's the same with members in my division. Morale is at an all-time low. I'm 17 years in the job an I've never seen it as low as it is at the moment.
#Open journalism No news is bad news Support The Journal

Your contributions will help us continue to deliver the stories that are important to you

Support us now
'We are different'
The association's president Ciaran O'Neill warned today that action will escalate unless the government removes the effective pay freeze currently in place and enter meaningful discussions about reversing some of the cuts made since 2008.
"We are different to every other public servant and I know other public servants have been through cuts as well, but I represent gardaí, I have to represent their interests," he told TheJournal.ie.
"We're the people on the frontline that are getting abused, getting spat at, getting kicked and punched and threatened on a daily basis and that's supposed to be the norm for a member of An Garda Síochána. It's not normal – it's not normal to be treated that way – and asking somebody to be treated that way for nothing is not right either."
GRA representatives are due to meet with government officials tomorrow.