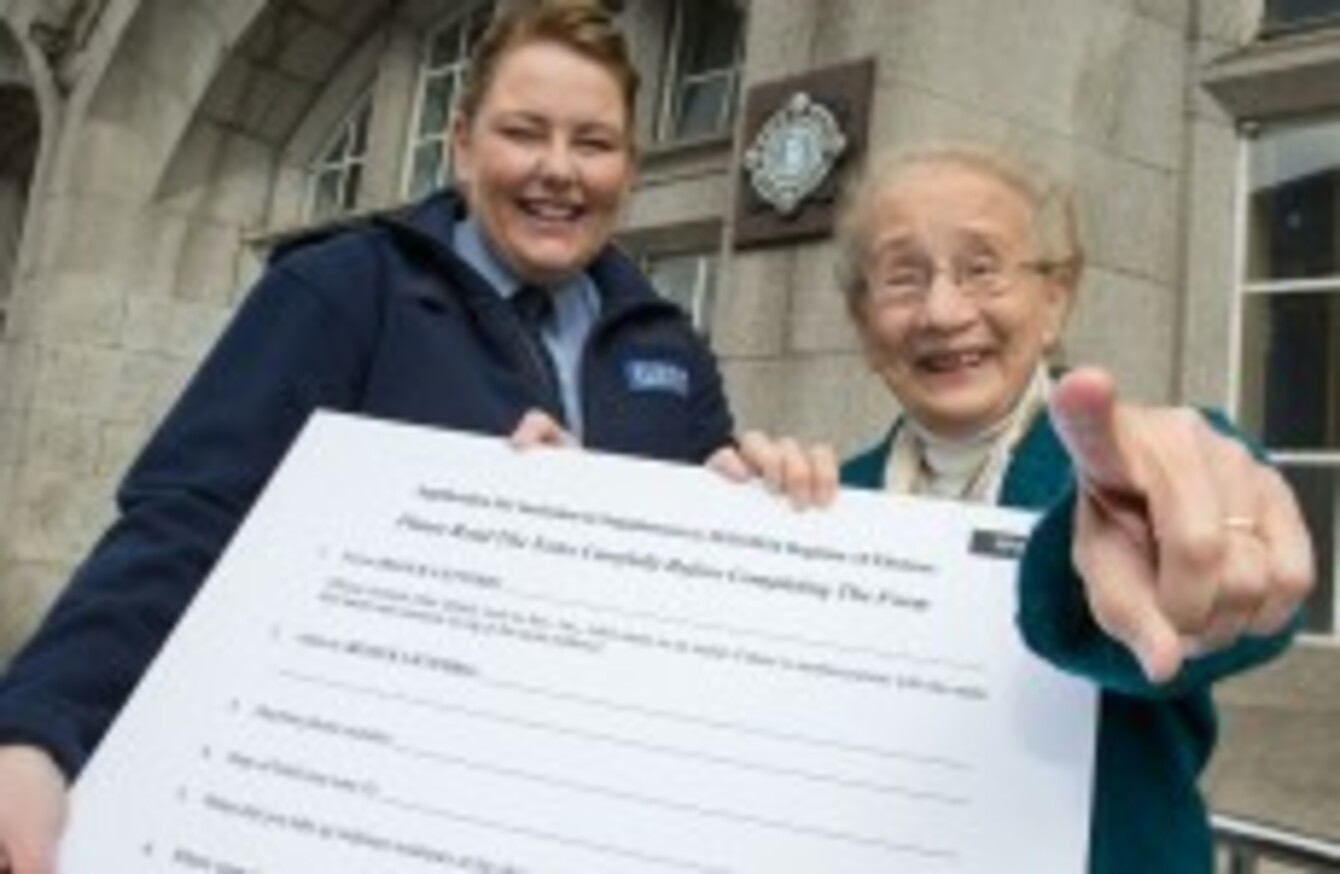 Image: Paul Sharp/Sharppix
Image: Paul Sharp/Sharppix
Updated 5.14pm
AN GARDA SÍOCHÁNA has said an photocall organised by the Yes Equality group at a garda station over the weekend 'wasn't appropriate'.
A member of the force was pictured with former Supreme Court Judge Catherine McGuinness as the group encouraged the public to register to vote in the upcoming referendums.
Similar events have taken place in community centres and universities across the country in recent weeks. Gardaí will often visit these places and encourage students and the public to register to vote.
However, the image of the guard taken at this weekend's event (seen above) has attracted controversy, attracting criticism from the No side.
In a statement issued this morning, the garda press office said:
While the event was held in good faith to promote the fact that people can register at Garda stations to vote in the upcoming referenda, it was not appropriate for this kind of photocall to take place given An Garda Siochana's status as an apolitical and impartial organisation.
The matter is currently being looked into by gardaí.
Grainne Healy, Yes Equality spokesperson, said this morning that the event was to encourage people to vote, and called on "all people to check the register and if they are not on it, to get the appropriate forms signed by a Garda before May 5th so everyone can have their say on May 22nd".
Gardaí have previously tweeted pictures of officers taking part in other events:
However, the branding and merchandise seen at others has been criticised.
Keith Mills from Mothers and Fathers Matter described the incident as "very worrying".
"This is political policing, and the sort of thing you might see in some banana republic country," he told TheJournal.ie.
Garda should be completely neutral, and not have a political agenda.
Mills said he has received similar images of other events organised by the Yes side, including some showing gardaí handing out Yes badges.
#Open journalism No news is bad news Support The Journal

Your contributions will help us continue to deliver the stories that are important to you

Support us now
Fracture
Mothers and Fathers Matter have since said that An Garda Síochána's statement on the matter is "incomplete and inadequate".
"An anodyne statement of regret by garda authorities for a single incident is indicative either of an extraordinarily poor management or of approval," a statement from the group said this afternoon.
Anyone with the merest concern for democratic process has to be disturbed by this fracture of tradition and custom that has kept the gardaí as a strictly neutral and apolitical force.
The statement also calls for Justice Minister Frances Fitzgerald to make a Dáil statement saying that the government "is neither involved in nor approves of the politicisation of An Garda Siochana".
It also expresses disappointment that "a former Supreme Court judge exercised such little discretion as to involve a young member of the force in this manner".
Further comment has been sought from Yes Equality on yesterday's event. 
- With reporting from Rónán Duffy