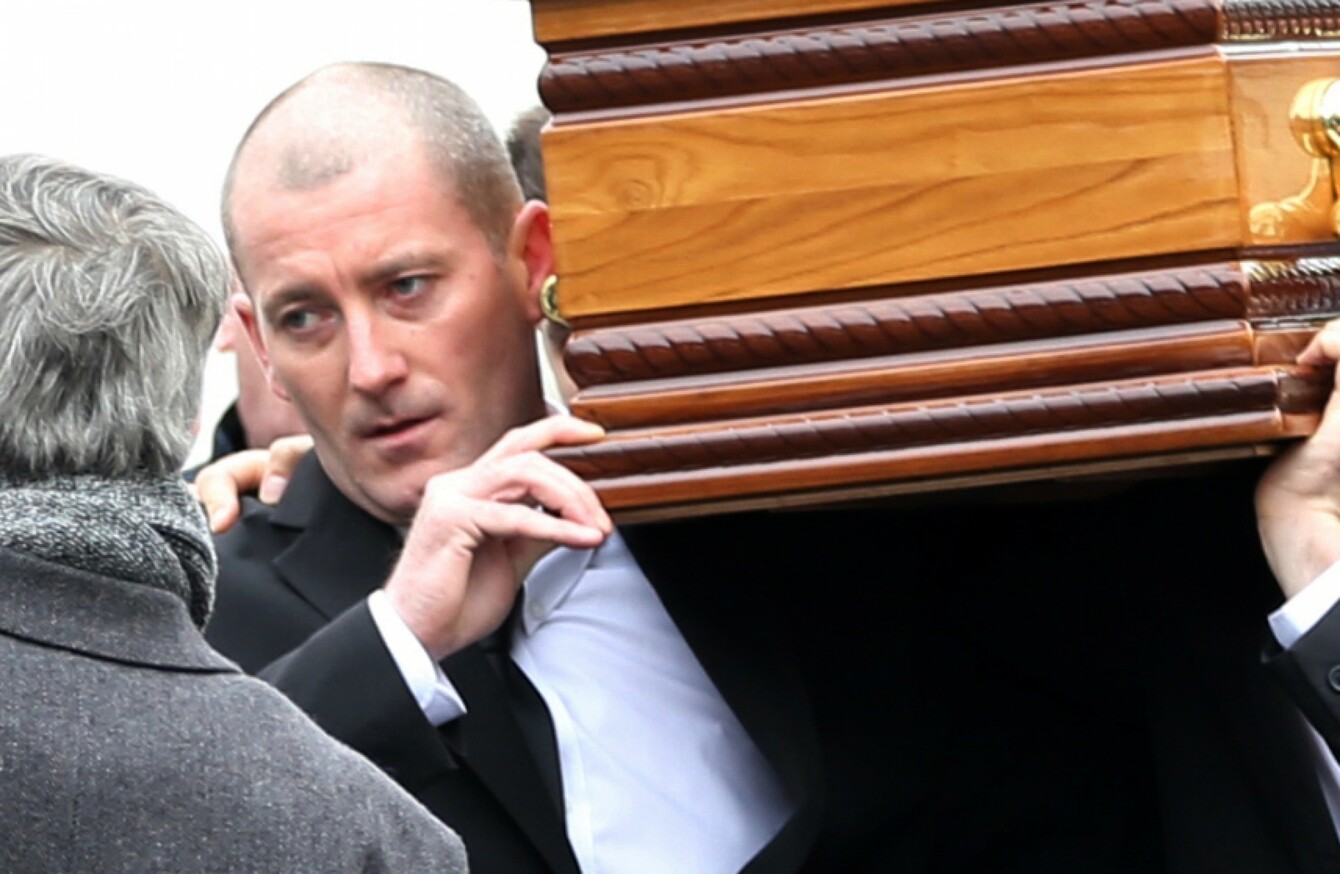 Gareth Hutch at his uncle Eddie Hutch's funeral earlier this year.
Image: RollingNews.ie
Gareth Hutch at his uncle Eddie Hutch's funeral earlier this year.
Image: RollingNews.ie
SEVEN MEN HAVE now been murdered as a war rages on between the Hutch and Kinahan gangs.
The latest victim is 35-year-old Gareth Hutch, nephew of Gerry 'The Monk'. He was gunned down as he was getting into his car at the Avondale House flats in Dublin's north inner city. This evening, a 29-year-old man handed himself into gardaí and is being held at Mountjoy garda station.
Hutch, a father-of-one, is from Drumalee Avenue and worked as a taxi driver. He had come to the attention of gardaí in the past for a number of different offences, notably the attempted robbery of a cash-in-transit van in Lucan in 2009.
One of his accomplices in the crime, Garreth Molloy, was shot dead by gardaí during the raid. Hutch's cousin Derek 'Del Boy' Hutch also faced charges for his role and is currently serving time in prison for the attempted robbery.
Hutch fled the country after being charged over the attempted robbery and possession of a sawn-off shotgun. He was extradited from Holland in 2014 but was later acquitted.
Living in fear
Today, Dublin councillor Nial Ring told TheJournal.ie he had recently spoken to Hutch, who had asked him for help with a letter to the council's welfare section. Ring said the man was worried for his personal safety and wanted to be moved from where he was living.
He also told the councillor he was trying to get more access to his son.
His main concern was his young son, who stays with him. He didn't want anything to happen while [the child] was in the flat.
Gardaí are investigating whether Hutch was involved in the Regency Hotel shooting, during which Kinahan gang member David Byrne was murdered.
He knew he was a target for the gang, which has taken out three other Hutch associates and innocent bystander Martin O'Rourke since the brazen attack on the north Dublin hotel.
Source: TheJournal.ie/YouTube
'Time ran out'
Assistant Commissioner Jack Nolan told reporters earlier today that "since these series of murders have happened there have been many persons who have been under threat".
Gardaí have provided warnings and advice to try to ensure they take every precaution possible to keep themselves safe, Nolan explained.
This was never going to be a "speedy or a short investigation", he said. It will take time.
"Unfortunately, that time ran out today for Mr Hutch…"
- With reporting by Paul Hosford and Daragh Brophy.