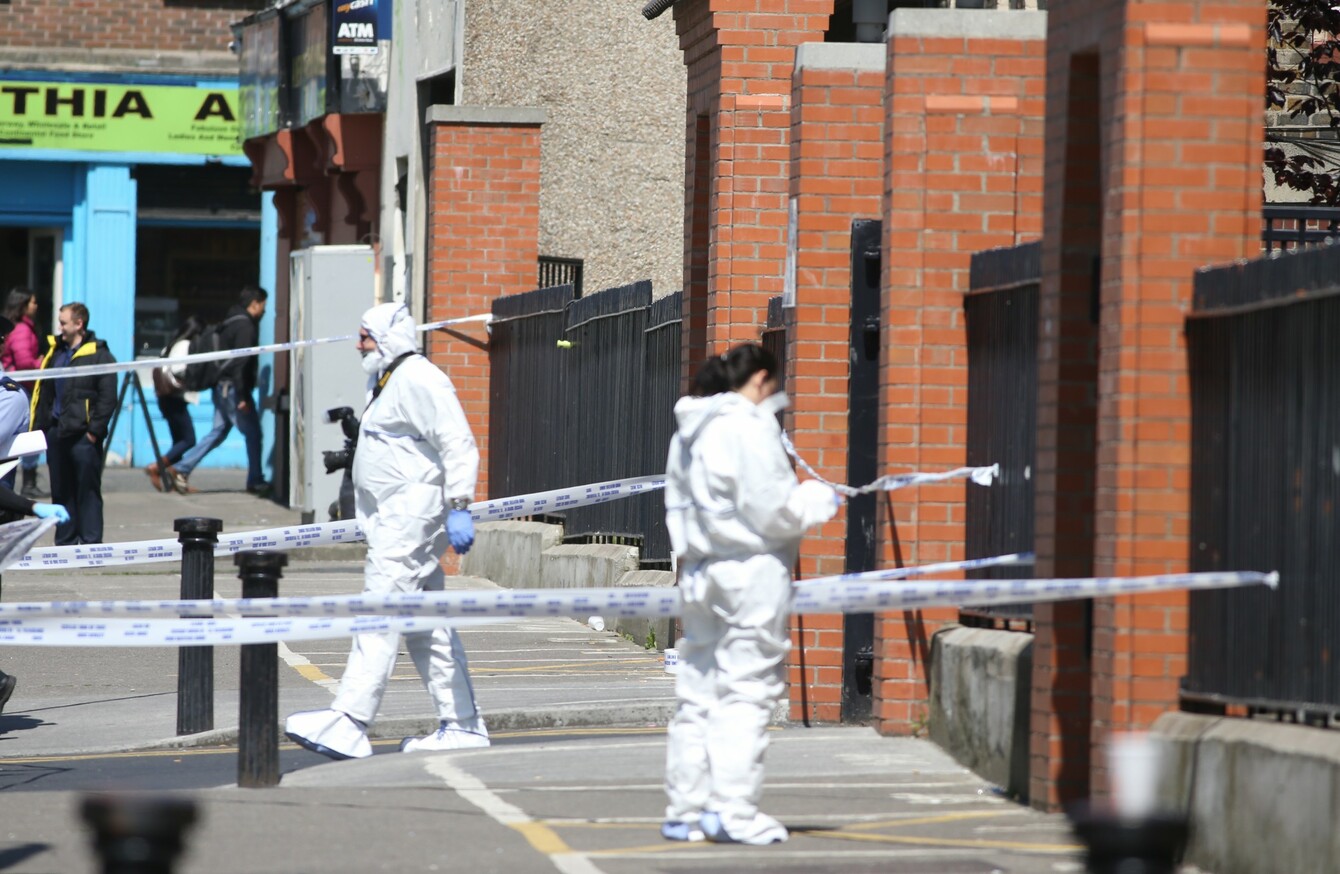 Image: Sam Boal
Image: Sam Boal
Updated at 9.15pm
A MAN HAS been charged in relation to the murder of Gareth Hutch last week in Dublin.
Gardaí said tonight that have charged a 29-year-old man in relation to the murder of Hutch, who was gunned down last week at the Avondale flat complex in north inner city Dublin.
The man will appear before the Central Criminal Courts tomorrow morning at 10.30am.
The man was arrested soon after the shooting of Hutch – which occurred on the morning of Tuesday 24 May.
Court appearance
Earlier, a 44-year-old woman appeared in court and was remanded in custody after she was accused of withholding information from gardaí investigating last week's murder of Hutch.
Mary McDonnell, who was originally arrested last week, with an address at Avondale House, North Cumberland Street, is charged with failing without reasonable excuse to disclose information to the gardaí as soon as was practicable – "information she knew or believed might be of material assistance in securing the apprehension, prosecution or conviction of any other person for a serious offence".
The charge is under Section 9 of the Offences Against the State Act and the offence is alleged to have happened at another address at Avondale House on 24 May last.
Dressed in a black and white striped top and black trousers Ms McDonnell was brought to appear before Judge Anthony Halpin at Dublin District Court this morning.
She remained silent throughout the brief hearing. No application for bail was made and she was remanded in custody to appear again next Tuesday.
Garda Sergeant Enda O'Sullivan told the court he arrested Mary McDonnell at 6.21pm yesterday at the Bridewell garda station for purpose of charging. She was charged at 6.52pm and "made no reply to the charge after caution" before she was handed a copy of the charge sheet, he said.
Sergeant O'Sullivan said he was applying for her to be remanded in custody.
Judge Halpin asked if there was going to be a bail application and defence solicitor Philip Hannon said:
We are reserving our position in relation to bail, no application at this time.
Judge Halpin was also told that directions from the DPP have not yet been obtained. The woman has not yet indicated how she will plead.
Judge Halpin remanded her in custody to appear again next week and he acceded to a request from the defence solicitor to direct that she would get medical attention.
Mr Hannon also furnished the court with a statement of her means for the purpose of a legal aid application, adding "it's an appropriate case". Garda O'Sullivan said there was no objection. Judge Halpin granted free legal aid.
A woman still in Garda custody in connection with the fatal shooting has yet to be charged.
- With reporting from Cormac Fitzgerald