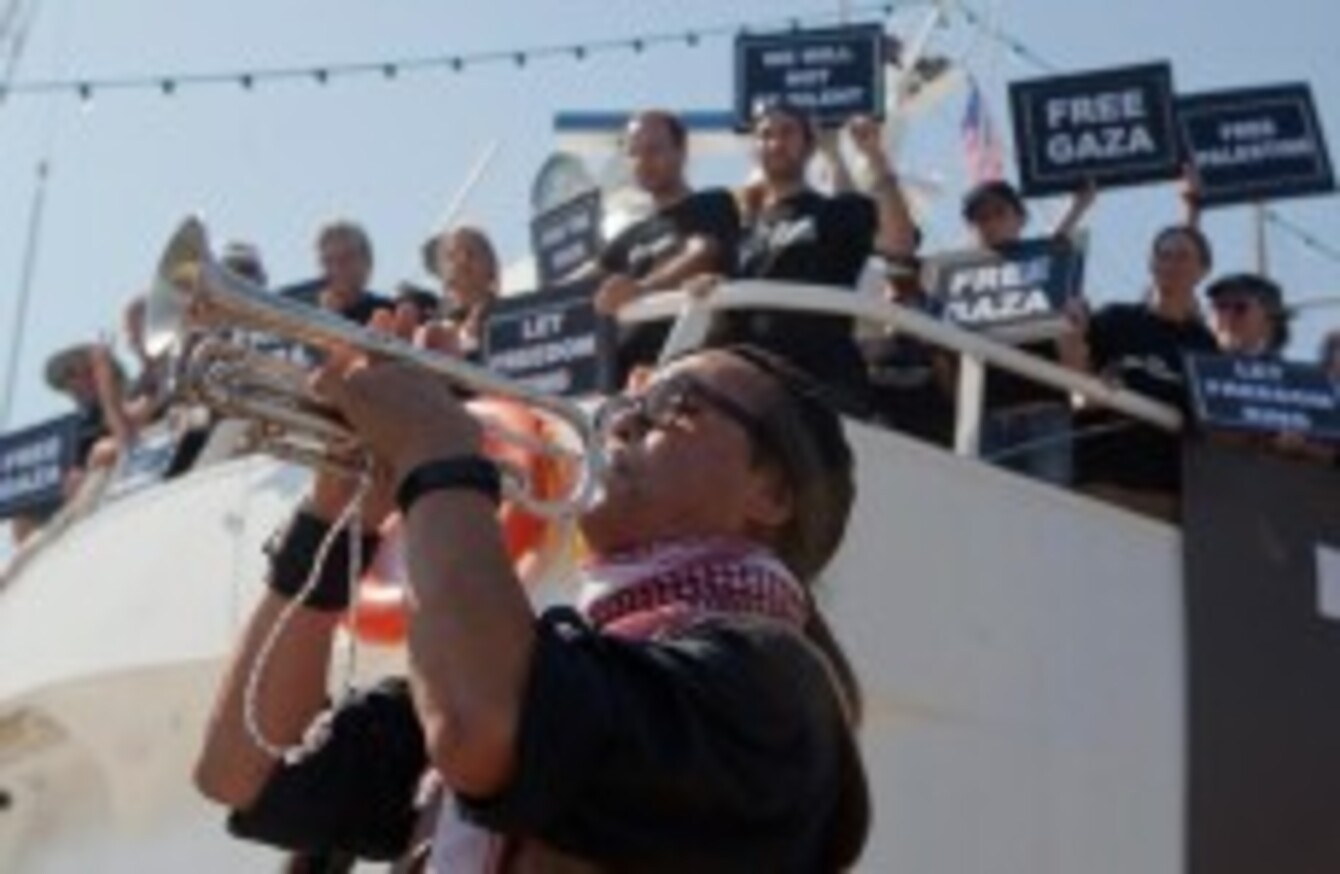 An activist plays a trumpet as others hold banners on their boat named "Audacity of Hope" moored in Perama, near Athens, Greece yesterday
Image: AP Photo/Darko Bandic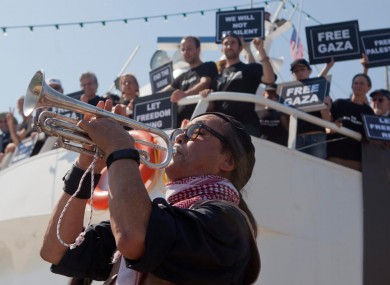 An activist plays a trumpet as others hold banners on their boat named "Audacity of Hope" moored in Perama, near Athens, Greece yesterday
Image: AP Photo/Darko Bandic
GREECE HAS BANNED the ships heading for the Gaza strip from leaving Greek ports, while a vessel carrying dozens of Americans which left port without permission was asked to return.
A flotilla of nine vessels and several hundred activists were preparing to set sail. Among those were former rugby player Tervor Hogan and five other members of the Irish group, who joined other crews after the Irish boat the MV Saoirse was damaged. Their aim is to break Israel's sea blockade and deliver aid to the Palestinian territory.
Greece's Civil Protection Ministry said coast guard authorities had been ordered to take "all appropriate measures" to implement the ban. It also said the "broader maritime area of the eastern Mediterranean will be continuously monitored by electronic means for tracking, where applicable, the movements of the ships allegedly participating" in the flotilla.
Witnesses said one of the boats, dubbed the Audacity of Hope and carrying several dozen Americans, had left port earlier this afternoon. Activists said on their Twitter feed that they had been intercepted by the Greek coast guard.
A Greek government official said the boat had set sail without the permission required of all boats to leave port, and that the Coast Guard had asked it to return. The official spoke on condition of anonymity because the situation was still evolving.
Israel has said it will thwart any effort to breach the sea blockade of Gaza, which was imposed on the Palestinian territory after Hamas militants overran it in 2007.
Israeli Prime Minister Benjamin Netanyahu yesterday thanked Greece, along with the US and the United Nations, for attempting to persuade activists to abandon their plans. He said that Israel had a "total right to act against attempts to legitimize the smuggling of missiles and rockets and other weapons to the Hamas terror enclave", reports Reuters.
An Israeli raid on a similar flotilla last year killed nine activists on a Turkish ship and each side blamed the other for the violence.
- Additional reporting by AP