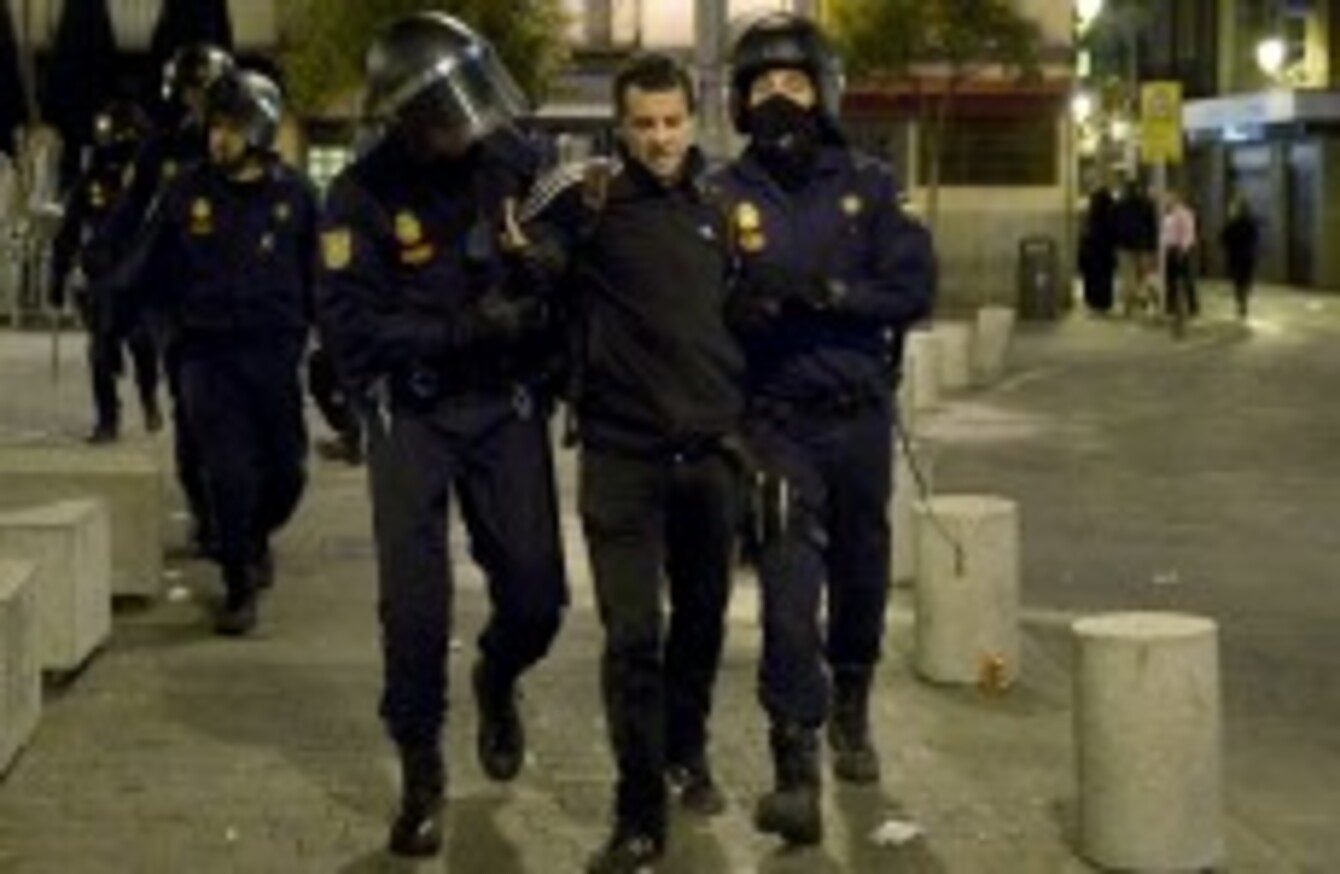 Image: AP Photo/Pedro Acosta
Image: AP Photo/Pedro Acosta
SPANISH WORKERS ANGRY over labour market reforms formed boisterous picket lines outside wholesale markets, some TV stations went off the air and car factories were all but idled in the early stage of a general strike today.
A total of 58 people were detained and nine were injured in scuffles as the strike got under way a minute after midnight, the Interior Ministry said.
Unions are challenging a conservative government not yet 100 days old, protesting changes to labour market rules long regarded as among Europe's most rigid that include making it cheaper and easier for companies to lay people off and cutting wages.
Flight disruptions
Both Ryanair and Aer Lingus are warning passengers who are due to fly to or from Spain, the Balearic Islands or the Canaries today to expect disruptions.
Ryanair have cancelled a number of flights (see here) but says that anyone booked to travel on the cancelled flights can transfer free of charge to the next available Ryanair flight or apply for a refund.
Aer Lingus is advising its customers to monitor its website for information about travel disruptions and about their flight status.
British Airways has also confirmed that it expects delays and advises people to check the status of their flight before leaving for the airport.
Labour reforms
The demonstrations come just a day before the government will serve up even more austerity pain with a budget to feature tens of billions of euros in deficit-reduction measures.
Around Spain, unions are trying to bring the country to a crawl by guaranteeing only around 30 per cent of normal public transport service at rush hour times.
The union UGT said virtually all workers at Renault, SEAT, Volkswagen and Ford car factories around Spain, and at other industrial, mining and port facilities, honored the strike during the overnight shift. UGT said that overall participation in the strike so far was "massive."
Picketers tried to block wholesale markets in Madrid and other cities and commuter train service were disrupted in Barcelona, but otherwise the situation was fairly normal in the early hours of the strike, Cristina Diaz, a spokeswoman for the interior ministry said.
Reports of injuries
Outside Atocha, one of Madrid's main commuter and long-distance rail stations, picketers waved red union flags and blew shrill whistles as police looked on. Some picketers tried to convince a coffee shop owner to join them, and slapped a pro-strike sticker on his glass window.
Diaz said a Molotov cocktail was thrown at a police car in the eastern city of Murcia. Of six people injured, one was a police officer and five were civilians. She did not specify where or how these people were hurt.
Spanish National TV showed footage of police in Barcelona on horseback accompanying buses trying to leave a parking garage, and scuffling with a picketer. Regional TV stations in Andalusia in the south, Catalonia in the northeast and Madrid were off the air because of the strike.
The government's cuts are designed to help Spain in its struggles to satisfy both the European Union and the international investors who determine the country's borrowing costs in the international debt markets— and therefore have a lot of say in whether Spainwill follow Greece, Ireland and Portugal in needing a bailout.
On top of a round of spending cuts and tax hikes, and reform of the bank sector, last month Spanish Prime Minister Mariano Rajoy's newly elected government passed a decree on worker's rights. The piece of legislation, among other things, makes it easier to lay off workers, trim wages and modify other working conditions by citing concerns over, for example, productivity.
Joblessness at 50 per cent among young people
The idea behind the decree is to make Spain more competitive once the rest of Europe recovers and employers are less wary of hiring. The jobless rate here is now nearly 23 per cent, a eurozone high, and nearly 50 per cent among young people.
The country's two main unions were hoping for enthusiastic turnout Thursday, more than during a general strike in 2010 when a Socialist government enacted its own, less aggressive labour market reforms.
"The people will say whether they are resigned to accepting the reforms," said Ignacio Fernandez Toxo, head of one of Spain's main unions, known as CCOO.
The government says it will not falter in its austerity drive, calling the reforms essential to creating jobs and reviving an economy that is expected to contract 1.7 percent this year.
Strikers are docked pay
"The question here is not whether the strike is honoured by many or few, but rather whether we get out of the crisis," Finance Minister Cristobal Montoro said. "That is what is at stake, and the government is not going to yield."
Unions face two problems, according to Jose Ramon Pin, a professor of management at IESE Business School. First, people who strike get docked a day's pay, which few can afford in these hard times. Also, Spaniards appear resigned to the fact that the country needs painful reforms to help the economy recover from the collapse of a property bubble in 2008.
The government, which came to power in December after the Popular Party scored a landslide win over the Socialists, has a mandate to save the country from financial ruin, Pin said.
That means it is unlikely to worry much about its popularity rating.
"There are two elements: Spanish voters and international investors and right now the government is governing for the investors," he said.
Additional reporting by Jennifer Wade