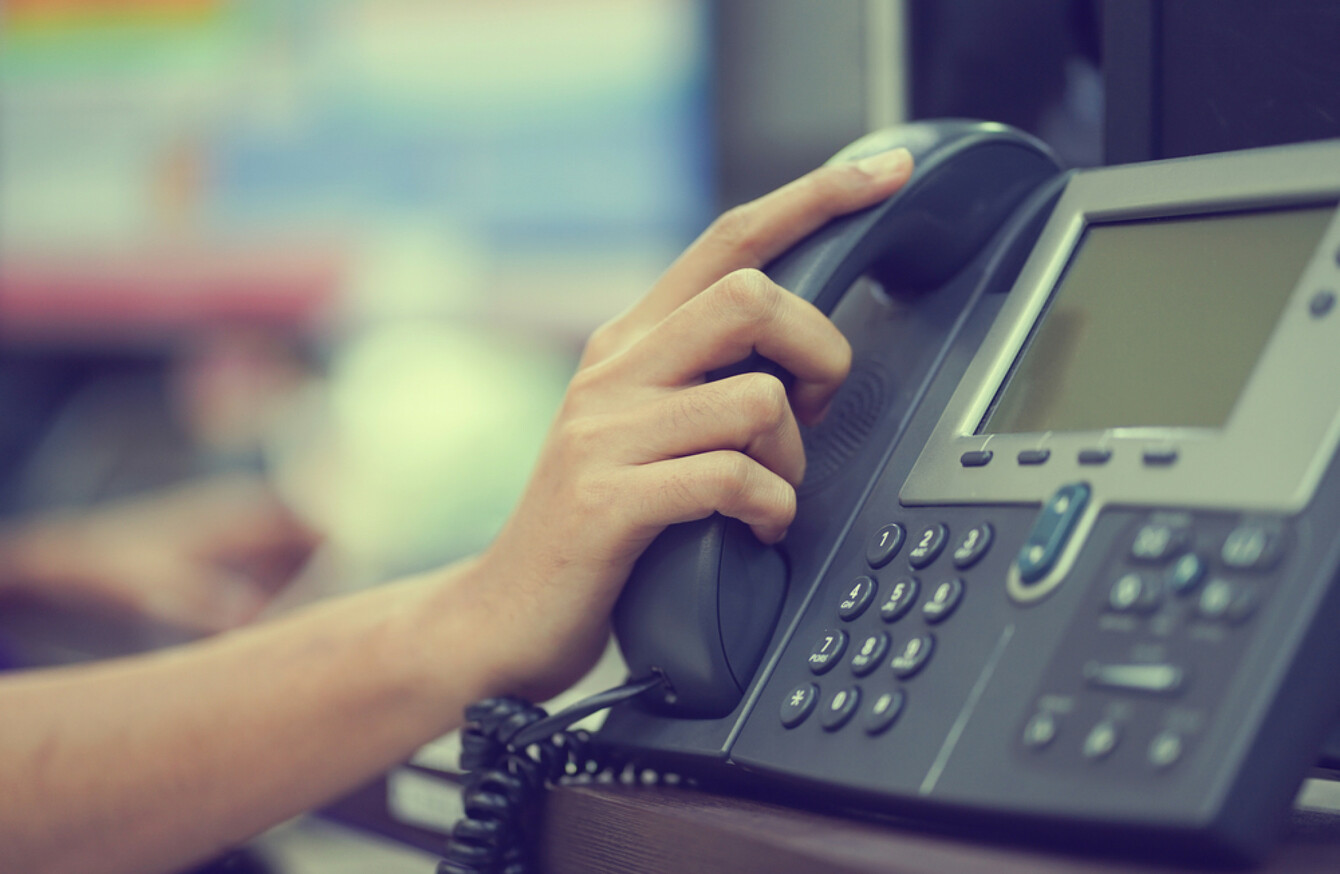 Image: Shutterstock/chainarong06
Image: Shutterstock/chainarong06
GERMAN LANDLINE OPERATOR Yourtel has been fined €66,000 for ripping off hundreds of elderly Irish customers.
Following an investigation by industry watchdog Comreg, Yourtel pleaded guilty to 88 counts under the Communications Act for charging 560 customers for a service that was requested but not supplied. The prosecution was described as "unprecedented".
The customers had been poached from Eircom and although Yourtel did not transfer the service they billed for it, Dublin District Court heard.
They ended up getting double-billed and Yourtel threatened them with debt collectors, legal action and having their details sent to credit rating agencies.
The offence carries fines of up to €5,000 per offence.
After hearing a litany of examples where elderly customers had been pursued and threatened by Yourtel, Judge Flann Brennan described the offences as "nothing more than deceit" and he imposed fines of €750 on each charge, totalling €66,000.
Speaking to reporters after the case ended, Comreg director Barbara Delaney said:
"Comreg welcomes the District Court decision to impose 88 criminal convictions on Yourtel.
Today's District Court fine of €66,000 (€750 per conviction) is the largest fine imposed by the District Court following any prosecution case taken by Comreg.
We expect that today's District Court judgement will finally bring consumers' issues relating to Yourtel, which first came to Comreg's attention in 2013, to an end.
The company, which has claimed to operate the lowest-priced landline calls in the country, entered the Irish market in 2013 and had pleaded guilty to 88 sample counts, out of more than 880 charges originally brought by the phone industry regulator.
Cold call
Prosecuting barrister Michael O'Higgins SC (with Ronan Kennedy BL) told Judge Flann Brennan at Dublin District Court that Yourtel effectively cold-called Eircom customers to offer them a "flat bill" telephone services. The 24-month contracts were for calls only and they would still pay Eircom separately for the landline.
O'Higgins told the court that mostly 78-year-old customers were affected, the average age of the customers involved in the investigation was 65 to 66, and the oldest customer to sign up was in their 90s and another customer had special education needs.
Yourtel had about 5,000 customers but Comreg had received complaints from 17% of customers over a certain time period compared to less than 1% for other major phone telephone service providers.
The company took "a very hard-line view" of customers who complained, O'Higgins said. They were threatened with late payment fees, legal action, debt collectors and having their details sent to a credit ratings agency.
In evidence, Comreg compliance manager Miriam Kilraine said the case was "unprecedented".
She gave a summary of the experience eight customers had with Yourtel when they signed up their €11, €13 or €23 a month packages with two-year contracts.
Stated on the back of Yourtel's bills was:
Double billing is not possible you cannot be billed by two operators for your calls.
However, the customers services had not been transferred from Eircom and Yourtel also billed them for a service it had not provided. Complaints to Yourtel led to technical explanations and were not resolved.
40% of Yourtel's customers have contacted Comreg about the company, Kilraine said, adding that this was also unprecedented while the average amount of customer complaints in relation other companies was 0.3%.
Two sample cases
#Open journalism No news is bad news Support The Journal

Your contributions will help us continue to deliver the stories that are important to you

Support us now
Case one
In 2014, a couple in Co Cavan, aged in their 80s, received unsolicited calls from Yourtel to encourage them to switch from Eircom for cheaper calls. They signed up but did not pay their bills for September and October that year after noticing they were still paying Eircom.
In January 2015 Yourtel demanded they pay the outstanding amount as a well as a €50 late fee payment. They were told the could face legal action.
It transpired that Yourtel never sent the transfer request to Eircom.
As a "gesture of goodwill" Yourtel agreed to terminate the contract but said the money owed would still have to be paid.
The couple were "extremely worried and wanted to pay" however their son contacted Comreg. By June 2015 a debt collection agency sought €122 and in November a demand was made for €440 but ultimately they stopped receiving letters.
Case two
A Sligo man with special education needs signed up to a Yourtel phone call package.
He faced threats of legal action and demands for €450 even though the Yourtel had not provided a service.
He received "threatening calls" from a debt collection agency in relation to the money sought by Yourtel.
It caused him anxiety and his brother reported it to Comreg, the court heard.