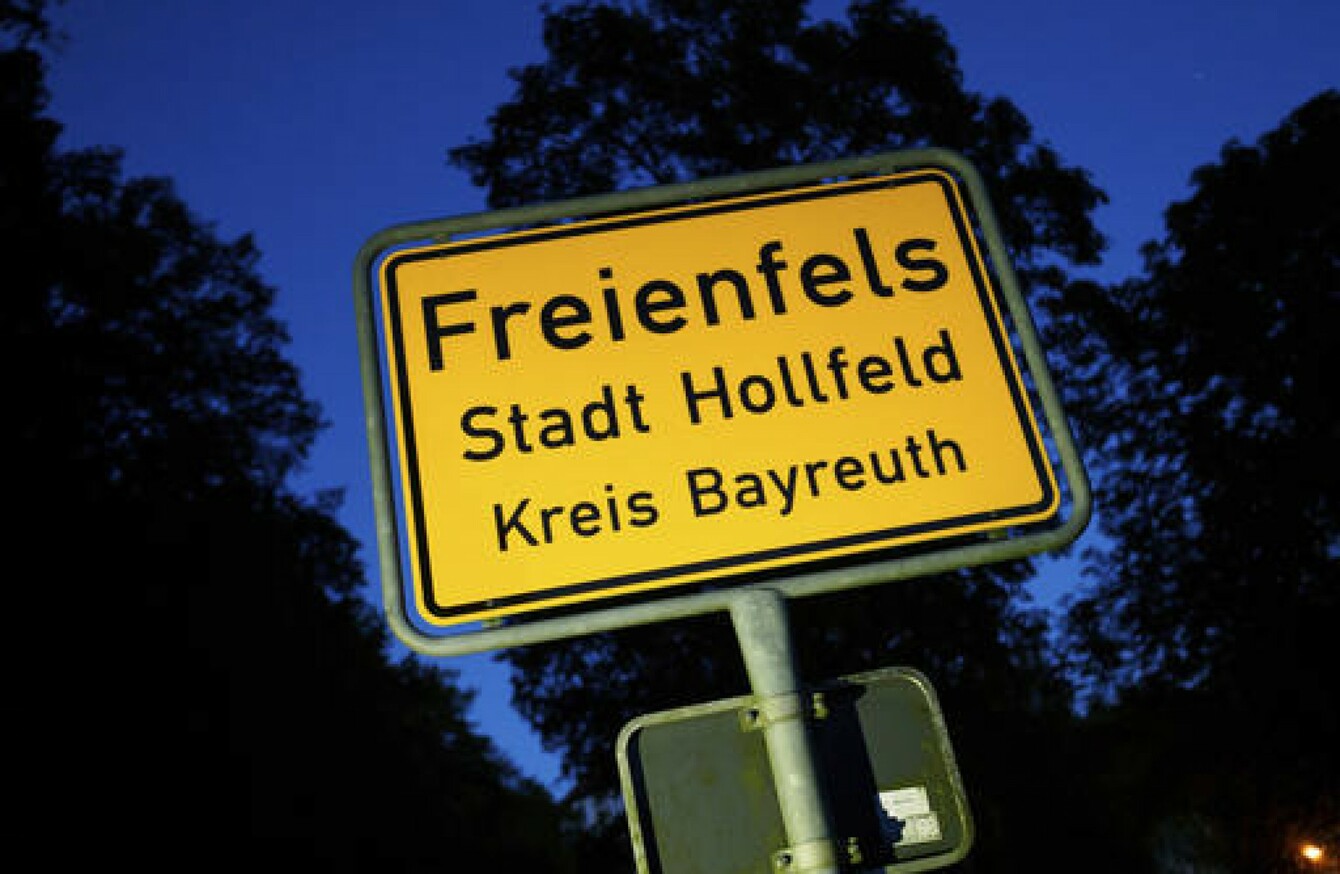 The town sign of Freienfels near Bayreuth, southern Germany.
Image: Nicolas Armer/dpa via AP
The town sign of Freienfels near Bayreuth, southern Germany.
Image: Nicolas Armer/dpa via AP
POLICE IN GERMANY are investigating the case of a 43-year-old man who lived in isolation at his parents' home in Bavaria for three decades.
The man has been taken to a psychiatric hospital and German police are investigating whether his parents did anything wrong.
Police went to the home in Freienfels, in southeastern Germany near Bayreuth, on 21 September after receiving a tip and found the man in a neglected condition, police spokesman Juergen Stadter said today.
"The man was unkempt, unwashed, but well nourished," Stadter said.
But he wasn't constrained and had several rooms to himself where he could move around freely.
Police are now investigating whether the man stayed inside for all those years of his own will or if his parents forced him to stay at home.
The Guardian reports that a police spokesman said they were investigating whether the man had been allowed to leave the property at all.
"We still don't know exactly for how long the man has had no contact with the outside world and … whether or not he was allowed to leave the property at all," the police spokesman said.
But we can say he was held in isolation.
The man's parents, who are in their late 70s, are under investigation on suspicion of possible deprivation of freedom and causing bodily harm by neglect.
"We assume that he was suffering from some kind of handicap," Stadter said, adding that as a boy the man went to elementary school, but then stopped attending school at 13 because he was declared unfit to attend.
Stadter would not give further details on what exactly kept the man from attending school, citing privacy concerns.
#Open journalism No news is bad news Support The Journal

Your contributions will help us continue to deliver the stories that are important to you

Support us now
The man's mother, who wasn't named, was quoted as telling the local Nordbayerischer Kurier newspaper that the parents' didn't lock him up and "he didn't want to go outside".
She said she "always wanted to protect him," and indicated that as a little boy, her son was treated badly by his schoolmates, the newspaper said.
Local authorities said the man didn't initially want to leave the house and had to be convinced to go, news agency DPA reported.
with reporting from Cormac Fitzgerald