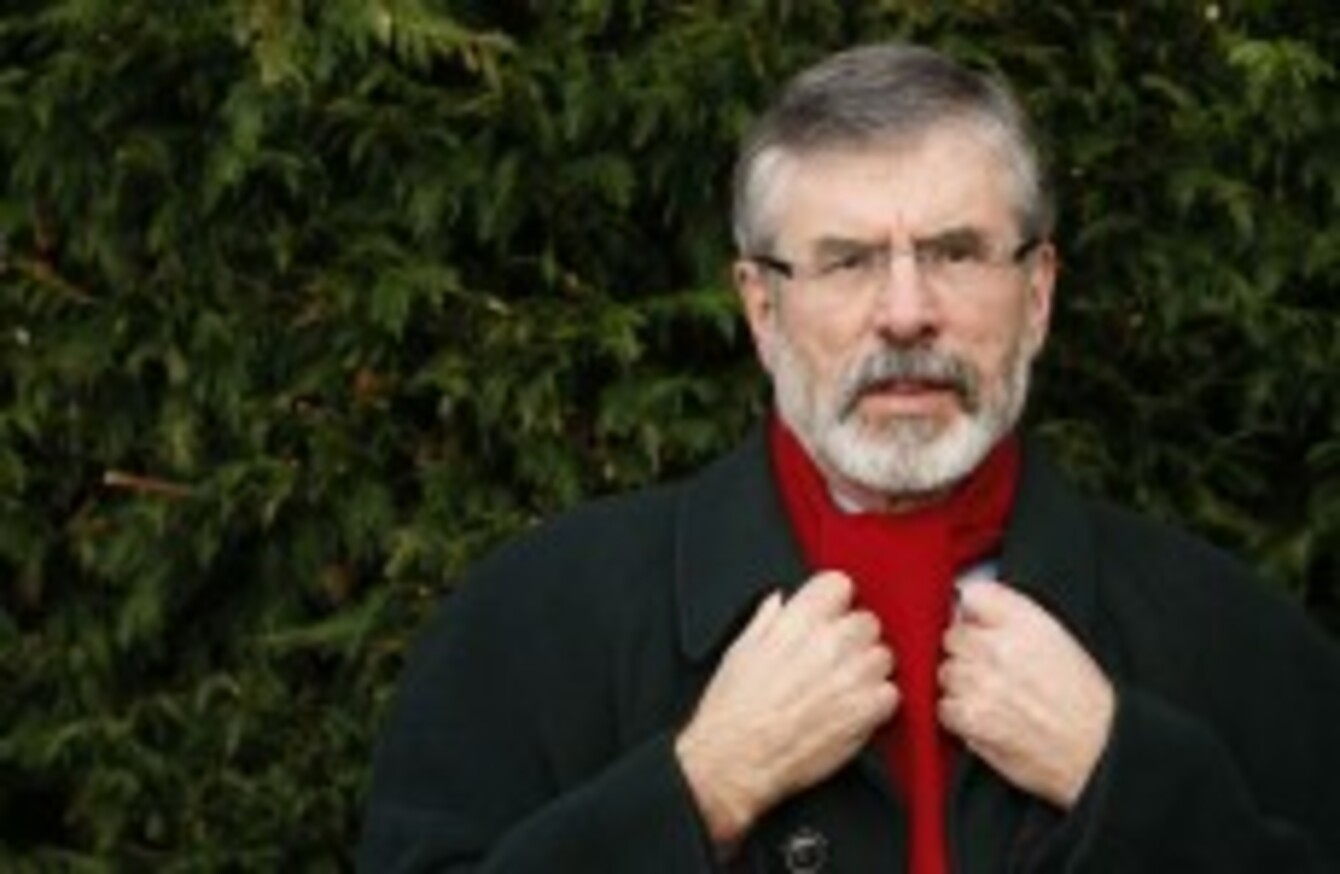 Image: Julien Behal/PA Wire
Image: Julien Behal/PA Wire
GERRY ADAMS has insisted that he expects to see a United Ireland within his lifetime – "depending, of course, on how long I live".
In a lengthy interview published in the G2 supplement of today's Guardian, Adams says that both countries on the island were "coming together… across all sectors and spheres of Irish life", saying the energy, economic and agriculture markets were slowly converging.
"We're fewer than six million people," Adams said. "It doesn't make sense to have two competing states."
Implying that the party, having already reached power in Northern Ireland, was now keen to gain a stronger foothold in the south with the ultimate goal of reunifying the Republic and Northern Ireland, Adams was asked whether he would see such a unification in his lifetime.
Stephen Moss writes that Adams barely paused before responding, "Yes," adding the caveat that such a declaration depended on precisely how long his lifetime would extend.
The repeal of the Government of Ireland Act, he said, meant that Northern Ireland's status as part of the UK was "semi-detached", because the repeal of the act meant Britain's assertion of perpetual control no longer stood.
"Now it's like two partners, parents, deciding to divorce at some point up the road, as opposed to deciding to stay together for ever."
Adams also explained that he had stepped down from his seat in Westminster, in advance of his running in Louth in this year's general election in the Republic, because his former West Belfast constituency needed a full-time representative.
It isn't a comfortable thing to leave arguably the safest seat in the galaxy, but I wanted to do that as an earnest [sic] of my intention to the people in the constituency of Louth and East Meath. I wanted to say to them, 'I'm here and I have no parachute.'
Yesterday's Sunday Independent reported that the daughter of an IRA murder victim, Jean McConville, was considering running against Adams in the constituency; Helen McKendry is to run as a protest to stop Adams from being elected.
"They probably think Louth is a safe seat," McKendry's husband Seamus said. "There are a lot of ex-Provos and [on-the-run ex-IRA members] from West Belfast who moved to Dundalk. Yes, we are interested in stopping the bearded wonder."
This morning it was reported that Louth football manager Peter Fitzpatrick was also set to seek election, on the Fine Gael ticket.