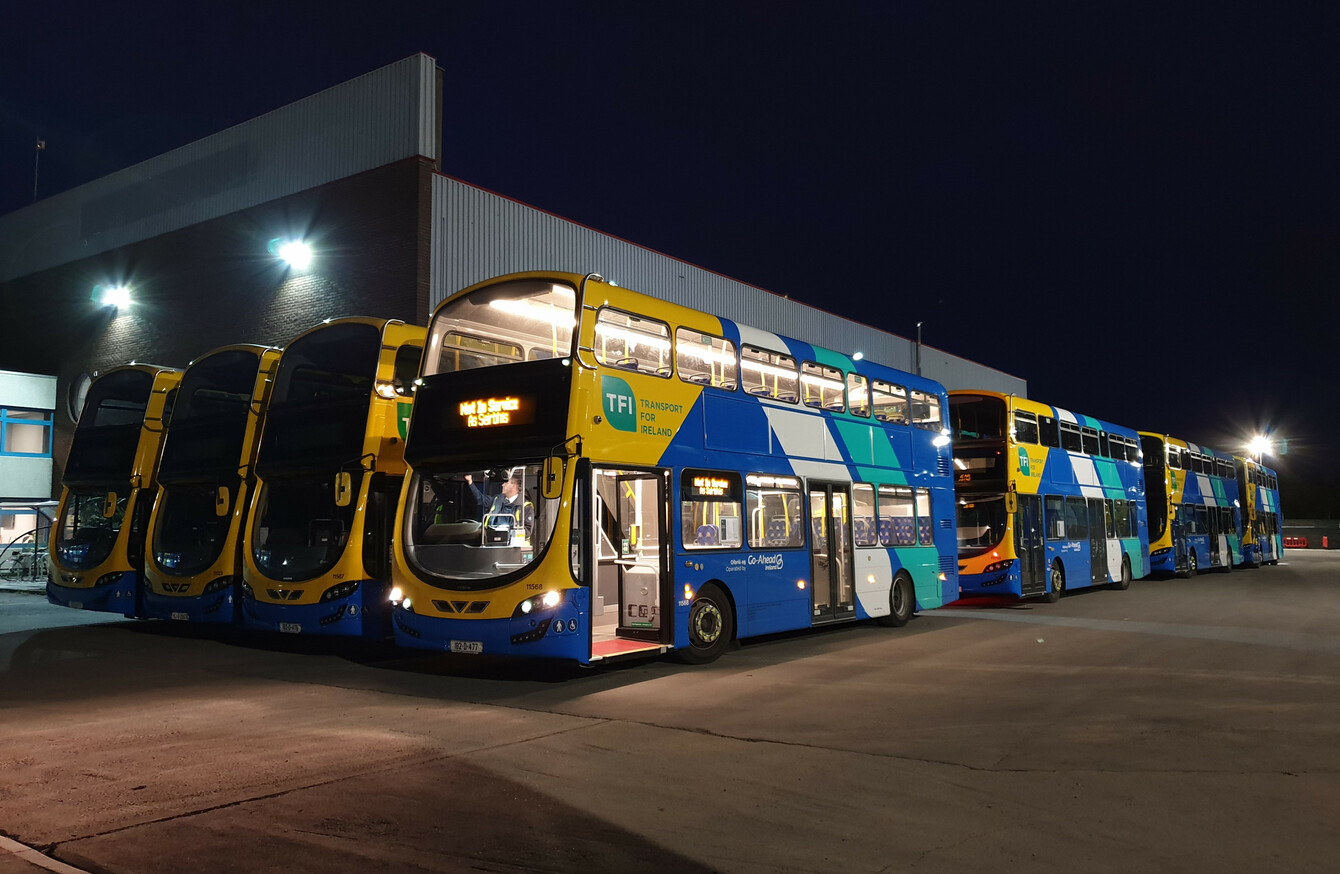 Image: Go-Ahead Ireland
Image: Go-Ahead Ireland
THE MANAGING DIRECTOR of transport group Go-Ahead Ireland has firmly rejected claims that the company is looking to privatise Dublin's bus network.
Recently, the outfit – which is ultimately owned by the UK-based Go-Ahead Group – launched four bus services in the capital, which it operates on behalf of the National Transport Authority (NTA).
The routes were previously serviced by Dublin Bus, part of the State-owned CIÉ group, but were transferred to Go-Ahead following a tendering process.
Go-Ahead has operated one service – the 175 from Citywest to UCD – since September and will run a total of 24 routes by next year. 
The company has come under fire from trade union officials and opposition TDs who claim that its entry into the Irish market is the first step towards privatising the capital's bus network.
Solidarity TD Paul Murphy recently spoke out against the company, described its arrival in Ireland as privatisation and the starting gun in the "race to the bottom for workers".
In an interview with Fora at Go-Ahead's Ballymount depot, Ed Wills, the Englishman in charge of the group's Irish operations, said its arrival on Dublin's streets "can't be privatisation".
"We don't own the network, we don't own the assets, we don't have executive control over the routes," he said.
"We are simply contracted to operate those services (on behalf of the NTA). It is still a public service, but it's a public service that's under a performance regime contract with a private operator."
The company was last year selected as the preferred bidder of the NTA's tendering process, which the State agency said was carried out to compare and improve Dublin's bus services.
Go-Ahead operates the routes on behalf of the agency, similar to the way French group Transdev operates the Luas tram services.
The NTA, through its offshoot Transport For Ireland (TFI), controls the Go-Ahead bus livery, fare prices, timetables, real-time information and on-board ticketing machines.
"If we're not successful in five years' time, there won't be a Go-Ahead (in Ireland). The NTA can decide to award (the contract) to another operator. Bus Éireann might bid and win it … It is entirely within the State's control. It isn't privatisation," Wills said.
When asked if he is frustrated by the criticism, he said the company doesn't want to "get into the politics of it all".
"Bus services are a lot more emotive (in Ireland) than I think I'm used to. There are a lot more people who seem interested in bus services than in other places I've worked."
Technical problems
London Stock Exchange-listed Go-Ahead has been around since 1987. It is the largest single bus operator in the UK capital and is responsible for about a third of all rail services in Britain. It also provides public bus services in Singapore.
According to annual report for the year to the end of June 2018, it reported sales of £3.4 billion and an operating profit of £135.9 million, down on 2017′s £150.6 million profit.
Since being awarded the Dublin contract in April, Go-Ahead has pumped roughly €4 million into fitting out its Ballymount depot, a site that was "beyond derelict" when it was acquired, according to the company.
Wills has estimated that the firm will spend close to €12.8 million in total getting its Irish operations up and running.
However its first day in operation didn't go as smoothly as hoped. Wills said passengers were confused about the tweaked timetable and, due to a technical error, real-time information was unavailable, which frustrated some punters.
"There has been some feedback because the times of buses have changed. That's caused a little bit of upset, but things are settling down now as we get further into the week," he said.
Go-Ahead Ireland has embarked on a major recruitment drive and has so far hired 184 of the roughly 350 drivers it will ultimately require. It also employs engineers, mechanics and administrative personnel, and it expects its total workforce to reach 425.
Wills said that unlike many other transport companies, Go-Ahead has found it surprisingly easy to recruit staff for its Irish operation and claimed that 1,700 applicants applied for the hundreds of driving positions alone.
"For us it was really, really encouraging to see that level of interest in the job. It kind of shows there's a lot of latent demand in wanting to become a bus driver," he said.
He's unsure why there was such a high volume of applicants but suggested that the company can provide "fairly stable work" and was willing to take on car licence holders.
Similar to Aircoach, Go-Ahead accepted applications from people who don't have bus driver licences and it has offered to train them in-house.
#Open journalism No news is bad news Support The Journal

Your contributions will help us continue to deliver the stories that are important to you

Support us now
The cost of the training is covered through driver salary deductions of around €10 to €15 a week, which are repaid in a lump sum after a two-year period.
Drivers can earn gross salaries of up to €32,000, which Wills said is "competitively placed" in the private bus driver market.
"We're certainly not competing with the semi-state companies, but we're not intending to do that. We looked at the market and looked at what a lot of the private operators pay and based ourselves in between all of those."
BusConnects
Asked about the politically sensitive BusConnects programme – which could bring an overhaul of the capital's route network, resulting in the loss of some direct connections in the city – Wills said the scheme would likely affect Go-Ahead's current network.
Although cautious about outright declaring his support for the programme, Wills indicated that, overall, he thinks the revision is a good thing.
"I can see a lot of benefit in taking a fresh look at how the bus network runs. I spent a lot of my career looking at how bus networks are designed," he said.
"For the NTA it's a hugely complex programme. But I think it's the right thing to do. If you just carry on with what you've got and never look back over your shoulder or take the time to review it and look at it with a fresh set of eyes."
Wills is also diplomatic when it comes to discussing Dublin Bus. When asked if he thinks Go-Ahead can do a better job than the State company, he said: "It's not for me to criticise Dublin Bus. From what I've seen, they do their utmost in some challenging circumstances.
"It's not the case that I'm going to claim to be any better than any other operator. The NTA will judge that through how they benchmark us and how they determine our performance in the criteria that we got within the contract.
"We're confident that we can make a good impact in the market and that's what we're doing with our mobilisation."
Sign up to our newsletter to receive a regular digest of Fora's top articles delivered to your inbox.
Written by Conor McMahon and posted on Fora.ie