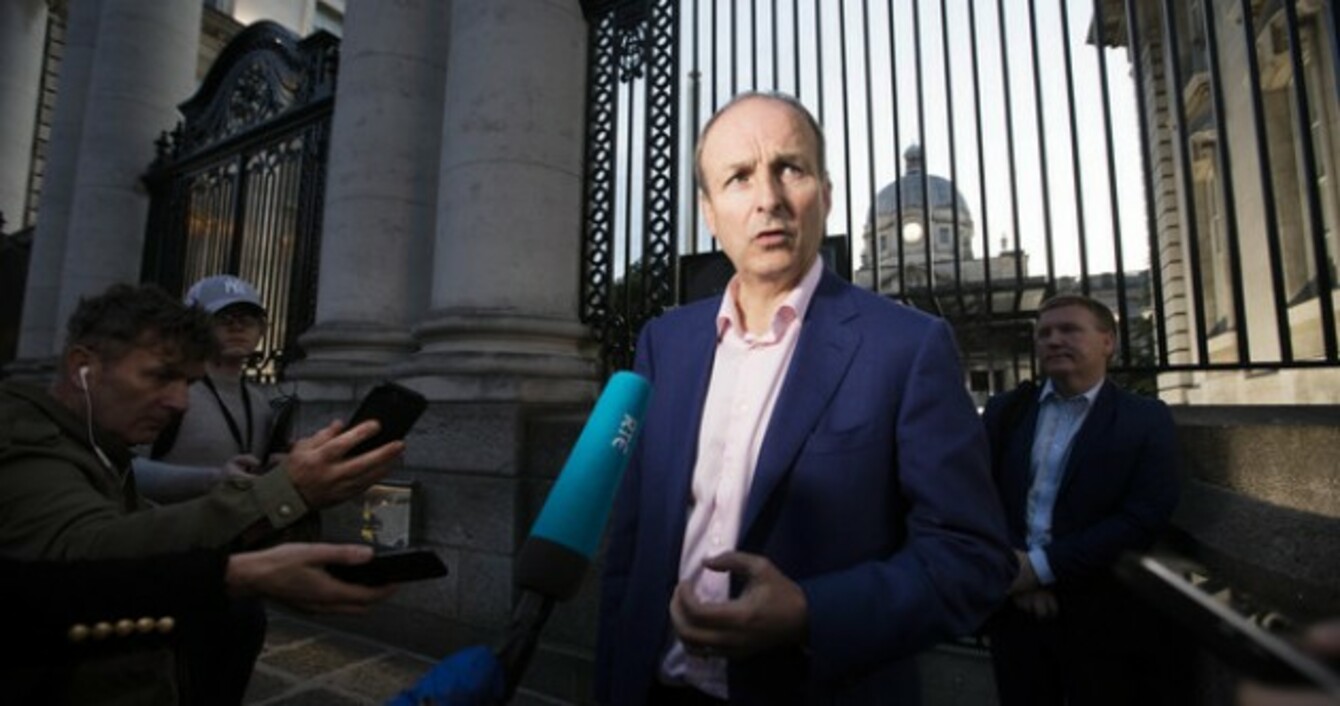 The Fianna Fail leader leaving Government Buildings this evening.
The Fianna Fail leader leaving Government Buildings this evening.
Updated Jun 14th 2020, 10:15 PM
DISCUSSIONS ON A programme for government will resume tomorrow morning as no conclusion was reached this evening.
Party leaders had expressed confidence that a draft programme for government would be agreed and signed off on tonight.
Speaking to reporters as he left Government Buildings, Fianna Fail leader Micheal Martin confirmed that negotiations had concluded for tonight, stating that "very good progress" had been made.
He said the leaders should be in a position to sign off on the document tomorrow.
"We made good progress today, we should be in a position tomorrow morning to sign off on it.
"A lot of people are working long hours over the last couple of weeks and tonight.
"I think the work represents a significant departure in terms of Irish politics and also in terms of the type of society we will have in the future. We have very challenging times ahead of us," he said.
Leo Varadkar, Micheál Martin and Eamon Ryan met this afternoon to discuss the remaining issues in government formation talks.
Negotiations between the parties negotiating teams lasted until almost 4am last night, as TDs attempted to iron out a number of outstanding issues with a view to announcing a new government today.
The remaining sticking points were passed on to the party leaders to discuss this afternoon.
They are said to include a rise in the pension age to 67, potential tax cuts over the lifetime of the next government, taxation, and the Occupied Territories Bill, which would ban the import of goods from Israeli settlements.
When asked about the outstanding issues tonight, Martin said there were "good exchanges" and that they were "nearly there".
He added that there are very challenging times ahead for the country, in terms of the economic recovery and getting people back to work. 
Martin said there are significant climate change actions in the programme for government, as well as commitments to accessible housing.
Sources have told TheJournal.ie a "transformative" and "radical" housing policy will be implemented.
Martin said that if the programme for government is signed off on, it will represent a new departure for Irish society.
"It will bring transformative change to how we do things and prepare the country well for the next decade and prepare us for the economic situation that Covid-19 has created – that will take centre stage," he said.
"All in all there is a very active agenda ahead of the new government," he said.
Green Party leader Eamon Ryan said they will be back in the morning to scan over the final text, and if it is signed off on, it will go to the parliamentary parties at around midday tomorrow.
The reason it was not finalised tonight is to allow the final draft to be checked over, and to allow everyone to read over the document before tomorrow, he explained.
"Most the issues are resolved," he said, stating that there were long discussions on pensions and taxation this evening. 
He added that there are lots of great green initiatives in the document, stating that putting things down on paper is one thing, but now is the time to deliver on it.
Ryan said he also had a Zoom call with his parliamentary party this evening. He said TDs, as well as party members, will have to make their own decision about whether they want to back the deal.
Finance Minister Paschal Donohoe told the media tonight that he is satisfied that the issues that are really important to Fine Gael are dealt with in the programme for government. 
"There is a lot of work going on to be in a position, I hope tomorrow, to bring this to a conclusion."
"I am satisfied that the issues that are important for my party are contained within the programme for government.
"We are in a situation where there are thousands of people waking up tomorrow who don't have a job and we have challenges in relation to how we deal with housing and health," he said.
Earlier, Tánaiste Simon Coveney told reporters that he believed the parties now had a text for a programme for government, with a need for leaders to finalise a small number of issues.
"I think the text that will be going to the leaders today is good for the country, and I am confident that the three parties will be able to sell it within their parties, but also to the public." 
Speaking to RTÉ after leaving negotiations in the early hours of this morning, Fianna Fáil's Barry Cowen said it was hoped that an agreement would be reached today.
"The issues still outstanding are minor enough, or there are not many of them, but they are indeed very important and pivotal," he said.
#Open journalism No news is bad news Support The Journal

Your contributions will help us continue to deliver the stories that are important to you

Support us now
"The leaders now will take over from here … and hopefully approve the agreement, and from that then we'll engage with our parliamentary party." 
The programme for government runs to more than 100 pages.
It is understood the Green Party secured a number of wins on key policy areas including extra funding for public transport and cycling infrastructure, an increase in carbon tax to €100 per tonne by 2030, and 7% a year reduction in emissions to 2030 – which was the main sticking point throughout the negotiations.
It is believed the draft programme for government also includes a ban on the exploration of gas, a ban on imported fracked gas, as well as the halting of Shannon LNG terminal.
A 2:1 spending on public transport versus roads is also agreed, as is the Green Party's ask for BusConnects to be expanded to Cork, Galway, Limerick and Waterford. 
Parties have also agreed to end Direct Provision in the lifetime of government, as well as the establishment of a Citizens' Assembly on drug policy. A new division is also to be set cater for the media industry.
On housing, parties agreed that the Land Development Agency will provide affordable home purchase, affordable rental homes and social housing will be rolled out on State-owned land
The limit on how much local authorities can spend on social housing developments will also increase to €6 million.
If approved it will have to be put to the membership of each of the three parties for consideration.
Taoiseach Leo Varadkar said on Friday that he thinks a government could be in place by the end of June or early July if members accept the deal.
According to a Sunday Times opinion poll released today, more than twice as many people want Varadkar rather than Martin to lead the next coalition government.
The Fine Gael leader has the support of 48% of the Irish public to stay on as Taoiseach, while 18% would prefer the Fianna Fail leader to take over.
Behaviour & Attitudes carried out the poll, which surveyed 862 adults. The margin of error is 3.3%.
Varadkar's support among the public has increased following his handling of the Covid-19 pandemic. 
With reporting from Press Association, Órla Ryan, Stephen McDermott