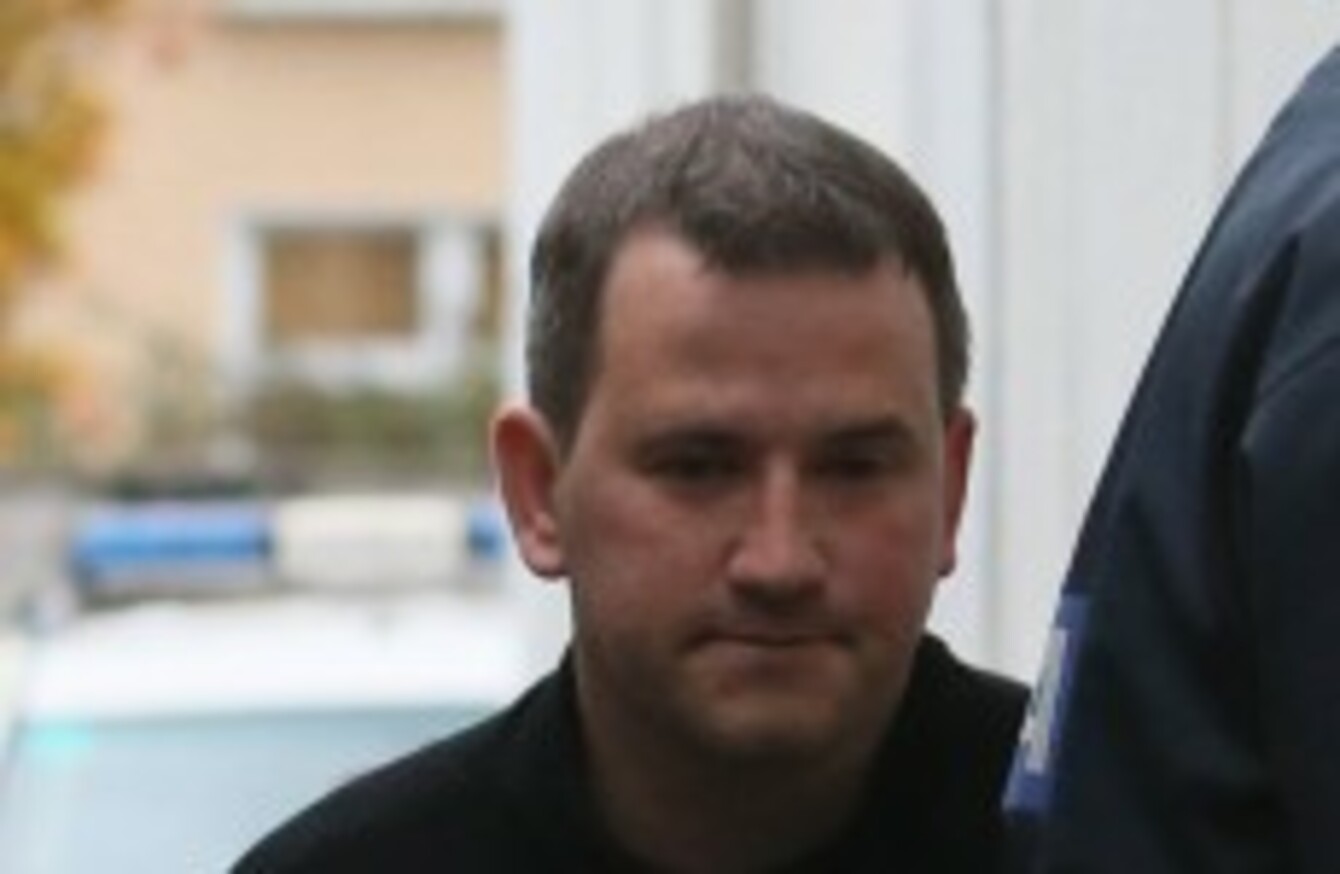 Image: Niall Carson/PA wire
Image: Niall Carson/PA wire
THE JURY WERE given a number of warnings this week during Graham Dwyer's murder trial as witness testimony became more disturbing and graphic.
Mr Dwyer (42) is charged with murdering Dubliner Elaine O'Hara at Killakee, Rathfarnham on 22 August 2012.
The Cork-born father of three of Kerrymount Close, Foxrock, Dublin has pleaded not guilty to murdering the 36-year-old childcare worker on that date.
The week began with more evidence about contact between Mr Dwyer's mobile phone and Elaine O'Hara.
847 texts
Garda Paul Kane of Dundrum Garda Station testified on Monday that he received phone bills for Mr Dwyer's work phone as part of the investigation into Ms O'Hara's death.
He analysed the bills to ascertain if Mr Dwyer had made calls or sent text messages to the number he had for Elaine O'Hara.
He found communication to Ms O'Hara from 15 January 2008 to 4 December 2009. He said there were 847 text messages from Mr Dwyer to Ms O'Hara and one voice call directly into her message minder during that time.
He confirmed that neither he nor anybody else was able to document the content of these messages. He also said that the times the messages were sent were not available.
Toll booths 
Also on Monday, the jury heard from a crime and policing analyst who used toll booth records to track the user of one of two mobile phones found in the reservoir where Ms O'Hara's keys were found around the time that her remains were discovered in the Dublin Mountains.
Analysing the records, Sarah Skedd said the phone used cells in Dublin 2 and South County Dublin. She used a date in July 2012 to track the phone from Galway City to Dublin 2.
"There was a gap of two hours and 11 minutes and that would suggest the use of the motorway network to get across the country in that time," she said.
She then analysed the records from toll booths on the motorways between Galway and Dublin, the M6 and M4. She also had images of the vehicles that passed through the M4.
She looked for vehicles that passed through the tolls between 12.30pm and 2.15pm that day. She said she was looking, in particular, for a vehicle owned by a person in South County Dublin.
She noticed that two vehicles with similar registrations had made the journey at that time: 99 G 11850 passed through the N6 toll at 12.45pm and 99 C 11850 passed through the M4 toll an hour and two minutes later.
She compared the picture of the small, blue vehicle that passed through the M4 toll with the information for that registration on the National Vehicle and Driver File. They did not match and she concluded that the C was an incorrect reading.
She identified Graham Dwyer as the owner of the 99 G car. The court has already heard that he admitted owning the vehicle.
Ms Skedd agreed that she could see that his address was in South County Dublin and that the jury had already heard he worked in Dublin 2.
Meeting men for sex
On the first day back after the weekend, the trial also heard from a friend of Ms O'Hara's who had knowledge of her use of adult websites.
Elaine Twomey told the court that Ms O'Hara said she enjoyed being tied up and cut by men she met for sex.
She also recalled being told that Ms O'Hara was pregnant by a bisexual man called Adam who did not cut her or tie her up.
Ms Twomey also said that her friend enjoyed self-harming. She said that the deceased would have mood swings and become depressed. She said she had once shown her where she had cut her stomach with a knife, describing her friend's wounds as nicks and not deep.
Ms Twomey said that her friend had suicidal tendencies but never said how she would do it. She said that she didn't take Ms O'Hara seriously; she believed she was attention-seeking and very immature for her age.
***
Darci Day
On Tuesday, the evidence switched focus from the deceased to the accused.
A young American woman, by the name Darci Day, testified via video link about her alleged online relationship with Graham Dwyer.
She told the court that Mr Dwyer said he wanted to kill Ms O'Hara if she wanted him to.
Ms Day also testified that Mr Dwyer had told her that his fantasy was to stab a woman to death during sex.
She recalled going online to talk to people after years of battling suicidal thoughts and other familial problems. She used the name Cassie and wrote fantasies about dying. She claimed she talked to Graham Dwyer through gmail and they discussed ending her life.
"He did mention Elaine O'Hara," she said. "I knew they had an intimate relationship and he told me she was similar to me and was suicidal."
She was asked if he had said what they did.
"He said he used to cut her… in the stomach area and stuff," she replied. "That it was mutual and sexual."
***
First warning
On Wednesday, the jury was given a warning that what they were about to hear would be very difficult.
The accused sat with his head in his hands as the prosecutor read out a document, entitled 4Darci.doc, that was found on a hard-drive at his home.
The document was written in the first person and the author wrote about how he had fantasised about killing from the time he was a teenager.
He wrote that he considered finding someone suicidal or terminally ill, and noted that there were 400 to 500 suicides a year in a small country of four million people.
'Go down to the shore'
Also on Wednesday, the jury heard policing analyst Sarah Skedd testify that the phone referred to as the Master phone sent a text message to the phone referred to as the Slave phone on 22 August 2012, using a cell site at Shankill. Sent at 6pm, it read: 'Go down to shore and wait'.
Ms Skedd also said that there was nothing to contradict the suggestion that the same person was using Mr Dwyer's work phone as was using the so-called 'Master' phone on other dates.
Warning to the public
Justice Tony Hunt gave a strong warning to the public on Wednesday to follow court rules.
He told people attending the proceedings not to tweet anything said in the absence of a jury. He noted that there are restrictions on reporting matters while the jury is not present.
#Open journalism No news is bad news Support The Journal

Your contributions will help us continue to deliver the stories that are important to you

Support us now
His comments followed the tweeting of material by a member of the public on Tuesday afternoon.
The judge said he accepted that the tweeter had been unfamiliar with the rules, but warned that 'someone was going to spend some time in jail for contempt' the next time it happened.
***
Jenny's first rape
The graphic and disturbing nature of the evidence was again alluded to by the judge on Friday as he warned jurors for the second day in a row about what they were about to hear.
Another document, entitled Jenny's First Rape and found on a hard drive in the architect's home, was read out by the prosecution.
The author describes how he chose a victim, and then how he threatened, raped and almost strangled her.
Detective Garda Wallace said that she found a document on the drive, which had been created in May 2005. It Was Just So Hot Walking along Grafton Street which was an account of a woman walking around a park before being raped and having blood drawn from her throat.
Darci Day
D Gda Wallace also elaborated on an image from the hard drive that she had previously mentioned. It was found inside a folder, labelled DD, along with the document, Killing Darci, which the jury heard read out on Thursday.
She said it was an image of a blonde female, who appeared to be dead, with stab wounds and her intestines visible.
She said she was aware of Darci Day's evidence earlier this week, in which the American said that she might have sent Mr Dwyer a photograph of herself to Photoshop.
D Gda Wallace confirmed that she had not known what Ms Day looked like before she had testified and had since looked at the image of the blonde female again.
She found that it had been Photoshopped, explaining that this involved adding or taking things away from an original photograph.
"The background image was of a female, who appeared to be Ms Day, laying on the ground with a black jacket opened," she said, explaining that she was naked to the waistline and that her arms were either side of her head.
She said she believed that seven 'layers' had been superimposed onto the photograph, which was then shown on screens in court, layer by layer.
The first layer showed a neck slit with blood pouring from it, the second showed blood smudges around the neck. The third showed either blood drops or cuts to the body.
She said an image of an intestine was put on next with additional blood around it. The final layer 'appears to be a brand mark' on the right side of her chest.
***
The trial has heard that Ms O'Hara was last seen in Shanganagh, South Dublin on the evening of 22 August 2012, hours after she was discharged from a mental health hospital.
A cause of death could not be determined when her skeletal remains were discovered at Killakee on 13 September the following year.
It is the State's case that Mr Dwyer stabbed her for his own sexual gratification.
The trial continues before Mr Justice Tony Hunt and the jury of five women and seven men.
With Sinéad O'Carroll