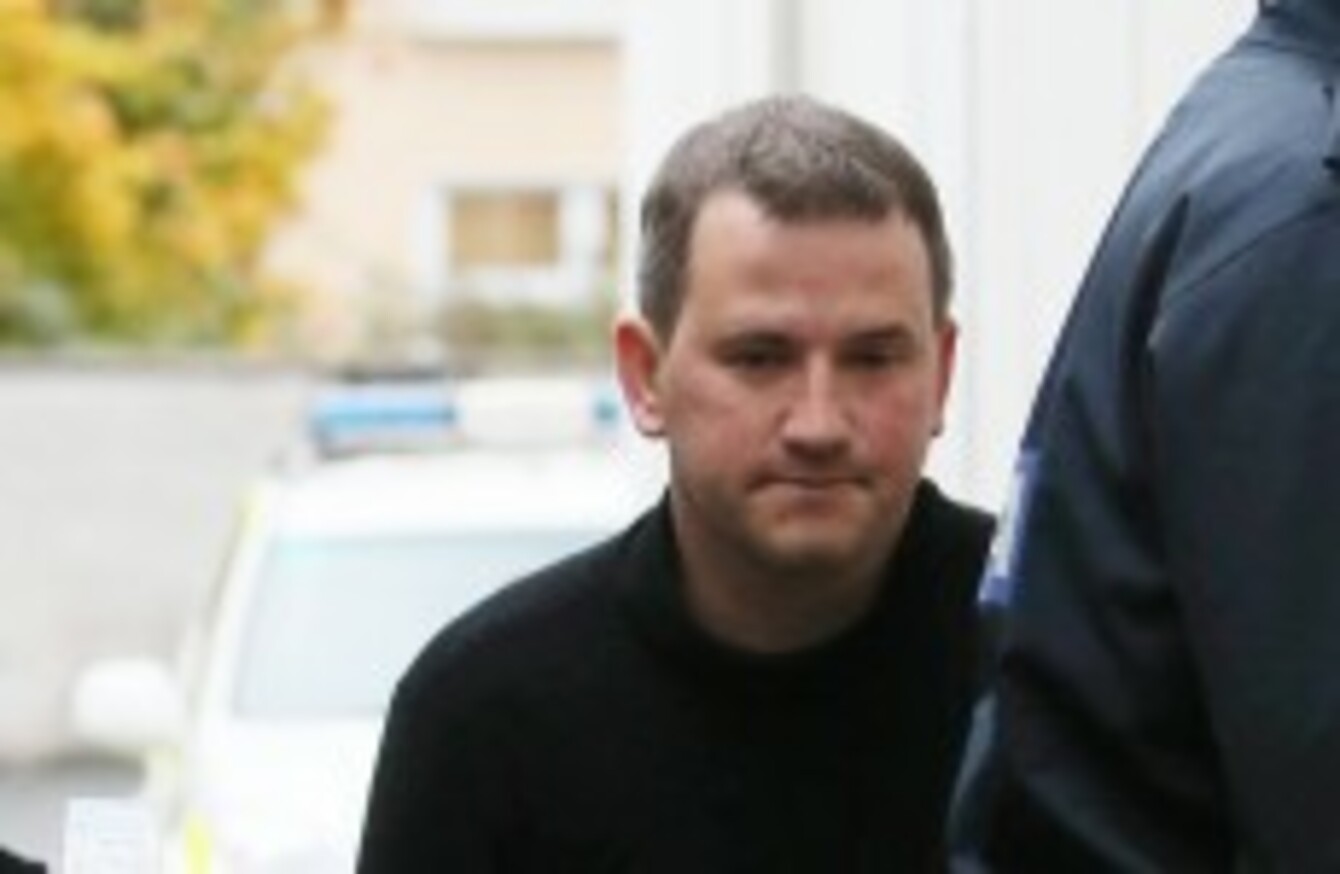 Image: Laura Hutton/Photocall Ireland
Image: Laura Hutton/Photocall Ireland
Updated 10.37 pm
THE JURY IN the Graham Dwyer trial were called back this morning by Justice Tony Hunt who said he had a 'nasty surprise' for them. He said he had been too hasty in "moving up a gear" in his charge yesterday and wanted to address them further.
He said he had glossed over a number of issues and wanted to make things "crystal clear" for the jurors by clarifying some issues further.
He said he had to give the jury credit for listening to all the evidence, which he presumed they had.
Judge Hunt also said that if he makes a comment on the evidence – which he is entitled to do under the law – he said it is simply his take on it and the jury are entitled to accept it or bin it.
Yesterday, the foreman of the jury asked the judge what exactly they were to convict Mr Dwyer of. The judge clarified then that it was the charge of murder, adding that they did not have to convict him of anything.
Judge Hunt said he wanted to make it perfectly clear to the jury: "You are not obliged to convict him of anything."
"The prosecution has to prove beyond reasonable doubt the causation of death by stabbing," he said, adding that is the only offence put forward to them.
He said the only verdict the jury are to reach is guilty or not guilty of murder.
"You've not been asked by the jury to consider any other verdict. It's very stark – guilty of murder or not guilty of murder – nothing else."
Judge Hunt told the jury that they were not being asked to consider accidental death. "That is out of the picture."
He told the jury they are only asked to consider the things put forward to them by both parties. He reminded them of Mr Dwyer's position in the garda interviews. "I didn't do it," he said, pointing out the jury that he claimed the phones were not his and the text messages were not his.
"Don't go down roads that haven't been expressed to you in the case," said Justice Hunt.
The foreman of the jury spoke to say that he did not intend his question to come out as it did yesterday, adding he just wanted to make that known.
Justice Hunt said that when it comes to things coming out as they were not intended, he has a masters degree in that.
Reasonable doubt 
Earlier in the morning, the judge began by clarifying a point of law in which he previously stated beyond reasonable doubt does not mean mathematical certainty.
The judge reminded the jury that this was a case based on circumstantial evidence and that he had cautioned them to exercise care.
The judge said he wanted to deal with the aspect of suicidality, stating that suicide was something the jury had to consider.
He told the jury to collect their writing material, as they may need to make further notes.
Judge Hunt reminded the jury of psychiatrist Dr Matt Murphy's evidence. He went through aspects of Elaine O'Hara's psychiatric history.
Dr Murphy said Ms Elaine O'Hara had obsessive thoughts since she was about aged 12. He said there were concerns that a psychotic illness might be developing in her teen years but said that it was largely ruled out and put down to more personality difficulties.
He said she was diagnosed with borderline personality disorder which he said was linked to a person's feelings of worthlessness and self hatred. He said depression and self harm were factors of this. Dr Murphy said in evidence that Ms O'Hara had been admitted to hospital 14 times over the years.
Addressing the issue of suicidal ideation, Mr Murphy said it is when someone is totally preoccupied with taking their life. He said that it can be linked to personality disorders, which would be the case most associated with Ms O'Hara, stating that it can be chronic and does not easily go away.
He recalls that Ms O'Hara's admission to hospital in July 2012 resulted in her contacting the hospital and telling them that she had thoughts of hanging herself.
He said he believed the specifics were that she had constructed a noose in her apartment.
He said she went through varying therapies but was on reduced medication than she was on previously. The judge went through the daily log from the hospital on Ms O'Hara's condition while in hospital from 14 July to 22 August.
There was a reference to a small self-inflicted scratch, but this was deemed only a minor setback.
He said when she was being discharged she was "probably as good as I've ever seen her". Dr Murphy said that she was planning to do things and wanted to move on with her life, in his opinion. He also said that she want to improve her socialisation and was looking forward to taking part in the Tall Ships Festival.
Notes from her discharge on 22 August 2012 stated that she was calm, relaxed and not psychotic. There was a note that Ms O'Hara was anxious and scared about being back in her apartment on her own, but she told Dr Murphy that she knew this to be normal.
None of the notes made any particular reference to being in a relationship with a man.
The judge highlighted medical notes from Ms O'Hara's previous clinician when she was in her teens. It stated she said there was no child sex abuse but there was references to bullying.
Evidence from Dr Murphy also told the jury that the initial aftermath from the release of hospital is believed to be a risk period. He said this was widely accepted. Reference was made to the evidence by Ms Hynes, a patient who was also at Edmondsbury Hospital.
She said that Ms O'Hara asked how she would go about taking her life the night before she was discharged. She said Ms O'Hara made reference to hanging herself in her apartment. Dr Murphy said he was not aware of the conversation and it was difficult to say if it would have impacted on his decision to discharge Ms O'Hara on 22 August 2012.
Addressing the jury, he apologised for not reading out Dr Murphy's transcript yesterday. "On reading it is important for both sides," stating it fully shows Ms O'Hara's condition over the years.
He urged the jury to assess both the personalities of Mr Dwyer and Ms O'Hara.
#Open journalism No news is bad news Support The Journal

Your contributions will help us continue to deliver the stories that are important to you

Support us now
He asked them to consider the texts, about whether they were fantasy or did they intend to take action?
The judge said he was not favoring one side or the other. He said it was clear that Ms O'Hara had ongoing suicidal thoughts at times in her life. 

However, he said it was "not part and parcel of her mental health" but said they had to consider the personality too and who she is communicating with.
Forensics
Judge Hunt also reminded the jury that forensic evidence given by scientists from the Forensic Science Laboratory was also important to the case. He said that the absence of forensic evidence may be significant but, equally, it might not be.
He also put forward to the jury that the defence makes the case that if the Darci Day document is a template for the murder, then it would be a frenzied attack, but questioned where all the blood was?
He reminded them that the prosecution put forward murder by stabbing, by emphasising the text message mentioning "getting stabbed in the gut". He said he would leave it up to the jury members to make their own minds up.
He then read over the evidence of Dr Fiona Thornton who analysed a number of exhibits in the case, including items from Killakee Woods, Vartry Reservoir and Mr Dwyer's home and office.
Graham Dwyer, a 42-year-old architect from Foxrock in Dublin, is charged with the murder of Elaine O'Hara on 22 August 2012. He denies the charge.
The jury returned following lunch where the judge told them they could begin deliberating. He said deliberations had to be timed.
While he said he had hoped the jury might be out by Friday, he said that it is important that they take as much times as is needed to reach their verdict.
Judge Hunt said he had given himself an unrealistic deadline to conclude his charge to the jury yesterday, when he should have carried on and given it as much time as was necessary. He urged the jury to do the same.
"It is important that you stay with it. It's been a long case with a lot material to go through," he said.
The jury retired at 14.40pm by the court clock and returned at 4pm.
The judge said he assumed that they had not reached a verdict at this point. The foreman said they had not. The judge were sent home and are due back to continue their deliberations in the morning.
Deliberations have so far lasted one hour and 28 minutes.
First published 3pm