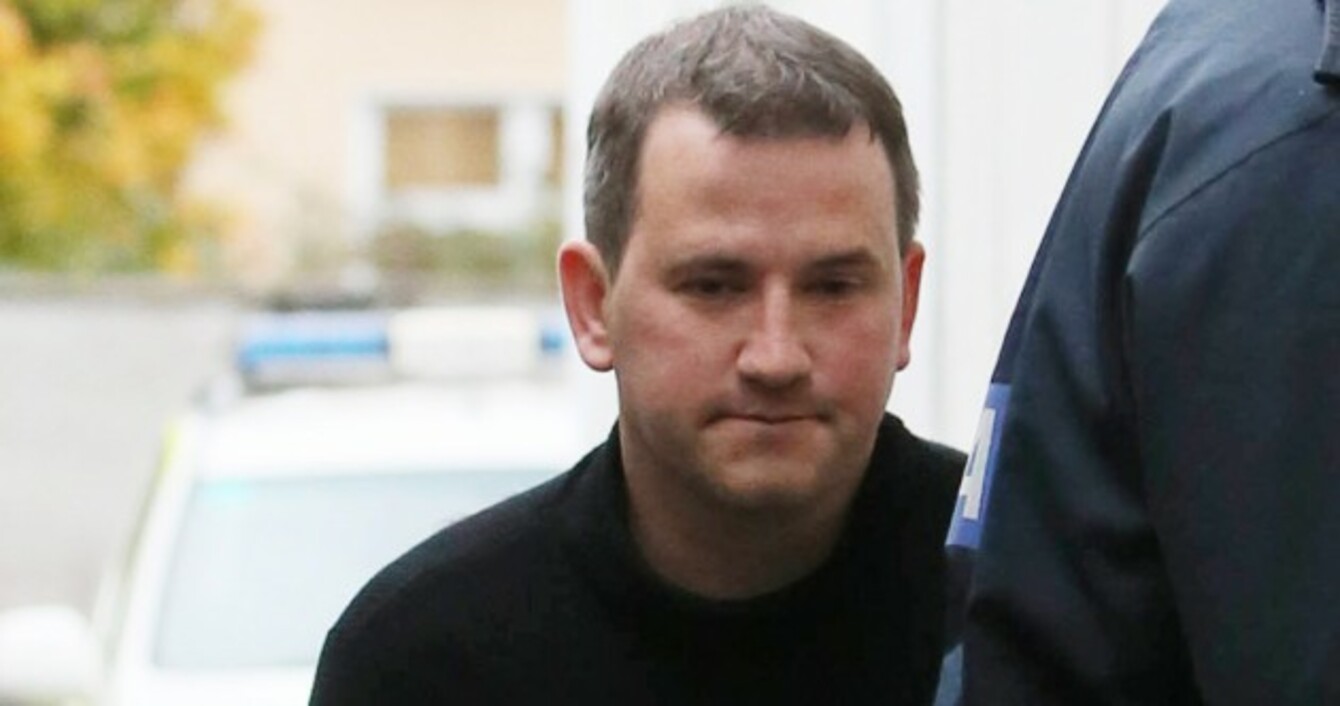 Image: Laura Hutton/Photocall Ireland
Image: Laura Hutton/Photocall Ireland
THROUGHOUT THE trial of Graham Dwyer, snippets of information have painted the external picture of the man: a family man, a husband, a father, a son, a professional middle-class architect.
Sitting in Court 13, dressed every day in a suit and tie, Dwyer heard aspects of his personality recounted in court. Interests, hobbies and behaviours that sum up the character of a man.
However, what people did not know was he was leading a double life.
Dwyer, originally from Cork, attended Hamilton High School in Bandon.
He met his wife, Gemma, who is from Sligo, while they were studying architecture in DIT in Bolton Street.
He set up home with his wife in Gulistan Cottages, off Upper Mountpleasant Avenue, Rathmines, before buying a family home in Kerrymount Close, Foxrock.
Graham, already a father to a man in his 20s, Senan, became a father to two more children with Gemma Dwyer.
His previous partner and mother to his first son, Emer McShea, gave evidence in court. She said their relationship ended when they were in their mid-20s.
She told the court that when discussing fantasies, Graham told her about his stabbing fetish and about wanting to stab a woman during sex. She said he also began bringing a kitchen knife to bed and pretended to stab her during sex.
This was almost two decades before he murdered Elaine O'Hara.
The biggest insights into Mr Dwyer's "normal" life were provided by his wife, Gemma.
Planes and cars
He was a busy working father, who had a hobby he dedicated a lot of time to – model airplane flying.
He was a member of two clubs in Shankill and Roundwood. She said that he would spend a lot of time researching about the hobby on his computer and spent many weekends and evenings with the clubs.
Her husband had other hobbies too, she said, such as mountain biking. She said he would meet friends up at the Hellfire Club in the Dublin Mountains.
Mr Dwyer also had an interest in cars.
Her husband bought many cars over the years, she told the court.
"There were a lot of cars," she said. "He would buy himself cars quite frequently. There were a few particular cars. He really liked cars."
"There was a Porsche 911 that he was particularly fond of. He kept it longer than any others… He called it his baby."
The couple owned a number of Audi cars over the years, including two Audi A3s, an Audi A4, and three different Audi TTs.
The court also heard about Mr Dwyer, the family man.
Mrs Dwyer recalled the birth of one of her children in the National Maternity Hospital as being a happy time with lots of visitors. She said the birth of a child is "a wonderful time".
Her husband often went on camping trips, she told the court. Following one of these trips she said her husband met her and the children so they could go to the family day event organised by his model airplane club.
During questioning about a spade which she had said she noticed was missing from her garden, she was shown a family photo of a swing set that was built by her father and Dwyer for their son.
Close family and friends
Mr Dwyer's eldest son Senan McShea was called as a witness for the prosecution in the trial. Mrs Dwyer spoke about how her husband was very unhappy about Senan smoking. "It upset Graham greatly," she said.
The court was also told about his sister in Cork, Mandy, to whom Mrs Dwyer would often send Christmas and birthday cards. Graham Dwyer's brother and father would also often appear in court.
#Open journalism No news is bad news Support The Journal

Your contributions will help us continue to deliver the stories that are important to you

Support us now
Mrs Dwyer told the court about her husband's social life. Sometimes when she was away her husband would have some of his old school friends, "the lads", over to the house.
She also told the court about how they both shared the same birthday, 13 September.
In a horrible coincidence, Ms O'Hara's remains were found in the Dublin mountains on that date in 2013.
"My birthday is the 13th of September and Graham's birthday is the 13th of September," she said.
We went out to dinner. We went out to a Mexican restaurant on South Great George's Street and celebrated our birthday together and got the Luas home.
Mrs Dwyer spoke about how they juggled the care of their children when they were both working full-time, telling the court they had a childminder.
The couple were featured in a number of media and broadcasting features some years ago.
RTÉ Six One News last night showed footage of Dwyer on a television show about renovating their family home a few years ago.
Dwyer shows the camera crew around a showhome set which he designs, and which features a fish tank fitted to the side and underneath the bathtub.
The Irish Times also reports that Dwyer was featured in their property section of the newspaper in May 2007.
During his charge to the jury, Judge Tony Hunt said that the jury had been shown Mr Dwyer in a very harsh light, but said that it was worth considering the man in the round.
He said that Dwyer was a father, he had friends at this flying clubs, and many other friends, it would seem.
"Very few people are all bad," he said.