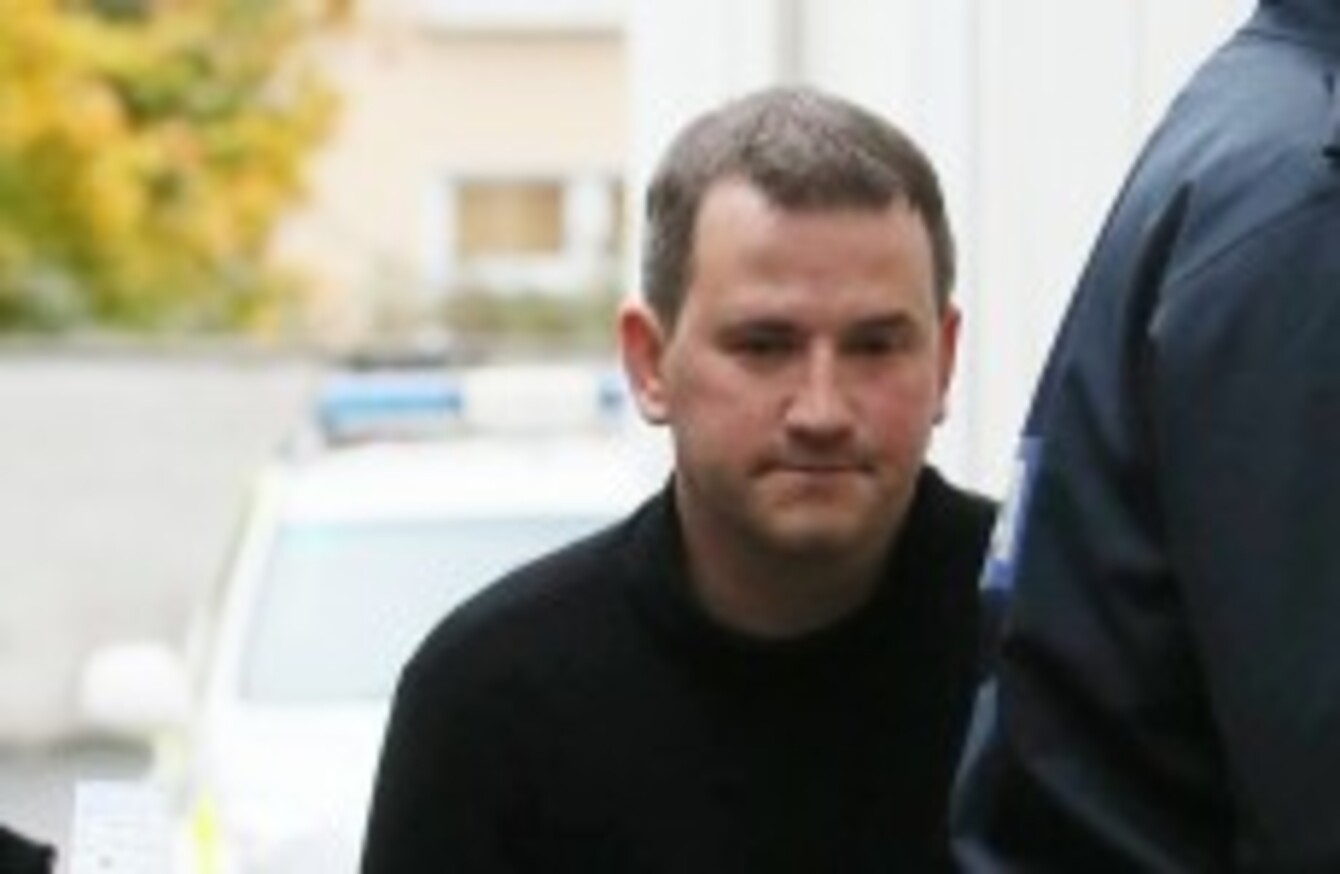 Graham Dwyer
Image: Laura Hutton/Photocall Ireland
Graham Dwyer
Image: Laura Hutton/Photocall Ireland
AFTER 45 DAYS the trial of Graham Dwyer has concluded in Court 13 of the Criminal Courts of Justice.
It took the prosecution 37 days to present 194 witnesses and more than 320 exhibits to the jury, claiming the 42-year-old architect killed Elaine O'Hara for his own sexual gratification.
The defence took just under 30 minutes to make their case, with Dwyer pleading not guilty to the charges.
After three days, the jury reached their unanimous verdict that the architect was guilty of murdering Elaine O'Hara and leaving her body on Killakee mountain.
For TheJournal.ie's full daily coverage click here
It was a trial that shocked and appalled all who came in contact with it, with one garda claiming he had never come across a case even close to similar to this before during his whole service.
Each day, new, shocking and graphic revelations were heard. Explicit and often horrifying text messages were read out in court.
Ms O'Hara's family, seated on the victim support bench, just a few short metres from the man accused of killing their loved one, heard every detail of her personal life – from her medical problems and mental health issues, as well as detailed accounts of her sexual fantasies and the desire to be tied up.
Members of the Dwyer family, his brother, his sister and father, also attended court throughout. Both families seated just a few steps from each other, both finding themselves dealing with an unprecedented and almost unbearable situation.
The families also had to hear the harrowing correspondence between the two.
A warning to "the squeamish"
Justice Tony Hunt warned the jury prior to the commencement of trial that those that were squeamish would find it difficult. That was not an understatement on his part.
From day one, the prosecution led with shocking text messages recovered from mobile phones they attributed to the accused:
You should help me inflict pain on you and help me with my fantasy. Blood turns me on.
My urge to rape, stab or kill is huge. You have to help me control or satisfy it.
The court heard that there were also a text message discussion in 2011 relating to a case of a different woman who had been stabbed. Ms O'Hara received a message stating:
I am watching the case with interest… I would have loved to stab her… I can imagine the knife going in and out… lucky guy.
These were just a warning sample of what was to come in the trial.
Senior Counsel for the prosecution, Sean Guerin, told the court that the relationship between the deceased and Dwyer involved BDSM (bondage, domination, sadism and masochism).
It was clear from that point that this trial was unlike any court case heard in Ireland before.
Justice Hunt enforced strict media guidelines, warning those that breached court rules would be held in contempt.
Nothing heard in court while the jury is absent can be reported while the trial is ongoing.
Graham Dwyer's jail accommodation 
On the second day of the trial, Remy Farrell, senior counsel defending, raised an issue with the judge before the jury entered the court.
He said that due to the expected media coverage, Graham Dwyer had to be moved from his usual cell in Cloverhill prison and placed on the D2 landing. He claimed that Dwyer was provided no pillow or bedding and was woken up every two hours by a flashing blue light.
Dwyer also had "no access to his books" or trial notes. His counsel said it was a "totally intolerable" to go through the trial where he is woken up every 20 minutes at night. He said that if it persisted it would be an issue.
The judge urged the prosecution to get in touch with the relevant prison services to sort the matter out stating that if it persisted it would impinge on the prosecution's case if Mr Dwyer was not in a fit state to sit through the trial.
The brave testimony of Elaine O'Hara's father
The court was highly charged at times, with a tense atmosphere, particularly when Elaine O'Hara's father and Graham Dwyer's wife gave evidence.
Frank O'Hara recounted how his daughter had a history of mental illness over the years, having attempted to take her life on a number of occasions.
Describing his relationship with his daughter, he said he would speak to Elaine every day and see her three or four times per week. He told the court that he considered that he might have been a "best friend" to his daughter.
"She disclosed information to me in early 2008. She was in my house one morning and we had an argument, maybe about money – she was poor at having money – and she said: 'I am seeing someone – a professional'."
He said he tried to get more information from his daughter. "I said: 'Is he married?' and she said yes."
There was then a long pause. The court was silent.
Mr O'Hara, visibly emotional, held back tears but broke down as he told the court that his daughter said to him:
He ties me up and masturbates over me – we've never had sex.
Mr O'Hara told the court that she had said that the man she was seeing was an architect from Foxrock.  "I was shocked," he said, adding later in cross examination that her revelations to him had left him "shattered".
Sympathy for Graham Dwyer's wife
The day in which Gemma Dwyer, Graham's wife gave evidence, was particularly fraught. The court was packed as the word had spread she would be in court among both the media and the public.
Instead of sitting in the section for witnesses, she was escorted into court by a garda from the victim support unit. She shuffled through the busy court room, her head kept down, not even looking up as she passed her husband sitting in the dock.
Seated just a few metres away from her husband, she placed her shaky hand on the Bible and swore to tell the truth.
There was a palpable sense of sympathy in the court that day for Mrs Dwyer, borne out in a respectful silence.
At one point, when being questioned by the judge she named her two children, and became visibly upset.
The judge reassured her not to be worried, stating that the media could not report their names.
Throughout her evidence, the toll the case was having on her, a mother of two young children, could be seen. At times, the emotion seemed too great that she held her head in her hands and wept. As soon as her evidence concluded she was ushered out of the court, again, without a glance at her husband.
Throughout her evidence there was no notable reaction by Mr Dwyer.
Explicit images and video
The content in the final days was just as difficult, with the jury being shown explicit images and sexual video content, and more messages recounted to the court about stabbing and the need to kill.
Items on his hard drive included stories about killing an American woman and having sex with her corpse. Another detailed the abduction of a woman and raping her in a hotel room.
The court was cleared for the hearing of some evidence, such as the videos which appeared to show Graham Dwyer stabbing Elaine O'Hara during sex while she screamed.
Another video showed Dwyer knocking himself out with chloroform, while another video described a man, identified as Mr Dwyer kneeling behind Elaine O'Hara and placing a plastic bag over her head.
The court was told the final messages sent to O'Hara were:
Ok, take only keys and slave phone. Make your way on foot to park next door.
and
Go down to shore and wait.
The defence called just three witnesses. Mary Crosbie, the first witness called by Remy Farrell told the court about her visit to her mother's grave on 22 August 2012, the day Elaine O'Hara was discharged from a mental health hospital.
She said she saw a woman upset at one of the graves but as she did not know Ms O'Hara she could not confirm that it was her.
Two sheep farmers were also called and questioned about the possibility of any of their sheep dying in 2011 or 2012. This was in relation to a text message now believed to have been sent by Dwyer, where he said he would love to sink a knife into a dead sheep that he had come across.
In its closing argument the defence urged the jury to acquit Mr Dwyer because of a lack of forensic evidence. The defence barrister admitted that some of the evidence put to them during the trial was difficult, unpleasant, distasteful and repellent.
While he said that the jury might already have made up their mind that Mr Dwyer is "so disgusting he should be locked up", he said thoughts like this had to be put aside.
He claimed that there was just one theory being put forward by the gardai and prosecution after Ms O'Hara's remains were found and that was that Mr Dwyer had killed her. He said this was despite suicide being the main thought after her disappearance. He said the theory of suicide was being "brushed under the carpet".
Nonetheless, the jury deliberated for just over seven hours before finding Graham Dwyer guilty of the murder of Elaine O'Hara.
His sentencing – a mandatory life sentence – will be heard on 20 April.