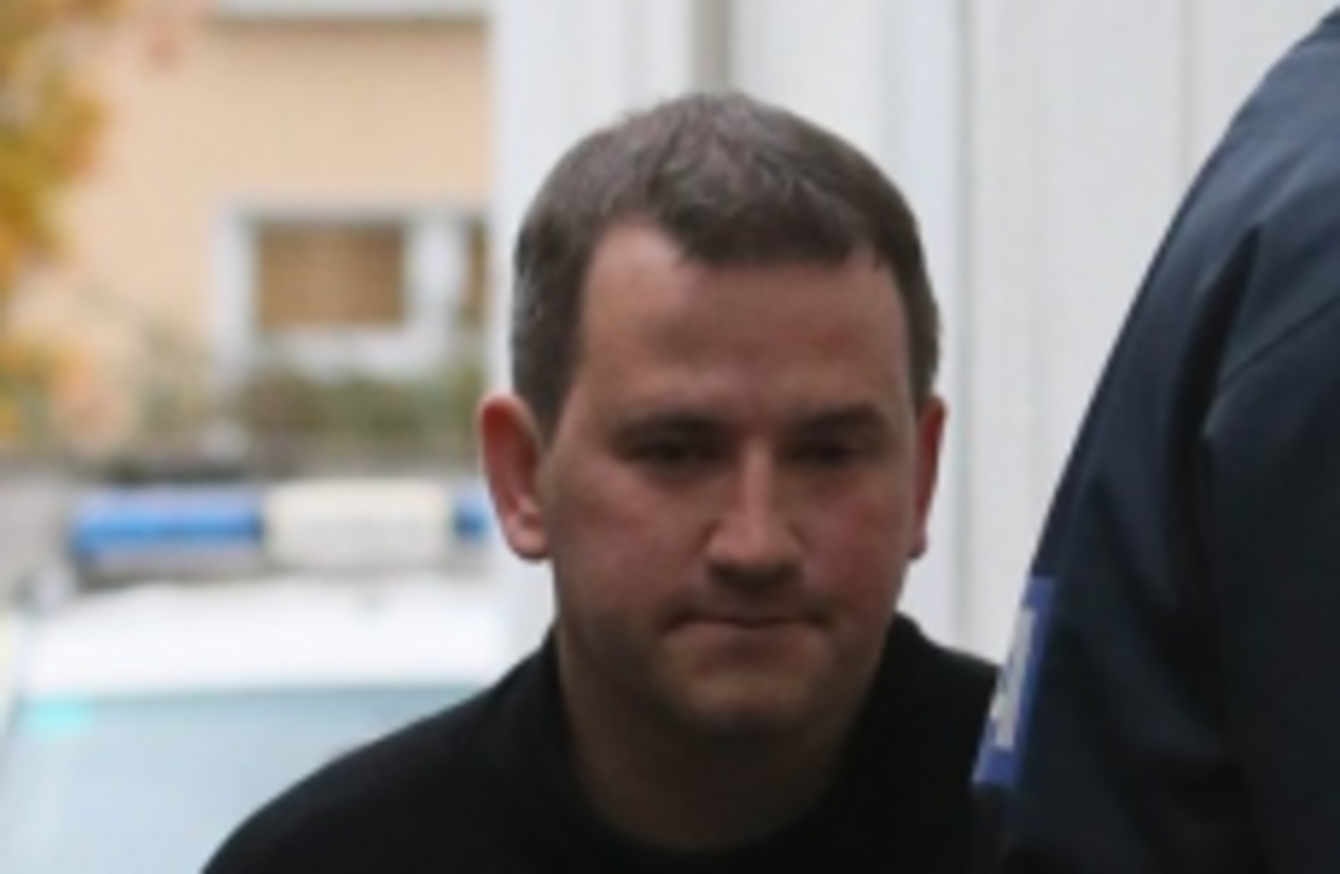 Image: Niall Carson/PA Wire
Image: Niall Carson/PA Wire
Updated 11pm
THE JURY IN the Graham Dwyer trial has been shown videos of the architect appearing to stab women during sex, with blood visible in some.
The court also heard and saw text messages about the 'urge to rape, stab and kill' that the prosecution says the architect sent to Elaine O'Hara.
The jury was given a warning before the videos were shown today on the 33rd day of the murder trial at the Central Criminal Court. The videos included one which the State said was a self-made video of the architect stabbing himself and another of him reviewing the use of chloroform on himself.
It was the third day in a row that the jurors were warned about the difficult nature of the evidence about to come.
Mr Dwyer (42) is charged with murdering Dubliner Elaine O'Hara at Killakee, Rathfarnham, Dublin on 22 August 2012.
The Cork-born father of three of Kerrymount Close, Foxrock in Dublin has pleaded not guilty to murdering the 36-year-old childcare worker on that date.
38 videos
Detective Garda Brid Wallace gave evidence of finding 38 videos 'possibly relevant' to the investigation on hard drives seized from Mr Dwyer's home.
She said that females were present in 35 of these and two of them were movies that appeared to be self-made videos of the accused.
The first of 11 video clips to be shown was called Blood2.mp4 and showed a man stabbing himself.  The prosecution labelled this: 'Clip of Graham Dwyer with knife'.
The second video featured a man speaking to the camera.
"Hello. I'm just after waking up from having knocked myself out with chloroform," he said. "I'm very disoriented." The State labelled this video: 'Clip of Graham Dwyer after chloroform'.
The detective found three particular clips in a folder called EH within a folder labelled Sub on one device.
The first, labelled Clip21.avi, appeared to show a man swinging a knife at a bound woman while having sex with her. The defence accepted that this was a video of the accused and the deceased.
In another clip, a naked woman with her mouth covered could be heard screaming while a man appeared to push a knife into her.
The detective found 13 videos in a folder called J and another initial within the folder labelled Sub. The first one of these was called Attempted Breast Stab.mp4 and the content was related to the name of the file. The woman could be heard shouting 'F**king hell' during the clip.
Another clip, called Bloodletting.mp4, showed a man with a knife behind a woman with her wrists tied. The camera then zoomed in on a fresh wound under her breast.
Text messages
A crime and policing analyst then gave evidence of some of the text messages in the case. Sarah Skedd had prepared a chart for the court and jury of more than 2600 messages recovered from various devices.
She began with messages between Ms O'Hara and a phone that the State says the accused purchased in the name of Goroon Caisholm on 25 March 2011. The messages began that afternoon with the user texting Ms O'Hara and explaining who he was.
"This is an old friend ;). We used to play together and I miss it terribly," he wrote.
"I'm not into blood anymore," she wrote when she realised who was texting her.
He wrote that there was a person who had asked him to do something she had previously asked him to do. American woman Darci Day last week testified that the accused told her Ms O'Hara had once asked him to kill her.
"Thinking about it," he wrote.
"I got this phone and sim… can't be traced," he wrote.
He asked if she ever thought of him.
"I do but then I remember the blood," she replied.
They arranged to meet the following afternoon in a coffee shop near Ms O'Hara's home.
She texted him following the meeting to wish him luck in the next couple of days.
"Hope you enjoyed yourself, sir," she wrote that night.
She texted him the following day that she was a 'bit sore'.
Within a couple of days of their meeting, he texted to ask if she could get him a key.
"Any news on baby, sir?" she wrote the same morning.
"Not yet. Has to happen this week. Any time now," he replied. "When are you free next?"
"I have terrible bruises on my wrists from all the cuts," she wrote later as they organised another meeting.
"I will try to keep your cuts and bruises under your clothes," he wrote.
"Cuts, what cuts!!" she wrote. "No cuts, sir. You promised."
"You know what I mean," he replied. "All marks, no cuts."
There was more discussion about her giving him a key.
"This means you have to stop putting on the deadlock. So I can slip in while you sleep so I can rape/stab you," he wrote.
"I don't think so, sir," she replied, before texting him a code and directions to her apartment.
"I promise I will slip in and attack you," he texted later.
She asked if he would mind if she played with someone else.
"I don't mind as long as he always wears a condom," he replied. "And he can't know about me in case I need to end you some day… I am your secret killer."
She thanked him, addressing him as sir once more.
"The more DNA and finger prints in your flat the better," he wrote. "Get his prints on your kitchen knife."
She told him that this person was not interested in such things and was very gentle.
"If he gives you any trouble, we can kill him," he wrote.
"No killing," she replied.
"My urge to rape, stab, kill is huge. You have to help me control or satisfy it," he wrote, before telling her that 'this untraceable phone' would be normally off between 5pm and 8pm.
"Control, sir, not satisfy," she wrote.
Messages
At one stage he received the following message:
"You still on? Wife not in labour or anything?"
"So far so good," he replied. "Got fake knives."
"Lucky me," she replied.
"Lucky if I don't use the other one," he wrote on 29 March.
She next texted him at 12.23pm on 30 March.
"I take it you are now a Daddy again," she wrote.
"Yes, beautiful baby girl (child's name)," he replied the following morning.
She later complained that she was covered with bruises.
"I can't have marks and bruises," she wrote.
He replied that they would have to work something out and suggested both Sudocrem and polo necks 'like mine'.
"I don't wear polo necks, sir," she wrote.
He wrote that it would be impossible to play and not leave marks.
"Still dying to knife someone. Worried I might do it," he wrote on 1 April.
"What about that one in USA?" she texted later.
"That would cost thousands," he wrote. "Can't wait that long to sink my knife into flesh and see blood pour."
She told him that he just might have to wait.
"You're not getting me, never again," she wrote.
"I know," he replied.
"I will find someone out walking to knife. Will you help?" he asked.
"No," she wrote later.
"If you ever want to die, promise me I can do it," he wrote.
"Yes, I promise, sir," she replied.
"Promise I can kill you by stabbing?" he continued.
"Yes, maybe," she replied.
"I look forward to it, eventually," he wrote.
"Sir, it might never happen," she replied.
"I know, but I'm hopeful," he wrote. "Not too soon. Want to have more fun with you."
"I want to find a suitcase you would fit in," he wrote on another occasion.
She told him to enjoy what he had.
"Stab, stab, stab, rape, kill," he wrote.
#Open journalism No news is bad news Support The Journal

Your contributions will help us continue to deliver the stories that are important to you

Support us now
"Grow up, sir," she replied.
He told her she would be punished for that.
He asked if she liked the idea of him smuggling her in a suitcase.
"You would be ok in there with an airhole," he said.
She replied that she would like to see him try.
"In your dreams," she added.
"Off to the woods for fun and a burial," he continued.
He texted her on 2 April to say he was 'stuck here with people visiting baby'.
She texted him another time to say she had marks on her neck and that this was one place seen by everyone.
"Your blades are sharp," she wrote.
"Yes, I am sore today. I am bleeding," she wrote in reply to another message.
She texted him one morning to say she had been thinking of his problem.
"I still think going to USA is too dangerous. The police are very good over there," she wrote.
"Then I have to do it over here," he replied.
He texted her on 6 April  that he had arrived at her building.
"I'll be quick, no punishment, just rape," he wrote.
"I'm scared. I know what you can do," she wrote.
"I won't kill you or cut you," he assured her.
"You are sick, very sick"
She complained that her job was boring on one occasion, to which he replied that her job 'should be getting tied up and raped'.
On 8 April, he sent her the following text: "Woman stabbed last night in Dublin. Guy got away clean J"
He later texted that it was a 'big mistake leaving a witness'.
"Must have been a fantastic feeling for him," he wrote.
"You are sick, very sick," she replied.
"I'm going to do it. You have to help me or it will be you," he wrote.
"You're never going (t)o do it," she replied
He said that this sounded like a dare and that he had to do it now.
He told her that he couldn't wait for her to die by knife and asked when she would be ready.
"Hopefully never," she replied.
"I can't see you as an old lady, somehow," he wrote. "You have promised me that I will send you off."
He told her that it would be painless, that she would be unconscious while he killed her because he would use chloroform or sleeping tablets.
She said she wouldn't let him kill her against her will.
She agreed to let him take her out of her apartment in a suitcase as a test run if he promised 'not to use those ties again'. He said he would use cuffs and tape instead.
"Killing is my new goal, not extreme control," he wrote, when she commented on how he had changed since they first met.
"I can and will have it all," he wrote in the last message read to the court.
Ms Skedd will continue outlining the content of the text messages tomorrow.
The trial has heard that Ms O'Hara was last seen in Shanganagh, South Dublin on the evening of 22 August 2012, hours after she was discharged from a mental health hospital.
A cause of death could not be determined when her skeletal remains were discovered at Killakee on 13 September the following year.
It is the State's case that Mr Dwyer stabbed her for his own sexual gratification.
The trial continues before Mr Justice Tony Hunt and the jury of five women and seven men.