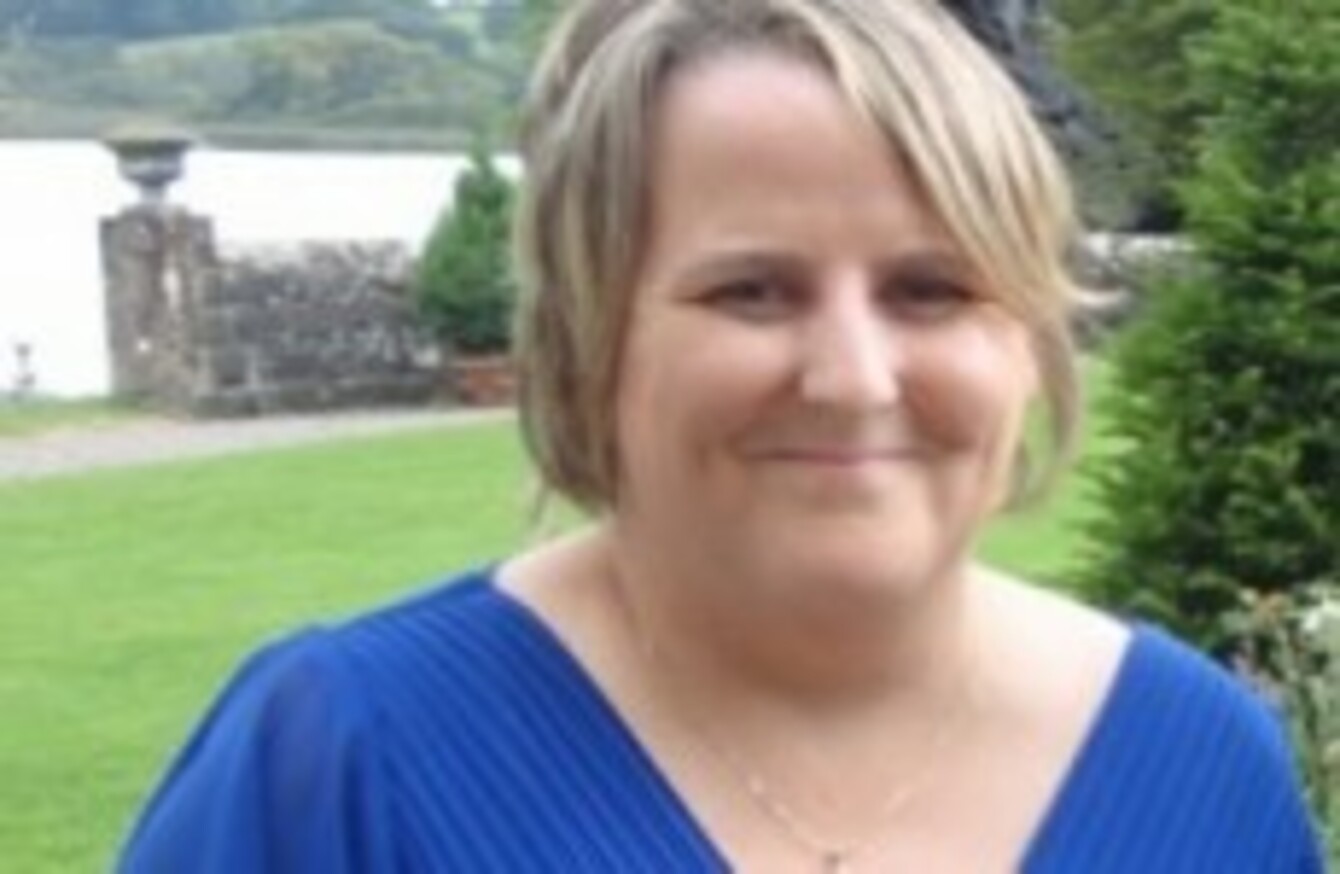 Undated image of Elaine O'Hara
Image: Garda Press Office
Undated image of Elaine O'Hara
Image: Garda Press Office
THE JURY IN the Graham Dwyer trial has been shown bondage cuffs, chains, knives, a leather mask, rope, ball gag and a blindfold found along with keys to Elaine O'Hara's home in a Wicklow lake.
The items were found by three friends and a local garda the same week that the childcare worker's skeletal remains were found in a forest in the Dublin Mountains.
Mr Dwyer, a 42-year-old architect, is charged with Ms O'Hara's murder in the mountains on 22 August 2012, hours after the childcare worker was discharged from hospital where she had been a psychiatric patient.
The Cork-born father of two of Kerrymount Close, Foxrock, Dublin has pleaded not guilty to murdering the 36-year-old Dubliner on that date at Killakee, Rathfarnham.
The Central Criminal Court trial has already heard from the dog walker who discovered Ms O'Hara's remains on Killakee Mountain on Friday 13 September 2013.
On the sixth day of the trial this morning, three Wicklow friends and their local garda gave evidence of finding a number of items in the lake in Roundwood that week, when the water level was unusually low.
How they found the items 
William Fegan; his brother, James Fegan, both anglers; and their friend, Mark Quinn; testified that they bumped into each other on a bridge over Roundwood lake on the evening of 10 September 2013.
Mr Fegan said they were commenting on how low the lake was. "It was unusual for it to be so low."
He said there would usually be about 20 feet of water under the bridge, but there were only 12 to 18 inches on this day.
"At first, what drew our attention was a shiny metal object and some yellow rope buoyant on top of the water," he recalled. "We thought it was the ring of a bull's nose."
Mr Quinn, who works with granite, had a tension strap in his van with a hook at the end and they used it to fish a number of things out of the water.
William Fegan recalled that they pulled out the rope, then handcuffs, what appeared to be leg restraints and other items.
The exhibits officer held up the items for the witness to identify; they were also shown on screens throughout the courtroom.
They included a rusty chain with two sets of cuffs on either end; bondage cuffs, comprising long straps with padded restraints at the end with buckles; a ball gag, which comprised a ball, strap and buckle; a black blindfold with a Velcro strap; a hoodie and vest.
"We set them on top of the dam wall," he recalled, adding that he then went to work, his brother went to a fishing meeting and Mr Quinn also left.
How gardaí got involved
However, he said he later had a good think about what they had found, and he returned the following morning.
"I drive at night. I've plenty of time to think," he explained.
There was something niggling at me. I thought there was something not right.
He put the objects into a bag, brought them to Roundwood Garda Station and handed them over to Garda James O'Donoghue.
Garda O'Donoghue identified all of the items on screen this morning. He testified that it was clear the items had been exposed to water and, from the soiling, that they had been submerged for quite a while.
He hung the clothing out to dry and put the other objects in evidence bags.
"Not that I knew they were of evidential value, but to store them," he explained.
He said that he then went to the bridge and looked down into the water.
"It was muddy and there was no visibility into the water," he recalled.
He said that he returned to the bridge again two days later, on 14 September.
"I still couldn't see anything so I climbed over the wall beside the bridge and walked down to the reservoir bed as close to the water edge as I could get down, to the dry bed," he said. "I saw nothing."
He went back again on the 16th and this time there was no wind and it was sunny.
"I could see a shining object in the water," he recalled.
What I saw on that occasion was the stock end and part of a loop of a handcuff. They were partially buried.
He again climbed down the embankment and this time stepped out into the water. However, this raised the silt and 'visibility became zero'.
So, he put his arms into the water and began searching by touch.
"While moving my hands through the muck, I felt something buried in the silt," he said. "I pulled them up and could identify them as a set of several keys."
#Open journalism No news is bad news Support The Journal

Your contributions will help us continue to deliver the stories that are important to you

Support us now
He also found another bondage mask, which comprised a mask with zips over the eyes and mouth, and air holes over the nostrils. He also found a knife, an inhaler, a long chain with an O ring and a length of rope. He identified these items in court for the jury.
How the keys were identified
There was a Dunnes Stores card on the key ring and he contacted the store. After speaking to a staff member, he ran a name check on Elaine O'Hara of Belarmine Plaza and learned that she was registered as a missing person.
The garda identified the keys on screen. It was the same set that the jury had already heard contained keys to Ms O'Hara's car and home.
He contacted his superiors and sealed off the bridge. The Garda Water Unit was called in and the search continued.
He also called Garda Wayne Farrell of Bray Garda Station to the scene on September 17th.
Garda Farrell said it was clear there were objects in the water and got a shovel and dug out a Nokia mobile phone and then a set of handcuffs attached by a chain. He also recovered a knife.
"At this stage, I was up to my knees in muck," he said, recalling that the water unit then arrived and helped him to recover a second knife. He identified all of these items in court.
He said the water unit also helped recover a white vibrator and a black sex toy referred to as an anal plug.
He later recovered a red cap of a battery-operated object along with a roll of black insulation tape and bondage restraints, which included three cuffs and a strap. These were also shown in court, as were a pair of shorts and a Real Madrid dressing gown he found.
Garda Farrell also identified a bag recovered by the water unit. The jury had previously heard from two other fishermen, who had seen the bag in the water on September 5th but couldn't retrieve it.
Also found in that search were what appeared to be the sawn-off barrels of a double-barrelled shotgun and a large camera lens.
Garda Lorcan Byrne of the water unit testified that he searched the water wearing scuba apparatus on 7 October 2013. He found the back cover of a mobile phone; two Nokia mobile batteries; two anal plugs; a red kidney-shaped object, possibly a remote control; a knotted rope and a ski mask.
His water unit colleague, Garda Enda Broderick, said that he had used a metal detector that day and located a Nokia mobile phone with sim card, a pair of glasses, a pair of sunglasses, a gold bracelet, a Tesco Mobile sim card and a metal band.
The trial, which is due to last up to eight weeks, continues this afternoon before Mr Justice Tony Hunt and a jury of five women and seven men.